While I don't typically feature men's fashion trends on Fashion Trend Guide, I've decided to share this spring summer 2018 men's fashion forecast by New York-based trend experts Fashion Snoops. I'll be highlighting four key trends, along with the inspiration, color palettes, key items, and prints for each trend story.
Follow along on my Insta stories @thekeytochic, my Facebook page

and

Pinterest trend boards,

where you'll have access to more trend information, fashion inspiration, shopping reports, and personal style. For additional fashion forecasts, see my

fall 2017/winter 2018 fashion trend forecast, this fall 2018/winter 2019 fashion forecast, a spring summer 2018 fashion report, and another spring summer 2018 fashion trend forecast.
Please note that this blog post is adapted from Fashion Snoops, is protected by international copyright laws, and may not be republished without permission. Students, please feel free to use this information for school projects as long as it's not reproduced or republished online and you properly cite both
Fashion Snoops
and T
he Key To Chic
as sources.
Some trend report updates:
February 19, 2018 update -
Love shoes? See
five Women's footwear trends for 2018
in my MAGIC trade show report.
February 2, 2018 update -
See four Women's
trends for fall 2018/winter 2019 in this post
.
January 23, 2018 update - See four men's trends for fall 2018/winter 2019.
January 9, 2018 update -
See nine trends for Women in my
spring summer 2018 fashion trend preview
.
January 4, 2018 update - See a spring summer 2019 fashion trend forecast for Women.
September 12, 2017 update - Explore emerging men's trends:


Let's get started with trend #1...
1. Roycroft
Men increasingly want to focus on mastering a trade or technique that will bring them joy. With a focus on heirloom surfaces, deconstructed design, and industrial details, Roycroft takes a farm-to-closet approach to contemporary dressing. He seeks to discover the natural beauty in precise measurements and time-honored skills, all the while being influenced by doing things in a newer way for ultimate efficiency and ease.
Roycroft focuses on fewer, better things. It's inspired by a 19th century community of tradesmen who moved outside of New York City into the Hudson Valley. They were the early purveyors of the arts and crafts movement. There's a focus on authenticity, heirloom surfaces, farm-to-closet, and deconstructed design.
Key items include reconstructed basics like the trench coat with straps, the reworked woven shirt, the heirloom suit, paper bag waist pants, and chunky handed-down sweaters.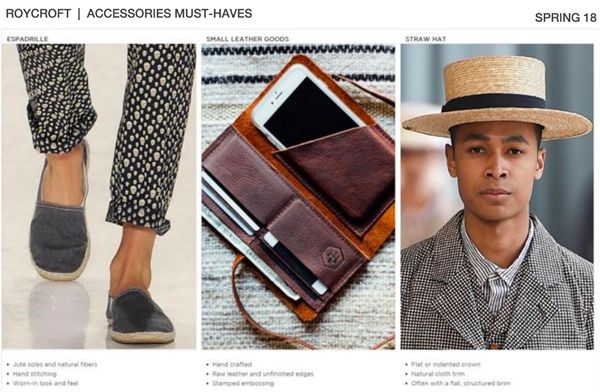 The color palette is rooted in time-honored neutrals. Browns with a subtle red cast are key. Khaki, indigo, and cooler grey tones figure prominently.
Browse retail examples of Roycroft:

2. Sojourn
He lives his life on the grid in order to be off the grid - constant constrasts that inject a tangible energy into his daily life. By taking time-honored, recognizably rugged clothing and integrating smart textiles, digital motifs, and steadfast details, he is given the freedom of more easily recognizing the genius of earth's unpredictability through countless adventures and cultures. This modern day anthropologist of sorts takes a little it from each destination, but remembers to give back as well - ensuring his path along the way makes the world a better place.
There's a focus on hyperculture, Africa, the art of discovery in your travels, eco-tech, and eco-tourism.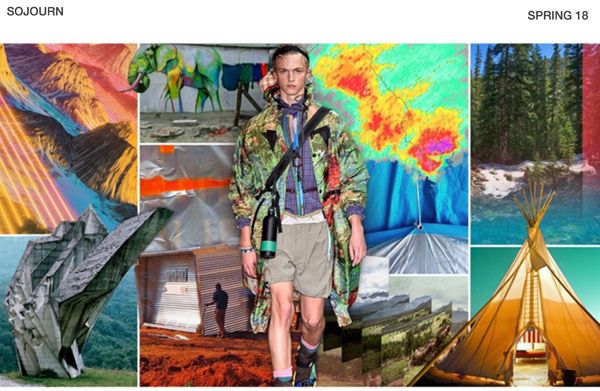 Key items are the lightning windbreaker and anorak (to replace the bomber), the radar shirt (below in the middle), and the festival Baja hoodie.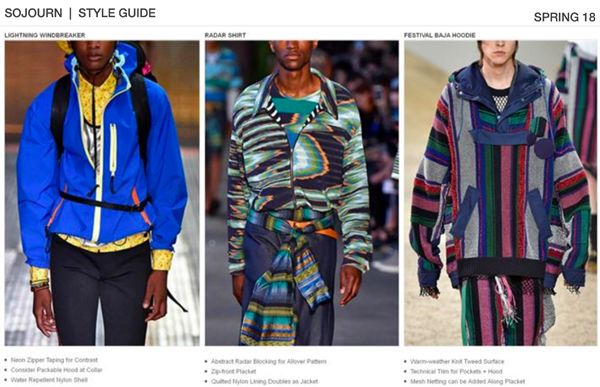 Accessories are the neoprene sneaker boot, the nylon/lanyard bracelet, the active sandal with bright colors, colored sunglasses, and the utility belt with lots of hooks.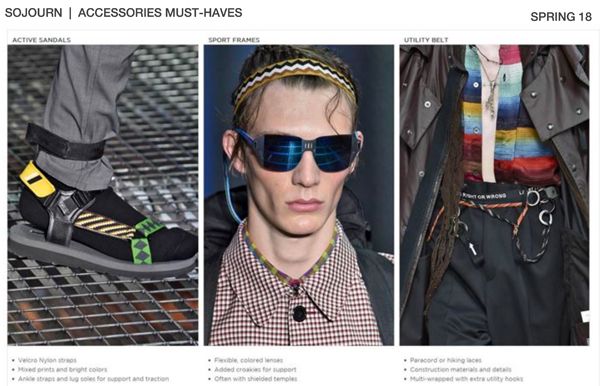 Colors are metallics, gunmetals, greens, tech blue, and nature-inspired pinks or reds.
Browse retail examples of Sojourn:

3. Corp
In a super sophisticated, glossy world not too far in the future, men are looking to make a bold power play on personal style, one that is a necessary fusion between tradition and technology. Inspired by a re-emergence of Brutalist architecture and a new Modernist movement, Copr turns its focus to smart suiting, prism color effects on classic outerwear, and a plethora of intelligent surfaces that work to make a more seamless lifestyle. With activewear continuing to influence every classification, flex fits are essential to even the most basic of apparel.
There are smarter surfaces, active influences, hyper-designs, and a focus on form and function. It's a glossy world with Dad's office must-haves and men who want to make a bold power play on their personal style.
Key items are the modernist shirt, the 2.0 suit, the woven tech sweatshirt, updated dress shirts, and skyscraper pants (loose and relaxed with a higher rise).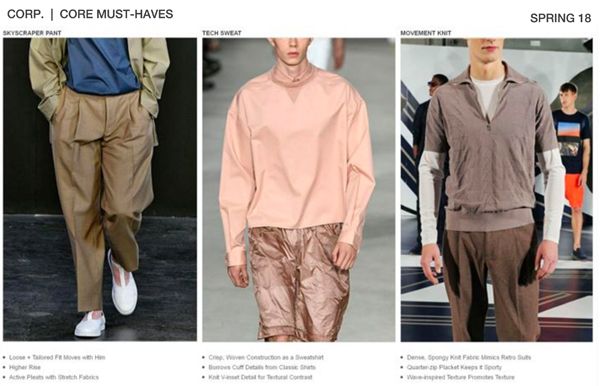 For accessories, there active slip-on sneakers, the body pack, and the nylon/mesh sport hat.
Electric blues and greens are the strongest part of the color palette. Pastels also feature in the story to create an interesting combination.
Browse retail examples of Corp:

4. Portfolio
He's a playboy in the world of art - society royalty of sorts who comes from generations of influencers and tastemakers - presenting a fanciful persona that puts a new face on the role of dandy. Being an old soul, he spent his youth around ghosts of the past - renaissance paintings, grandiose frescoes, yellowed books, and classical music. In the 21st Century, he's embraced the quirk of the contemporary art world while staying connected to the ornate world of yesteryear. His stylistic foundation is based on traditional Italian menswear, and he layers on whimsical color and pattern to show off a canvas that is as personable and ever changing as his inspiration.
Portfolio is influenced by art as activism, clashing patterns, rule-breaking mixes, and the person as a canvas.
Must-haves focus on prints and textural fabrics. There's the gallery coat (see Dries Van Noten), the pop (cartoon) sweater, tailored yet artistic pieces, T-shirts with collages, and the fine art shirt.
Accessories include the loafer (see Gucci for inspiration), printed backpack, statement buckle belts, and printed slip-on sneakers.
The color palette is about the soul of an eclectic artist. There are painterly mid-tones, sunny day pastels such as greens, pinks and yellows.
Browse retail examples of Portfolio:

This post contains affiliate links and I may be compensated if purchases are made by clicking links.
See more men's trends: