When
Chloé
debuts a new handbag style, fashion devotees instantly take notice. The new
Chloé Pixie bag
from the fall 2017 runway is on my style radar. It's sure to cause the same commotion this fall as the widely beloved
Faye
and
Nile
bags. With its brass ring handle detail, chic round shape, and delicate studs, the latest must-have accessory from Clare Waight Keller's final collection for Chloé is guaranteed to be a street style home run. In true Chloé form, it's a versatile and instantly recognizable handbag. It looks equally stylish and casually cool when carried on the arm, in the hands, or worn crossbody. Even better, the Pixie bag comes in multiple sizes, shapes, and colors as seen below.
May 27, 2018 update - Shop the Pixie bag on sale before they're gone:
March 4, 2018 update - Shop new styles of the Pixie bag for spring/summer 2018:

December 2017 update - Meghan Markle was recently seen wearing the Chloé Pixie bag for a royal holiday celebration.
The Pixie's retro round shape make it an ideal piece to pair with fall's delicate floral dresses, embroidered blouses, sock boots, and flirty skirts.
December 1, 2017 update - Shop the Pixie bag in many sizes and colors:

For more Chloé handbag ideas, see my posts on the
Chloé Faye bag look for less and the
Chloé Nile bag look for less.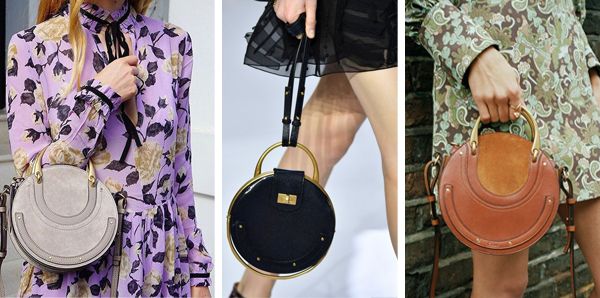 Up for the investment? Shop the Chloé Pixie bag in more colors and sizes:

Style your bag with:


The Look for Less
If you're looking for a Chloé Pixie bag dupe at a more affordable price point, you're in luck because there are a few budget friendly look-alikes.
This post contains affiliate links and I may be compensated if purchases are made by clicking links.
July 24, 2018 update - Get the Pixie bag look for less than $85:
May 31, 2018 update - Shop round bags for less:
May 6, 2018 update - Shop round bags under $150:
May 1, 2018 update - Shop bags under $150:

April 27, 2018 update - Shop ring detail bags under $50:

April 19, 2018 update - Shop round bags under $85:


April 4, 2018 update - Shop these styles under $65:

March 20, 2018 update - Shop round bags under $150:
Style your bag with:
February 27, 2018 update - Shop Chloé style bags:

February 22, 2018 update - Get the Chloé look under $35:

February 8, 2018 update - Shop circle bags under $200:


January 16, 2018 update - Shop styles under $85:

January 3, 2018 update - Shop styles under $350:



December 27, 2017 update - Steal Meghan Markle's Chloé Pixie bag holiday look for less:



December 1, 2017 update - Shop the newest look-alikes:

Shop these options:


Get the Chloé look: