New York-based fashion forecasting firm
Fashion Snoops
has released four key Women's trend stories in their spring summer 2018 fashion forecast. I'll be sharing more about each trend below, along with visuals including: mood boards, design details, materials, key items, interactive product widgets, and color palettes.
*Please note that this blog post is from Fashion Snoops. Students, please feel free to use this information for school projects if you properly cite both
Fashion Snoops
and T
he Key To Chic
as sources.
1. Individualist
The Individualist woman is an art curator as well as an activist. A somewhat unlikely pairing, she appreciates art at a high level and promotes social reform through industry fundraisers and society functions. She embraces political artivism and encourages change by layering wisdom with creativity.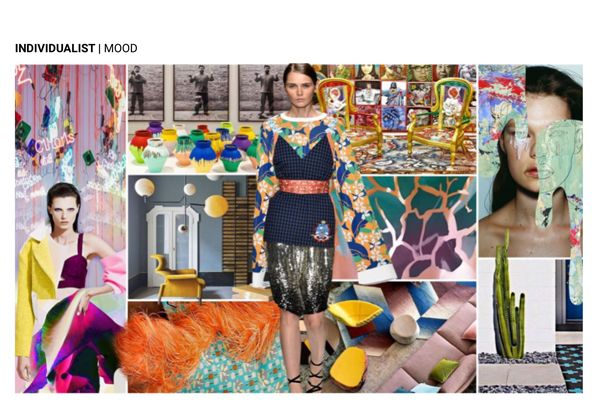 The Individualist is inspired aesthetically by all things beautiful, yet she pushes boundaries with an unexpected mix of artwork and immersive structures in her gallery. It's in this contemporary mix that she develops her own trademark style embodying sophistication and eclectic, modern design.
Materials are polyester satin, metallic woven lamé, and cotton shirting. Patterns are nonsensical, hectic expressionism, and identity crisis. Design details are ruffles, asymmetric hems, and sequins. Key items are the overcoat, reworked shirt, and asymmetric skirt.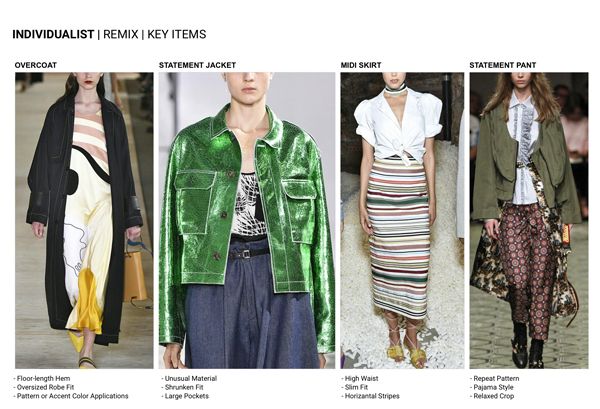 Browse Individualist pieces:

2. Neuetradition
The Neuetradition woman is a bold new leader and fearless pioneer of a young society rebuilding their city. She is a philosopher and thinker, taking on a new age where everything has to be rethought and redesigned. She deconstructs the pillars of tradition, evolving them into something new and functional, creating an essence of raw sophisticated beauty.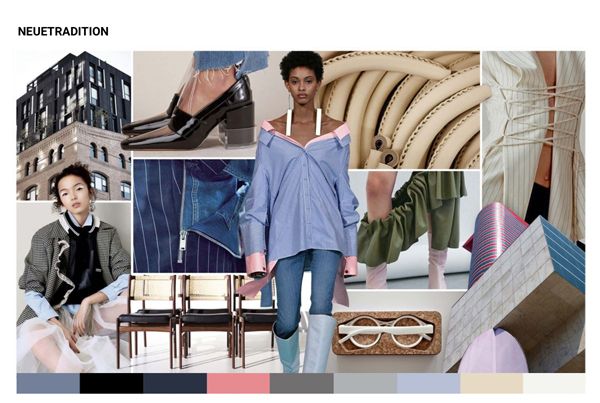 The Neuetradition philosophy believes in utilizing, reusing, and reinventing everything from redeveloped buildings to reconstructed tailored suits. Key items are the asymmetric skirt, ankle strap mules, and heeled oxfords.
Key materials are high shine finishes, seamed leather, and denim. Design details for footwear include braided seams, pieced seams, and square toe shapes.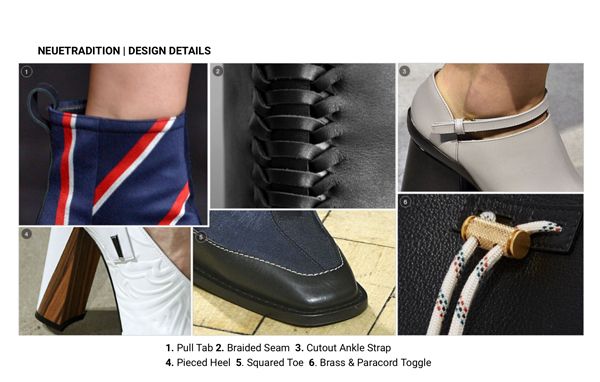 Browse Neuetradition items:

3. Quest
As a professional photographer and passionate traveler, the Quest woman is an avid explorer, specializing in the study of foreign tribes. She lives a nomadic lifestyle, with a gypsy-like flair. She believes that life is an adventure in which you should walk unafraid, allowing yourself to be free and letting your wanderlust reign.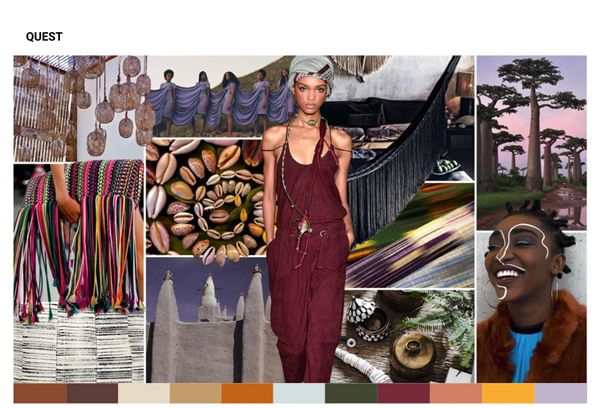 Her home is a collection of her treasures, eclectic souvenirs, and an array of rare objects. With her effortless style and easy going, charming personality, she is able to gain access to unknown destinations and uncover hidden gems.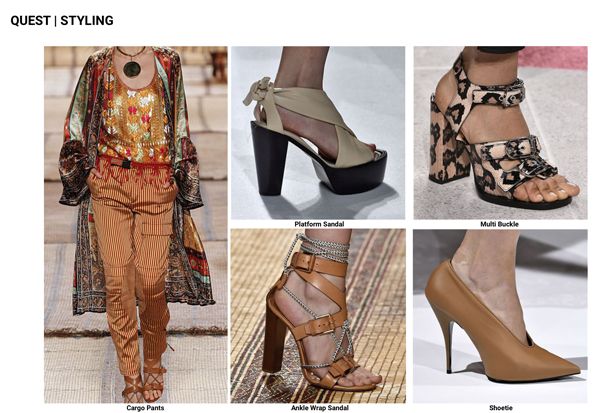 Key items are cargo pants, ankle wrap sandals, and shoeties. Important details include mixed patterns, tassels, pom poms, and braided leather. Key materials are woven leather, sheer silk, suede, and woven cord.
See examples of Quest:

4. Sensory
The Sensory woman defines our tech-obsessed society, which becomes increasingly parallel to virtual reality. The secret to her success is the ease at which she could slip into an alter personality. She fully embraces sci-fi fantasy and is obsessed with new teleportation theories.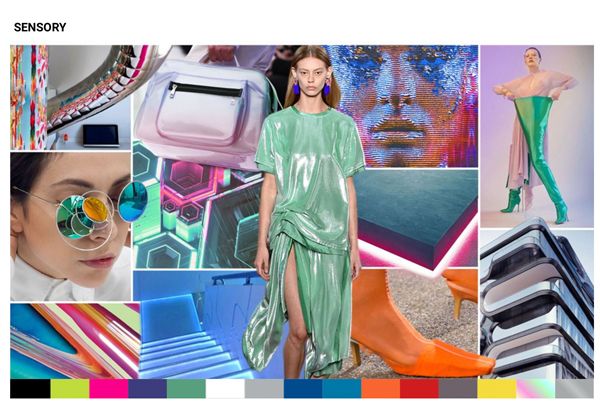 Everything about her surroundings exudes extreme reality, from slick, hydra-charged colors to performance tech materials in her office and home. Surrounded by so much adrenaline and fantasy, it's easy to get lost between worlds, and that's exactly the point.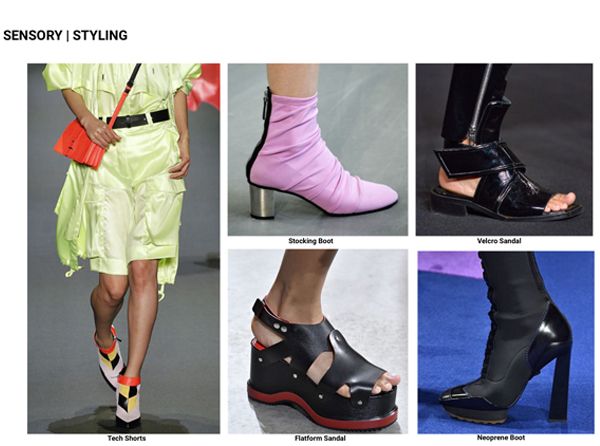 Key items are tech shorts, stocking boots, velcro sandals, and neoprene boots. Design details to note are back zips, iridescent piping, velcro straps, and PVC ankle cuffs. Materials are neoprene, metallics, ripstop nylon, and mesh nylon.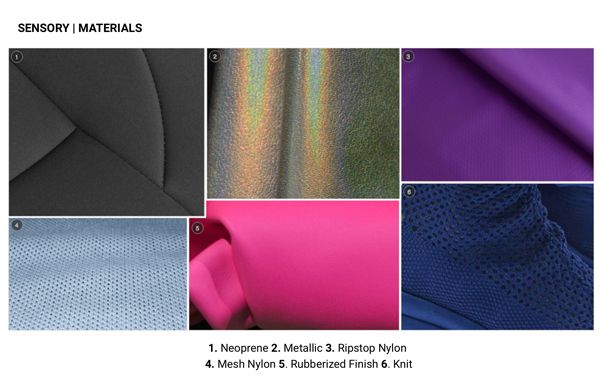 View examples of Sensory:

Some trend report updates:
August 25, 2018 update -
See four denim trends for 2019.
August 21, 2018 update -
See
four fashion trends for fall 2019 and winter 2020
on The Key To Chic.
August 20, 2018 update -
See
five footwear trends for spring summer 2019
on The Key To Chic.
March 5, 2018 update - See key Women's fashion trends for 2018 in my MAGIC trade show report.
February 21, 2018 update -
See five key
2018 denim trends for Women
in my MAGIC trade show report.
February 19, 2018 update -
Love shoes? See
five Women's footwear trends for 2018
in my MAGIC trade show report.
February 2, 2018 update -
See four Women's
trends for fall 2018/winter 2019 in this post
.
January 25, 2018 update -
See my favorite
spring 2018 trends
in this mini retail report on The Key To Chic.
January 23, 2018 update - See four Men's trends for fall 2018/winter 2019.
January 9, 2018 update - See nine trends for Women in my spring summer 2018 fashion trend preview.
January 4, 2018 update - See a spring summer 2019 fashion trend forecast.
September 14, 2017 update - See 9 key fall 2017 winter 2018 fashion trends in my retail report.
August 30, 2017 update -
See 4 men's fashion trends for spring/summer 2018.
August 17, 2017 update -
See this
fall 2018 and winter 2019 fashion trend forecast
.
July 25, 2017 update - Browse top trends:



Follow along on my Insta stories @thekeytochic, Facebook page,

and

Pinterest trend boards,

where you'll have access to trend information, fashion inspiration, shopping reports, and personal style.
For more trend forecasts, see my other spring summer 2018 fashion trend forecast, my 2017 denim trend report, and my fall 2017/winter 2018 fashion trend forecast.
This post contains affiliate links and I may be compensated if purchases are made by clicking links.
Browse trends: