As denim becomes more ingrained into our everyday wardrobes, it's fascinating to see how it evolves each season. The days of boring blue jeans are long gone, replaced with embellished jackets, cute skirts, innovative treatments, eco-friendly construction techniques, and fun finishes. Earlier this month at MAGIC trade show, I spent some time tracking Women's denim trends, and I'll be sharing my top five denim trends for 2018.
1. The Novelty Denim Jacket
While the trucker jacket was a key item last season, the novelty jacket is taking its place for spring 2018. Think floral embroidery, elbow cut outs, ruffles, cropped shapes, and frayed edges. Almost anything goes; there's no room for minimalism here.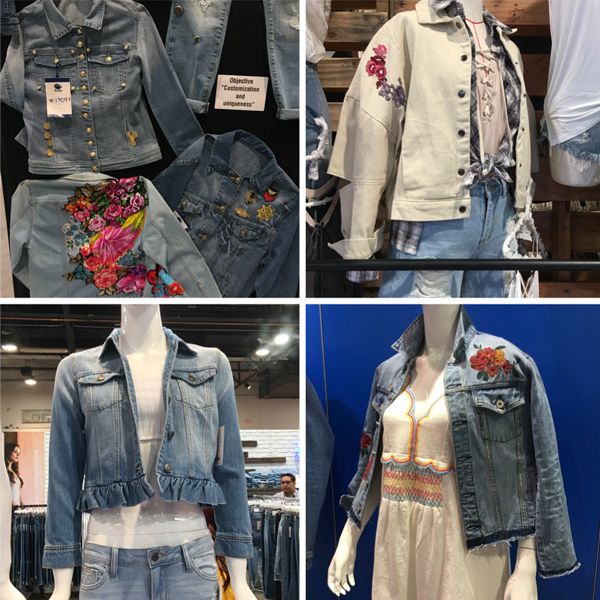 See more denim jacket trends:
2. Fit to be Stitched
The embroidery of the past few seasons isn't slowing down, with floral motifs adding a pretty touch to straight-leg jeans, mini skirts, and casual jackets.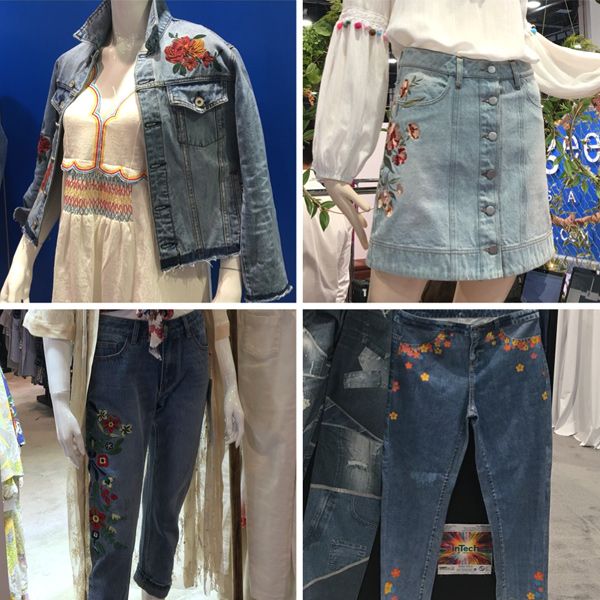 More embroidered denim:
3. The Sporty Stripe
Given the popularity of athletic apparel, the athleisure movement was bound to infiltrate the denim market. Sporty striped panels adorned many pairs of jeans at MAGIC this season. It was most notable on skinny and straight leg silhouettes and paired with distressed finishes.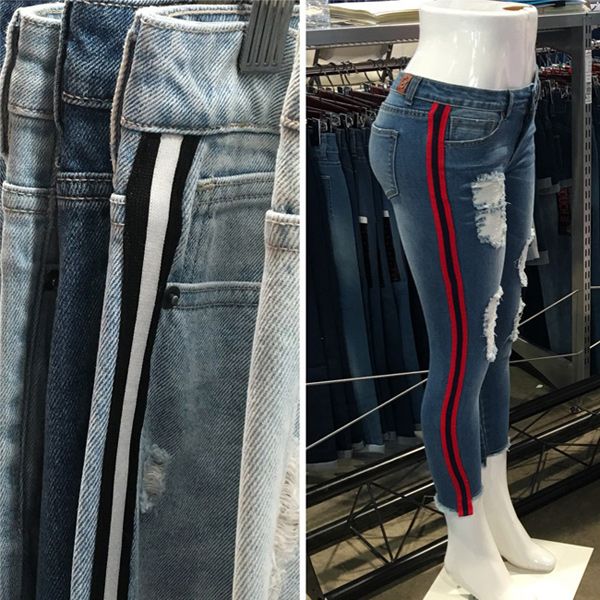 Browse sporty striped denim:
4. Shredded Styles
Fringe effects, frayed hems, shredded trims, and Western-inspired details add texture and movement to denim.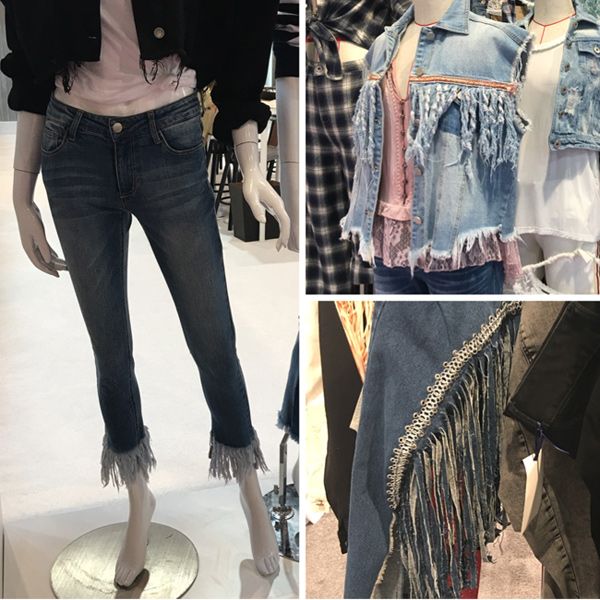 Find more fringe:
5. Overalls
Overalls, short-alls, and overall skirts round out the mix of one-piece denim styles I spotted. Paired with statement-sleeve tops layered underneath, it's a casual path to festival season style.
See other overalls:
Other notable denim trends to take note of include: glow in the dark denim, iridescent coatings, 3-D effects, recycled garments, resin prints, water repellent storm denim, and fabric with enhanced wicking.
See brands such as RE/DONE, AGOLDE, Topshop, 3x1, Levi's, and this collection of emerging designers for more denim inspiration and ideas.
This post contains affiliate links and I may be compensated if purchases are made by clicking links.
See more denim trends:
Catch up with me

on

Instagram

,

Facebook

,

Twitter

, or Snapchat

@thekeytochic. Get more fashion trend reports here:
Four denim trends for 2019
Five Women's footwear trends for 2018
Men's spring summer 2018 fashion trend forecast
Women's spring summer 2018 fashion trend forecast
Women's fall 2018/winter 2019 fashion trend forecast (macro trends)
Women's fall 2018/winter 2019 trend forecast (four key themes)
Women's spring summer 2019 fashion trend forecast
Discover more denim trends for 2018: