New York-based trend agency Fashion Snoops is featuring four key Women's fashion trend narratives for the fall 2018/winter 2019 season. They are: Sensei, Vanguard, New Romantics, and Terra. In this post, I'll be sharing details about each theme, including the inspiration, key items, color palettes, and must-have accessories.
For more background information on where these four trends come from, this post goes hand in hand with the fall 2018/winter 2019 macro trends post that I published on my other blog The Key To Chic.
Want more fashion trend inspiration and information? Follow along on my Insta stories @thekeytochic, my
Facebook page
,
and my
Pinterest trend boards,
where you'll have access to emerging trends, trade show trends, outfit ideas, and frequent shopping reports.
Some updates:
February 21, 2019 update - See four women's denim trends for 2020.
January 15, 2019 update - See four women's trends for spring summer 2020.
August 31, 2018 update - See four trends for men for spring summer 2019.
August 25, 2018 update -
See four denim trends for 2019.
August 21, 2018 update - See four fashion trends for fall 2019 and winter 2020 on The Key To Chic.
August 20, 2018 update - See five footwear trends for spring summer 2019 on The Key To Chic.
January 23, 2018 update - See four Men's trends for fall 2018/winter 2019.
Please note that this blog post is adapted from Fashion Snoops, is protected by international copyright laws, and may not be republished without permission. Students, please feel free to use this information for school projects as long as it's not reproduced or republished online and you properly cite both
Fashion Snoops
and
Fashion Trend Guide
as sources.
1. Sensei
According to Fashion Snoops, "the Sensei woman has achieved a certain level of mastery. Complex and innovative, her wardrobe has tailored origins inclusive of power suits, reworked shirts, and voluminous trousers. There's a softer side to her as well, which reminds us of a traditional Japanese retreat. Kimono sleeves and wrapped sweater styling compose a serene spirit that nods to the past. Traditional shibori dye techniques add a sense of tranquility to minimalistic Japanese lines."
Key words for Sensei include: Japanese influence, reworked shirts, minimalist lines, tunic layering, voluminous pants, wrapped styling, the power blazer, fluid volume, kimono styling, and shibori prints.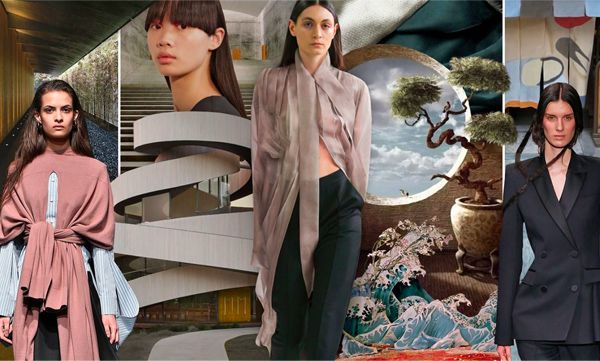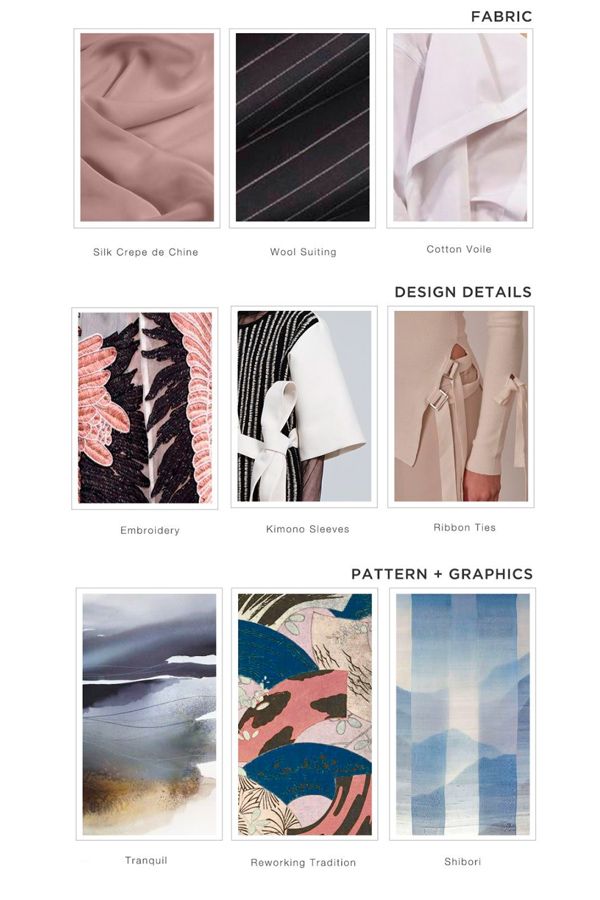 Colors have a serene side and a rich cultural heritage. There are dusty tones such as Lab and Antique Pink, as well as red hues iD and Samurai. Catalyst is a dark green.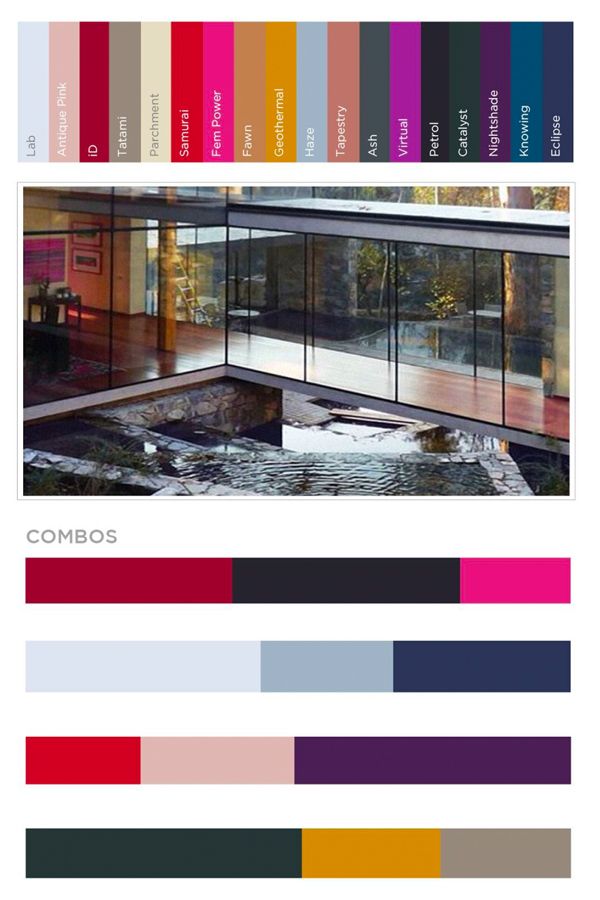 Must-have items for the Sensei story are the wrapped sweater, culottes, tunic, reworked shirt, sleeveless overcoat, wide leg pants, and power blazer.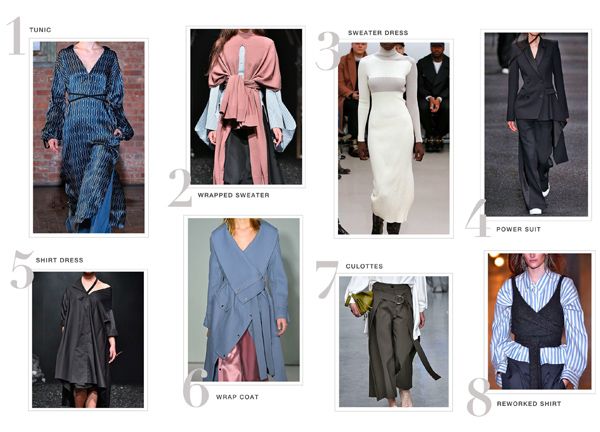 Key accessories include statement pumps, laceless oxfords, stiletto heeled booties, the canteen bag, micro frame sunglasses, the rope belt, and sculptural earrings.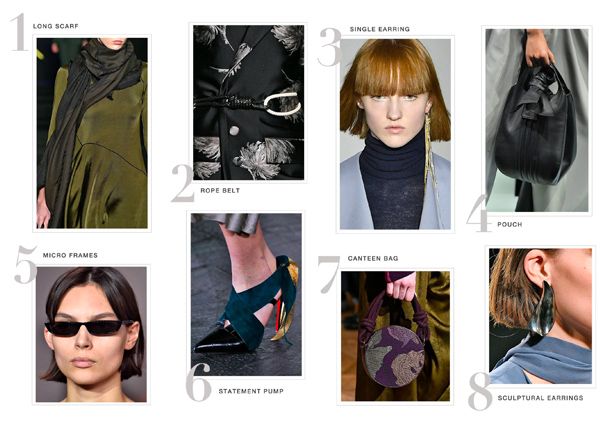 See examples of Sensei:

2. Vanguard
The background on Vanguard: "the Vanguard woman is at the forefront of a progressive movement paving the way with new ideas. She resonates with the Maker Movement, defining a woman who is an inventor and designer. As an expressionist, she embraces power colors. The 1970s come to mind with the rise of hip-hop in Harlem and patterns ranging from track stripes to chevron patterns. Items like track suits or polos have major street cred, while embroidered jeans play up the craft component."
This theme is influenced by the progressive craft movement and protest through art. Takeaways for Vanguard are: experimental knits, feminism, community, track suits, vintage furs, activism, mixed media, positive influence, and a collaborative spirit.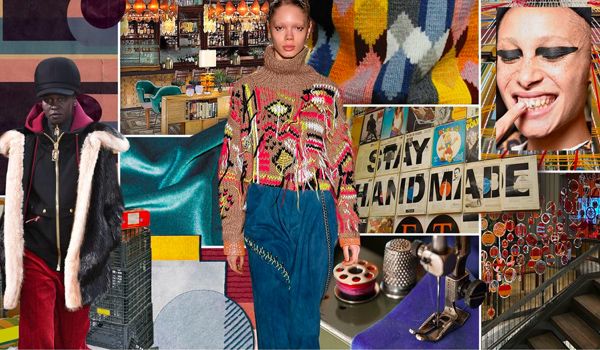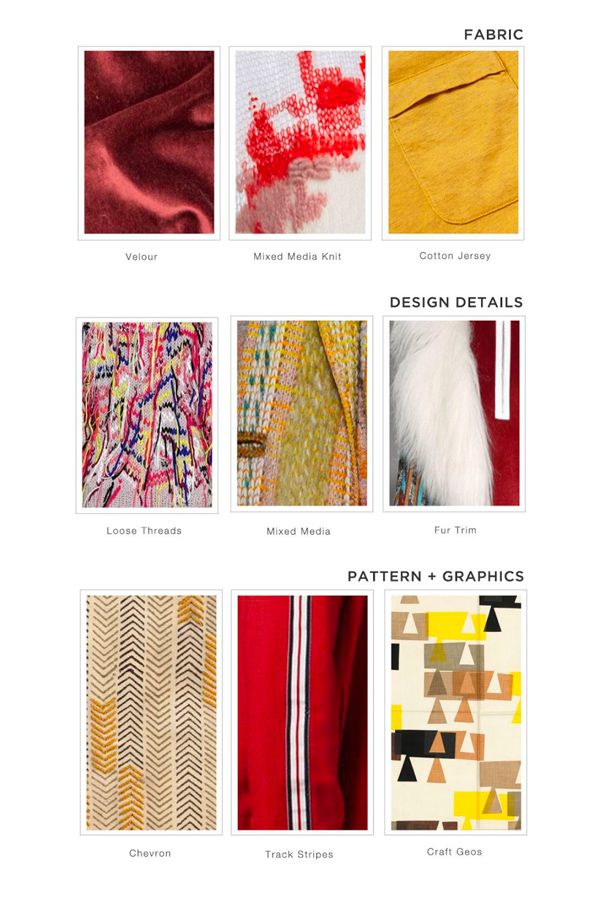 The color palette for Vanguard is empowering with a retro spirit. There are reds and a bright Shelter orange, as well as dusty neutrals and mid-tones.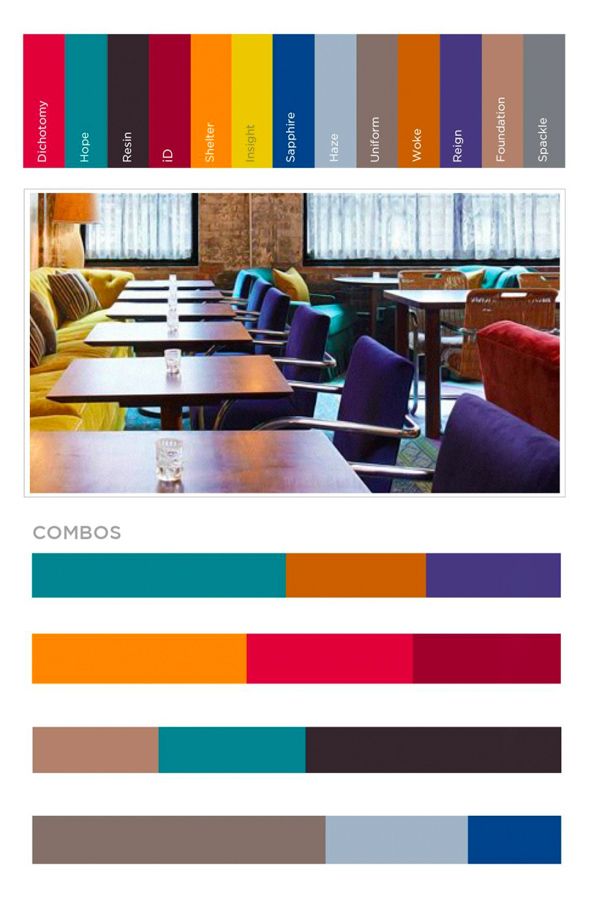 Key items are: the oversized sweater, flares, trucker jacket, track jacket, fur coats, turtlenecks, the slim midi skirt, wide-leg pants, and the sweater dress.
Accessories for Vanguard are platform lug sole boots, high tops, slide sandals, the mini top handle bag, messenger bags, newsboy caps, camp socks, and square frames.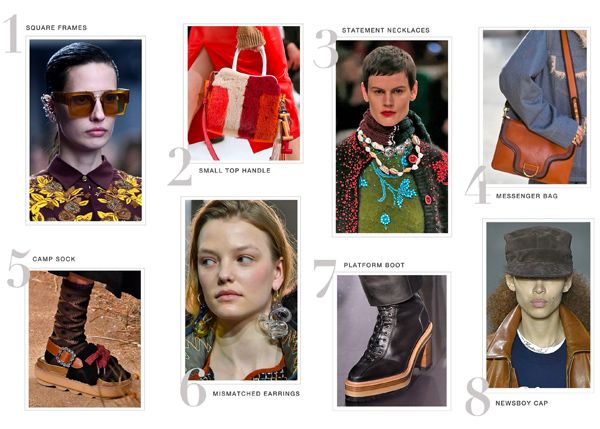 Browse examples of Vanguard:

3. New Romantics
The story behind this theme is as follows: "the New Romantic woman believes in leveraging the past to bring us closer to the future. This dark romantic trend embodies a modern Victorian reference complete with Baroque and traditional Celtic patterns. Plush velvet is a driver across all classifications, especially dresses. Puff sleeve detailing elevates blouses, and higher necklines are often leveraged as a layer underneath slip dresses. Delightful feminine flourishes range from moody florals to ruffles. Layered power blazers achieve a new level of harmony."
This theme is about a collision of eras, Victorian influence, velvet separates, and jewel tones. Takeaways are: escapism, romance, moody florals, puffy sleeves, romantic ruffles, higher collars, poetic graphics, English monarchy, and tailored blazers.
The color palette for New Romantics is tender and romantic with jewel tones such as Tokyo Glow and soft tones such as Antique Pink.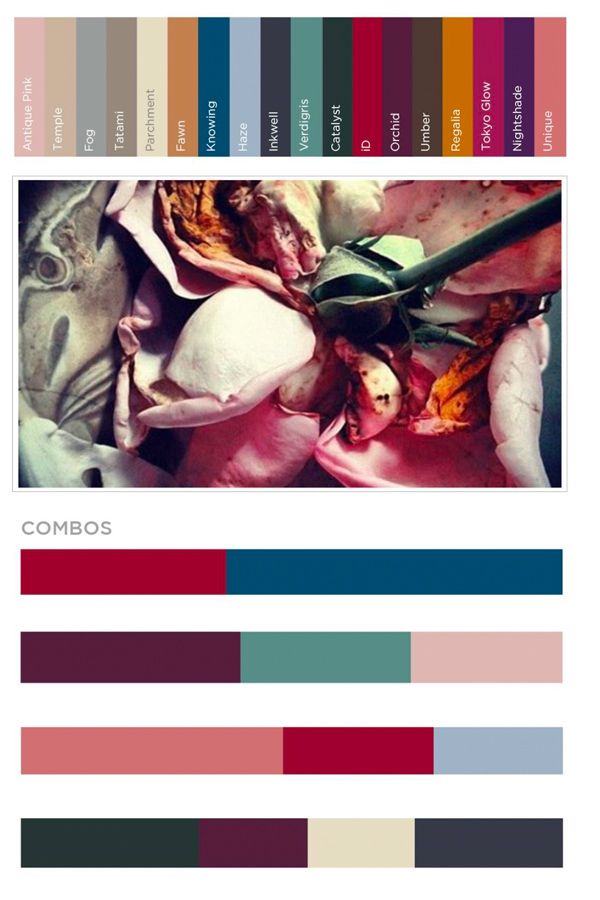 Must-haves for New Romantics are the midi skirt, wrap maxi dress, wide-leg pants, cape, overcoat, power blazer, puff-sleeved blouse, and slip dress.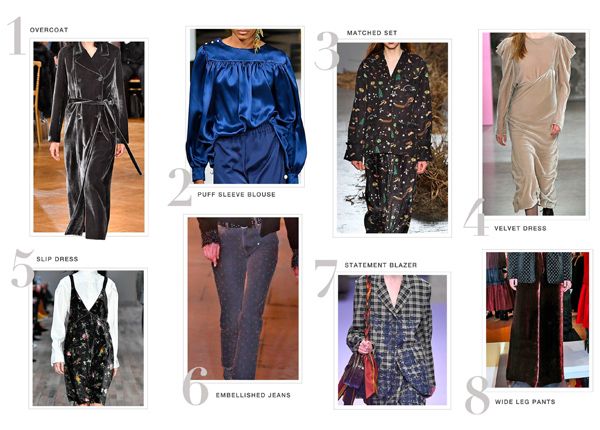 Key accessories are the updated Mary Jane, heeled mule, stocking boot, top handle bag, micro bag, embellished belt with pearls, optical cat eyes, pearl earrings, and lots of velvet.
See New Romantics examples:

4. Terra
According to Fashion Snoops, "Terra embodies a woman who is one and of the earth with a heightened digital footprint. Emerged in the Berkshires, she forges a deep connection with the earth which is both rustic and youthful. At home in weathered shearling or quilted nylon, outerwear favorites include parkas and puffers. Prints and patterns include both traditional motifs like ditsy florals and structured nature imagery that pushes the digital envelope. Oversized sweater dresses and turtlenecks are favorites, and fur or fringe details are full-on cabin fever mode."
Takeaways include: hybrid innovation, natural + digital, experimentation, retreat, discovery, and of the earth. There are cozy sweaters, parkas, high pile furs, shades of green, utility details, and quilted surfaces.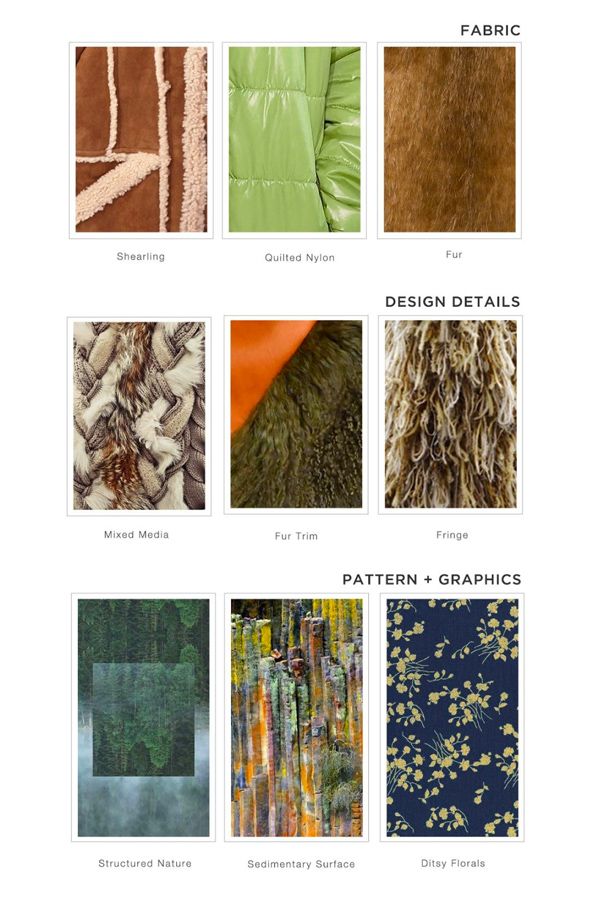 The color palette for Terra is earth inspired, with a digital element. There are browns such as Henna and Fawn, as well as a variety of greens, including a bold lime shade called Algae.
Must-have items for Terra are: the puffer jacket, bomber jacket, sweater dress, parka, bomber jacket, cargo pants, oversized turtleneck sweater, oversized shirt, and baggy jeans.
Accessories for Terra are the heeled hiking boot, updated hobo bag, knit gloves, corset belt, statement earrings, quilted leather tote, and mono lens sunglasses.
Browse examples of Terra:

For more forecasts, see this spring summer 2018 fashion report, this spring summer 2018 fashion trend forecast, and this spring summer 2019 fashion forecast.
To get more frequent fashion trend inspiration and ideas, follow along on social media @thekeytochic.
This post contains affiliate links and I may be compensated if purchases are made.