As someone who loves both floral motifs and sneakers, I was smitten when I saw the
Gucci Ace embroidered sneakers
last fall. After looking for similar styles at lower price points with no luck, I decided to splurge on the designer version. The bold embroidery set against the clean white leather is the perfect way to add interest to casual looks. I wear my Gucci sneakers with frayed denim, casual day dresses, leggings, and slim joggers. Sizing note: these sneakers run big. I wear US size 7 and a size 36.5 fits me.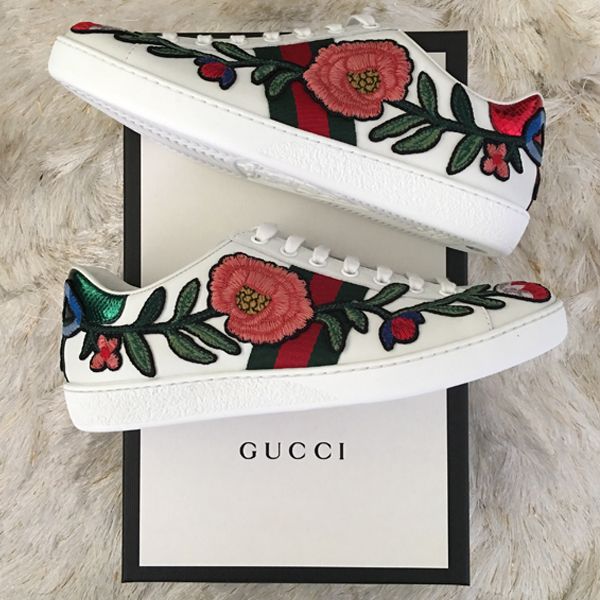 February 11, 2019 update - Shop Gucci Ace sneakers:

December 19, 2018 update - Shop Gucci Ace sneakers:
Shop more Gucci sneakers:


Now that the Gucci Ace embroidered sneakers have been around for a few seasons, there are many designer-inspired styles for all budgets. Embroidery is a key style narrative for fall 2017, and wearing it on footwear is an easy way to try out the trend. Here's how to get the Gucci Ace sneaker look for less.
The Look for Less
1. Gucci Ace embroidered sneakers, $695 (runs big)
2. Rebels Lola sneaker, $89.97
3. Topshop College sneaker, $28.99
4. Superga 2750 sneaker, $108.95
5. Boohoo Jessica sneaker, $18.00
6. Charlotte Russe floral embroidered sneakers, $24.99
7. Nasty Gal She Said Bloom sneakers, $50
8. Liliana Chic embroidered sneakers, $22.97
9. Steve Madden Emerald sneakers, $69.95
This post contains affiliate links and I may be compensated if purchases are made by clicking links.
February 25, 2019 update - Shop these sneakers under $55:

February 11, 2019 update - Get the Gucci Ace look for under $100:

October 19, 2018 update - Get the Gucci Ace sneaker look for under $45:
See more embroidered sneakers:

Shop Gucci: