Due to the popularity of my 2017 denim trend report on The Key To Chic, I've created another post featuring notable denim trends for 2017. Given the central role that denim plays in our modern lives, it's experiencing renewed interest spurred on by top designers such as Demna Gvasalia at Vetements, Alexander Wang, Alessandro Michele at Gucci, Marc Jacobs, Stella McCartney, and more. With new treatments such as patchwork, shadow prints, embroidery, cropped lengths, emoji patches, and uneven/distressed hems, the utilitarian fabric once reserved for blue collar workers and casual weekends gets drastically updated for 2017. Forget about the dark wash skinny jeans you know and love, because these trends make denim anything but basic. Here's what to keep your eye on in 2017 when it comes to the blues.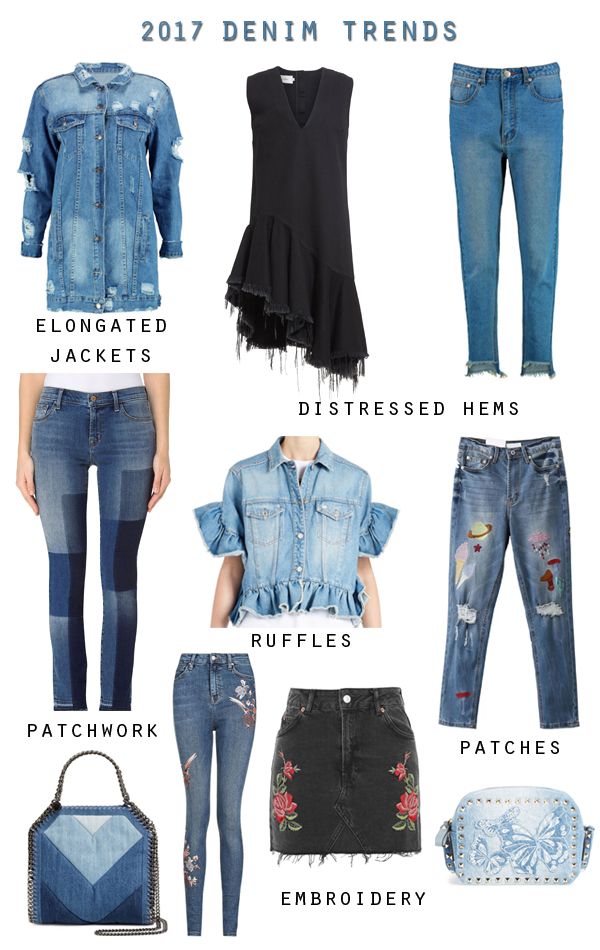 Pictured above:


June 10, 2017 update
- Browse denim trends for summer:

April 24, 2017 update
- See more denim:

March 7, 2017 update -
See 6 key spring/summer 2017 denim trends for Women.
March 6, 2017 update -
See this
spring summer 2018 fashion trend forecast
on The Key To Chic featuring 4 key themes for Women.
March 1, 2017 update - See more 2017 fashion trends for Juniors in my WWDMAGIC trend report.
February 13, 2017 update - See spring denim trends by Topshop:

Shop embroidered denim:
Shop patched denim:
Shop ruffled denim:
Shop distressed denim:
More denim trends: