If you follow me on social media
@thekeytochic
, then you might've already seen my previews of key Women's fashion trends for spring summer 2017 as highlighted by fashion forecasting firm
Fashion Snoops
at
Magic Market Week
. They're featuring three trends for Juniors, and I'll be sharing key details, colors, silhouettes, and retail examples of each trend in this trend forecast.
*Please note that this blog post is adapted from Fashion Snoops, is protected by international copyright laws, and may not be republished without permission. Students, please feel free to use this information for school projects as long as it's not reproduced or republished online and you properly cite both
Fashion Snoops
and Fashion Trend Guide
as sources.
March 7, 2017 update -
See 6 key spring/summer 2017 denim trends for Women.
March 6, 2017 update -
See this
spring summer 2018 fashion trend forecast
on The Key To Chic featuring 4 key themes for Women.
March 1, 2017 update -
See the top 6
spring/summer 2017 fashion trends
for Juniors in my trade show report.
February 27, 2017 update - See top footwear trends for 2017 in my trade show report on The Key To Chic.
October 3, 2016 update -
See
12 top fashion trends for fall 2016 and winter 2017.
August 7, 2016 update - See the top 8 back-to-school fashion trends for fall 2016.

August 9, 2016 update - See denim trends:


August 20, 2016 update - See the top 7 fall 2016 and winter 2017 fashion trends for Juniors as seen at WWDMAGIC and
the top 7
footwear trends for fall 2016 and winter 2017
in my footwear report.
August 24, 2016 update -
See
six trends for fall 2017 and winter 2018
.
Let's take at look at the three trends.
1. Great Expectations is the most romantic, pretty trend of the season with its Victorian influences (and Charles Dickens novel reference).
The color palette is soft, with petal pink, rose and bluebell as the main colors. Materials are transparent, with organza, Swiss dots, jacquard, and eyelet. Graphics are not just about flowers. There are also toile wallpaper motifs (like on this porcelain tumbler).
More is more when it comes to design details. There are ruffles, tiers, lace-up details that mimic corsets, and higher necklines. Key items are the off-the-shoulder top, mid-calf prairie dress, A-line skirt, matched top and skirt set, the ruffled maxi dress, poet blouse (like this cotton voile style), slip dress with embellishments (like this satin style), ankle wrap sandals (like these wedge espadrilles), saddle bags, and belted waists. See lust worthy brand Zimmermann for more inspiration and examples.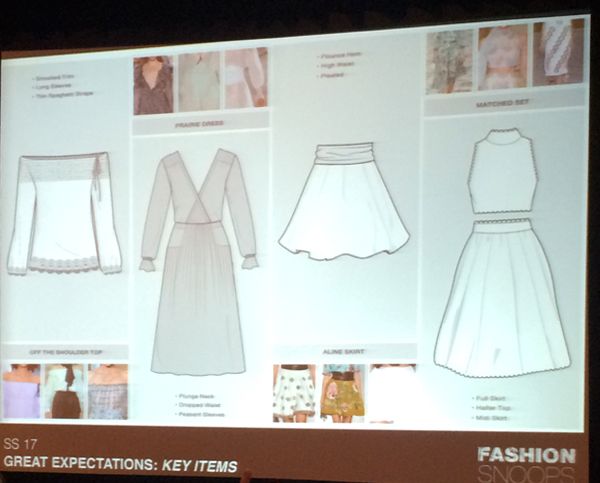 2. Prairie Rose is like Great Expectations, but geared toward a younger, Juniors' market. It's about a sweet country girl. It's a pretty, bohemian way of dress with romance, Western roots, and a hint of Victorian inspiration.
The color palette is light and grounded with earth elements like rose, periwinkle, chili powder, bisque, and ivy green.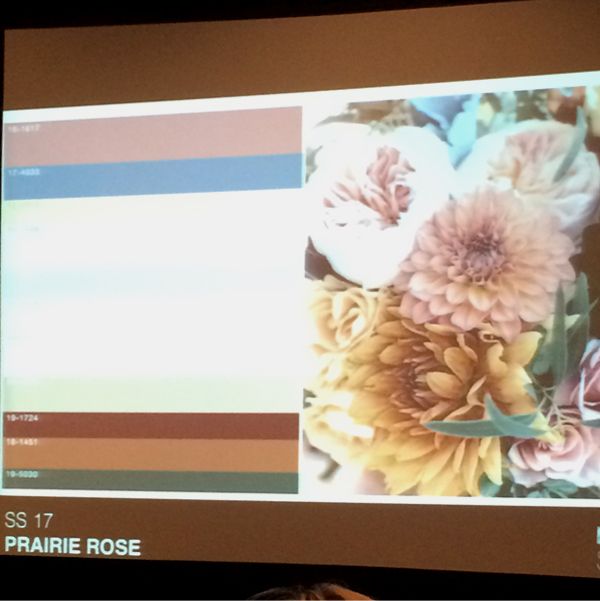 Materials are eyelet, washed silk, crochet, cotton voile (like this dress), suede, and vintage denim. Graphics are floral, patchwork, toile, folkloric, and dainty prints.
Details are sweet but subtle: peasant sleeves, high necklines, low backlines, and off-the-shoulder silhouettes. Key items are the slip dress, dirndl skirt, midriff top, boxy jacket, poet blouse with high neckline, overalls, A-line skirt (see this chambray style), A-line prairie dress, saddle bags (like this popular designer style), patchwork cowboy booties, and square-frame sunglasses (such as this style by Miu Miu). See Ralph Lauren Denim & Supply for more examples of this trend.
3. Boot Camp is influenced by the athleisure and fitness trend. It's competitive, with a rough, girl-squad feel. It's sporty, street-minded, and hardcore with urban inspiration.
The color palette is utilitarian inspired: olive and sludge/murky brown, with accents such as carrot orange, navy, and chartreuse.
Materials are technical: mesh, netted techniques, twill, leather, and nylon ripstop. Graphics are: graffiti prints, black and white, dripped techniques, numbers/letters, and colorblocking. Design details are functional: zippers, hoods, drawstring closures, and grommets. Key items are the bomber jacket in satin (like this style by Topshop), the slip dress, the wrap skirt in mini length, the sleeveless parka, midi skirt, crossover top, overalls, paper bag waist shorts (like this striped style), sneakers, chain link earrings, and baseball caps. The Ivy Park collection is a great brand to reference as inspiration.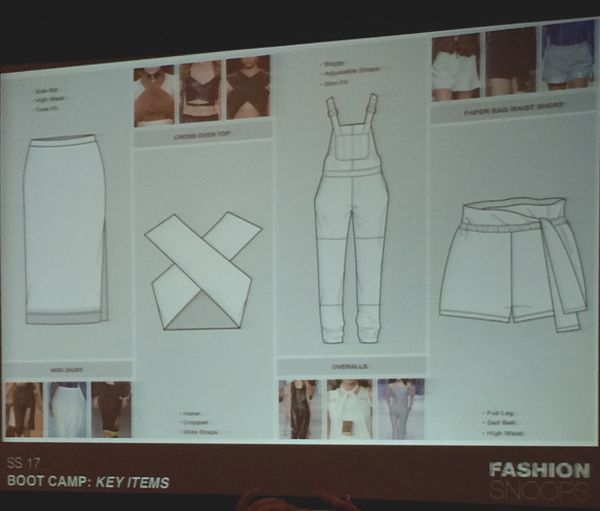 See four more fashion trends for spring/summer 2017 on my other blog The Key To Chic.
For more fashion, catch up with me on my
Facebook page
and
Pinterest trend boards,
where you'll see trend photos, fashion inspiration, and retail reports. For additional trend forecasting inspiration, read my
spring and fall 2016 footwear trend report
, my
Juniors' spring 2016 trend report
, the top 7 fall 2016/winter 2017 trends for Juniors, my
feature on mule shoes for spring 2016
, my
spring/summer 2017 denim trend report
, and my
2016 denim trend report
.
Get more trend inspiration below.
Great Expectations:

Prairie Rose:


Boot Camp:

Denim Trends:


Tren
d Inspiration: