Shoes form the foundation of any stylish outfit, and having just returned from what I consider to be shoe heaven (a.k.a. FNPlatform at WWDMAGIC), I'm feeling inspired about all the footwear trends I've scouted for fall 2016 and spring 2017. Fall and the back-to-school season signals the ideal time to try out new styles and updates. After reviewing my photos from the trade show, seven key footwear themes have emerged. Read on to see the top examples from trend-conscious brands.
1. Metallic Moment
High shine and glossy finishes adorned a wide range of styles, adding glamour and drama to slides, platform sandals, heels, and even Western ankle boots. Ultra shiny shades of gold and highly reflective silver seemed to predominate in a shift away from the rosy hues of previous seasons.
Clockwise, from top left: Cravo & Canela, Vicenza, Z & L Europe, Capodarte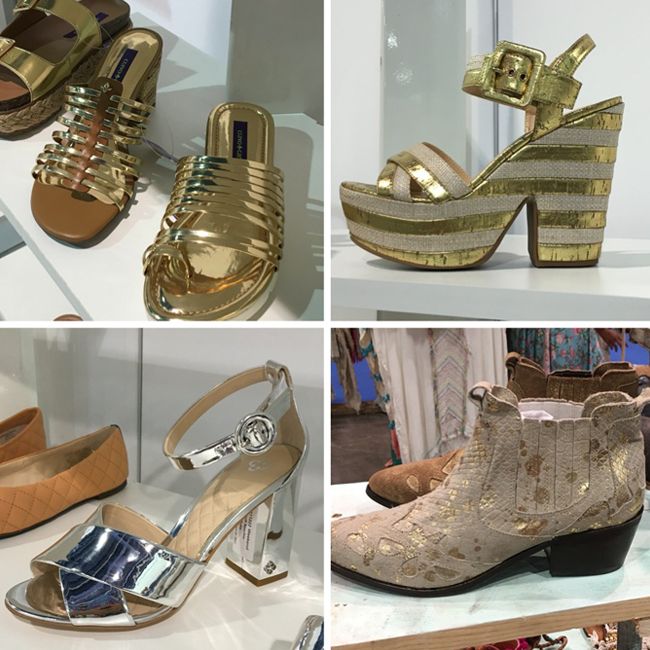 2. Elevated Soles
After a few seasons of single sole domination, the platform is making its way to the top of the trend cycle. Platform sandals, clogs, and loafers give a subtle nod to the '70s, while providing the perfect complement to the culottes, midi skirts, and wide leg bottoms that are trending as 2016 comes to an end.
Clockwise, from top left: Vicenza, Carrano, Michael Antonio, Michael Antonio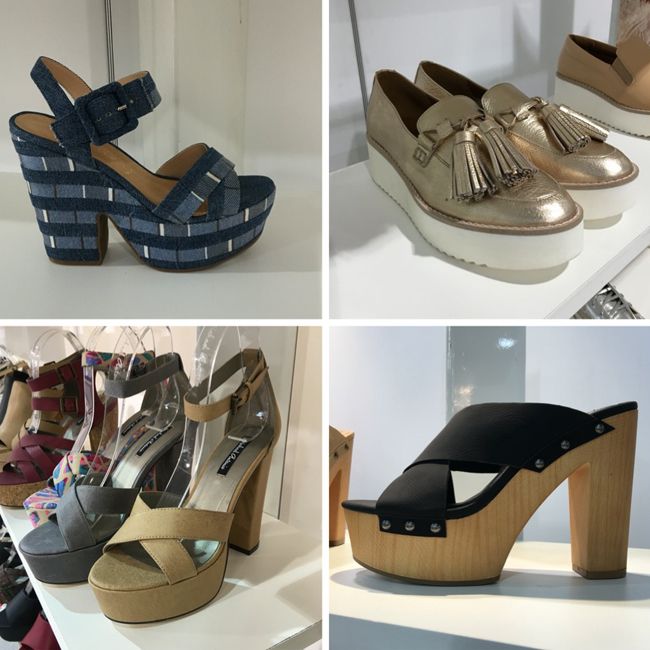 3. Natural Neutrals and Raffia
At booth after booth, I spotted soft, earthy neutrals and raffia constructions in a myriad of sandal silhouettes for spring.
Clockwise, from top left: Michael Antonio, Schutz, Schutz, Corso Como
4. Fun and Sunny
There's no denying the bold appeal of a sunny shade of yellow. This bright color injected life to sculptural pumps, sneakers, strappy heels, and everything in between.
Clockwise, from top left: Cravo & Canela, Ferri, Michael Antonio, Michael Antonio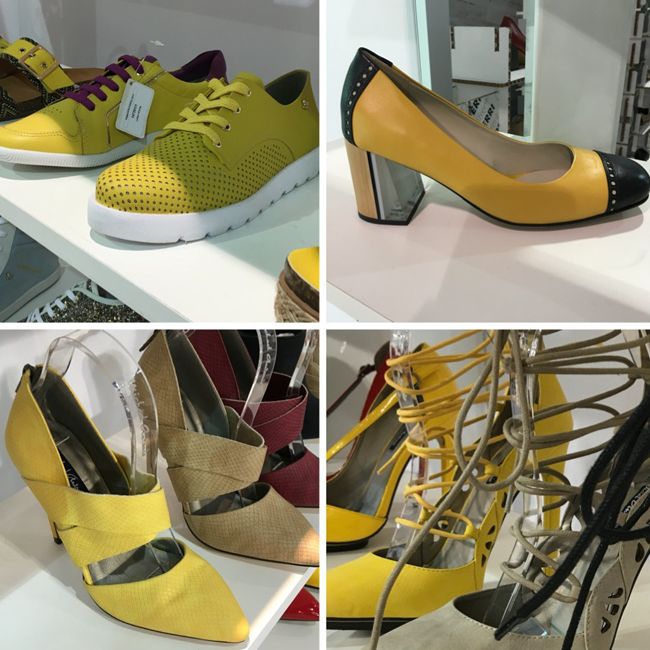 5. Modern Mules
The no-fuss silhouettes of the mules and slides made popular in the '90s have an easy elegance. For fall 2016 and spring 2017, backless loafers, block-heeled mules, and platforms provide a wide array of ways in which to wear this key trend.
Clockwise, from top left: Stephanie Classic, Vicenza, Michael Antonio, Vicenza
6. Shoemoji Style
You may see and use emojis all day long on your smart phone, but now they're transitioning from digital life to real life by adorning shoes. They add a modern, playful element to slides and sneakers.
Clockwise, from top left: Vicenza, Vicenza, Michael Antonio, Michael Antonio
7. Artisanal and Artsy
It's all about artisanal detail, customization, and thoughtful design elements as heels and oxfords get gorgeous treatments and construction details worthy of an art gallery display. The shoe on the top left, by innovative Brazilian brand Ciao Mao, has cool, creative pieces that you can interchange to give a custom look.
Clockwise, from top left: Ciao Mao, Stephanie Classic, Carrano, Vicenza
Get more footwear info and inspiration in my 2016 shoe trend report.
For more trend forecasts, see my
fall/winter 2016/2017 trend forecast
, my
spring/summer 2017 denim trend report
, and my
spring/summer 2016 trend forecast
on The Key To Chic.
Footwear obsessed? Browse the newest trends from top brands: Carrano, Topshop, Ukies, Michael Antonio, Schutz, Nasty Gal, Luichiny, Vicenza, and Boohoo.
Catch up with me on social media
@thekeytochic
for more trend forecasting, photos, and shopping inspiration.
See more footwear trends for 2016 and 2017: