This post contains affiliate links and I may be compensated if purchases are made by clicking links.
A new crop of Sam & Libby footwear has emerged at Target, and the array of fashion-forward styles has certainly caught my attention. (You may recall my previous Sam & Libby review last fall or in the spring of 2013, and you can see my Sam & Libby spring 2015 review here or my fall 2015 Sam & Libby review.)
This season, pointy pumps, sturdy ankle boots, and chic flats round out the mix. In true Fashion Trend Guide form, I'm reviewing some of my top picks for fall 2014.
First up, collection pros:
My store didn't have a great selection of shoes in my size

I found the pointy pumps to be narrow and not as comfortable as I'd hoped
May 25, 2017 update - See new styles for spring/summer 2017: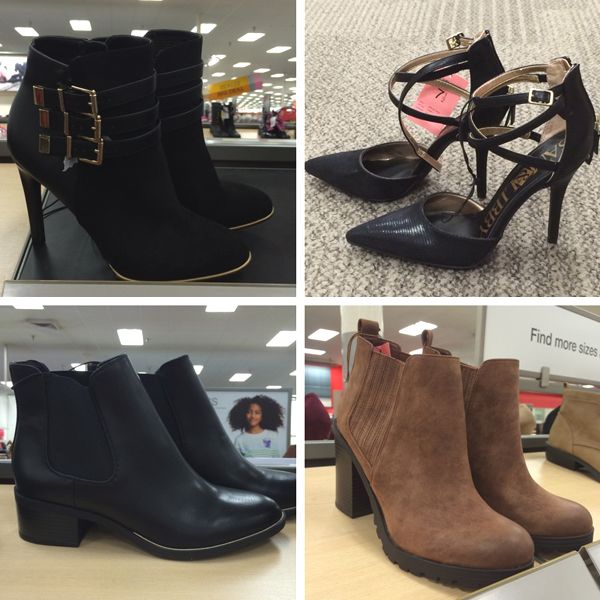 The
Dory two-piece pumps
run true to size, and they have a back zip. I still had to unbuckle them to put them on, and they felt more comfortable than they looked to me. I'd still reserve these heels for occasions when I know I won't be walking or standing for more than a couple of hours. I adore the sheen and textural detail on the toe. They come in other colorways including a beige snake version that's on-trend. Check out this similar style called the "Dylan" with a chain ankle strap and back zip.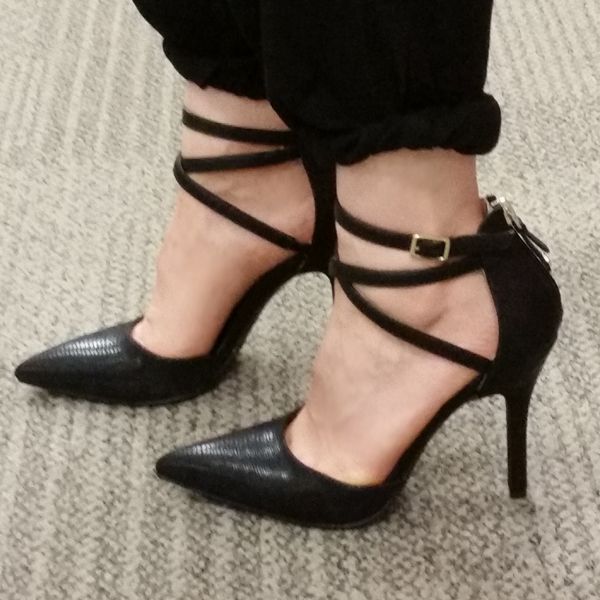 I own these Chelsea bow flats in white, beige, and black, so when I saw the leopard, I had to have them. Not only are they leather, but they are the few ballet flats that actually work for me in terms of fit and comfort. The bow detail is both chic and feminine, and these run true to size. Run, don't walk to Target for them! They are a great value and they also come in gold for fall, as well as navy, purple, tan, etc. See all the colorways here.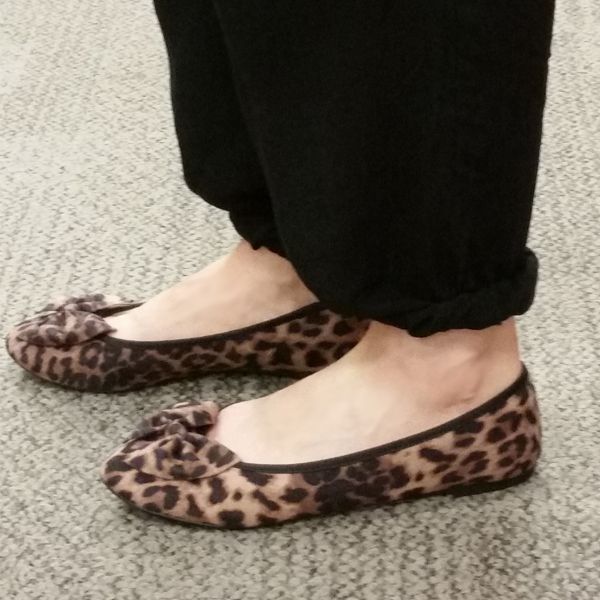 Caged heels hold a special place in my heart, mainly due to their bootie-pump hybrid quality. This Norah style runs true to size, and is selling out quickly in my store. I found them easy to walk in with ample ankle support. The teardrop cutouts are sexy, and I can imagine these heels styled with everything from tailored trousers to A-line mini skirts and body con midi dresses.
This rugged Deanna boot seemed plain and unassuming on the shelf, but once I tried them on, I fell in love. I'll be buying them in black for a '90s-inspired grunge vibe with floral dresses and flannels this fall. Not only are them comfortable and easy to walk in due to the chunky 4" heel, they're also easy to slip on due to the elastic gore. I'm wearing my usual size, but I tried them on barefoot, so I'd size up (half a size) if I want to wear thick socks with them for fall/winter.
The Kirstie Chelsea boots run slightly narrow for me, but were otherwise comfortable. They're a pull-on style with chic gold colored trim on the side and front. I envision these dressed up with a '60s shift dress or full mini skirt, or dressed down with leggings and waxed skinny jeans.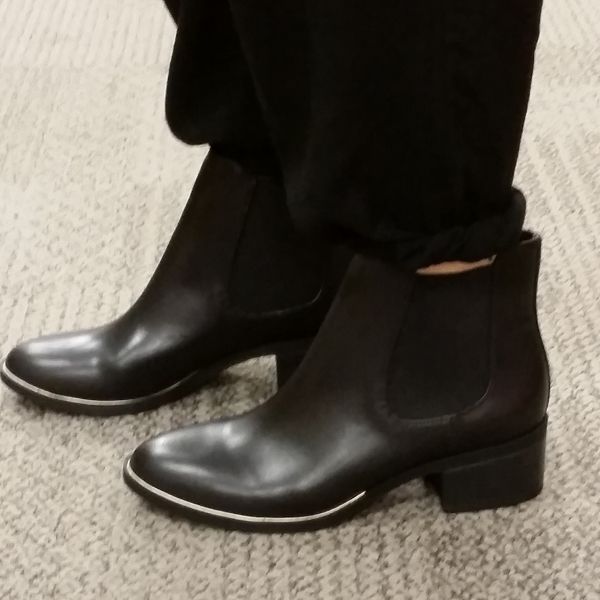 The Anya boots pleasantly surprised me with their comfort. I expected them to be hard to walk in but once I put them on and walked up and down the aisle, they felt good. They run true to size and I'd style them with pencil skirts, midi dresses, and dark denim.
When it comes to shoes, I'm not a loafer person, but these Nyla loafers were comfortable, true to size, and have a chic chain design stitched on the vamp. I actually liked them much more once I tried them on! They're slightly preppy for me, but I can imagine them with tuxedo trousers, striped skirts, and cropped denim.
*January 2015 update - See my spring 2015 Sam & Libby shoe review and like my Facebook page for access to exclusive shopping content.
Get more TargetStyle inspiration by following along on Pinterest!
Shop Sam Edelman: