Kohl's is back at it with another DesigNation collection, this time around with New York-based designer Elie Tahari, who is known for his modern, tailored designs. The inspiration behind the Elie Tahari for Kohl's line is the Big Apple, and the collection's modern digital prints (featuring the city skyline, the Chrysler Building, and the Brooklyn Bridge) are a clear indication of New York's vibrant energy. Colors in the collection are predominantly black, gray, beige, and blue, so if you have an aversion to color, this collaboration might appeal to you.
The Elie Tahari for Kohl's collection is already available online, and the official launch date is September 26. I spent some time browsing the merchandise this week on an unusually quiet night at Kohl's, and I styled a few looks in the fitting room.
Below, a look at the store's main display, which features modern graphics and dark colors.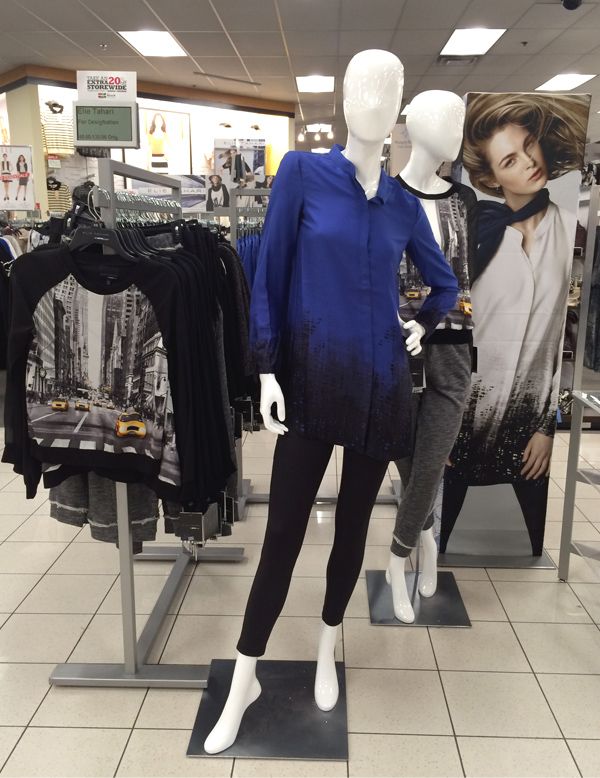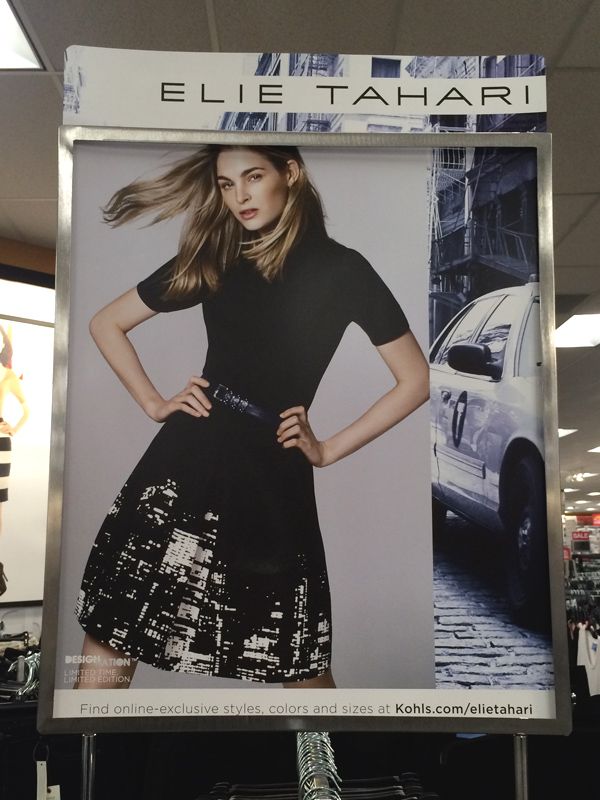 Below, a sea of black and blue dominates the racks, with casual moto jackets, breezy tunics, and sporty scuba leggings rounding out the mix.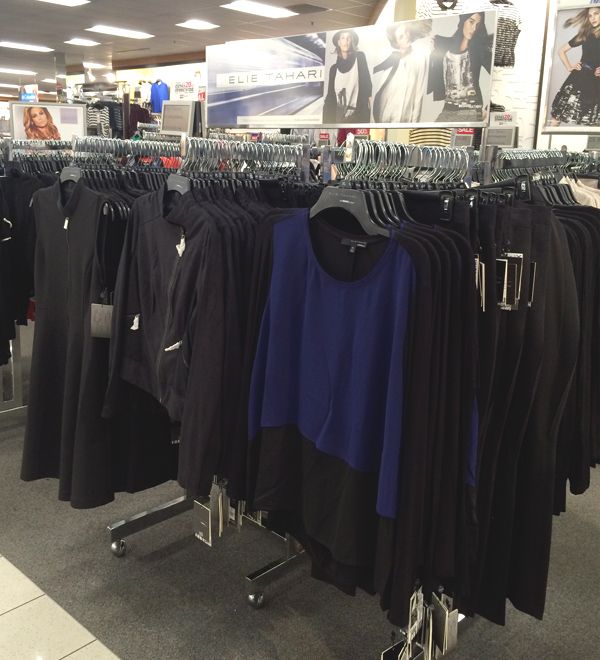 After seeing the previews and the lookbook, I had my eye on this NYC taxi print sweatshirt.
Below, a lighter palette of beige pieces, with one of my favorites, the faux suede motorcycle jacket.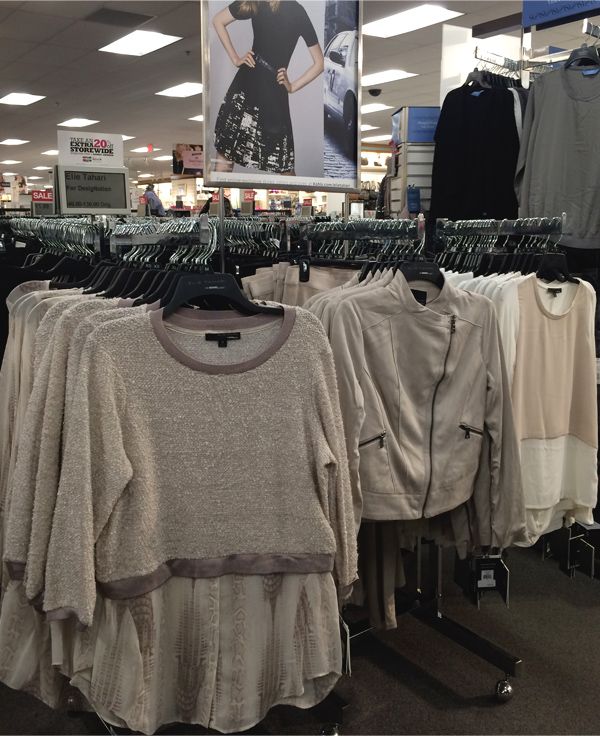 Now for the fitting room photos! For reference, I'm wearing size 2 and XS in everything except the leggings and jogger pants, which are all size small.

I tried on the blue ombre georgette tunic with and without my own belt. It's quite lightweight, so it's best paired over leggings or thick tights. Due to its length, petite ladies can wear it as a dress, while taller ladies may prefer it as a top. I spied a few loose threads on the wrists, which was disappointing. The fit is easy and comfortable with a covered button placket. It also comes in white. I'd style it for a casual day with a belt and my Rag & Bone boots, or for night with suede wedge pumps and a parka.
The mixed media fit and flare dress has a faux fur panel, center back zip, tailored waist, belt detail, and very tight sleeves. I like the overall shape and structure, although the length and fit of the sleeves didn't appeal to me. I'd size up on this if you're pear or hourglass in shape. I'd style this with strappy heels and a statement necklace for a dressy occasion.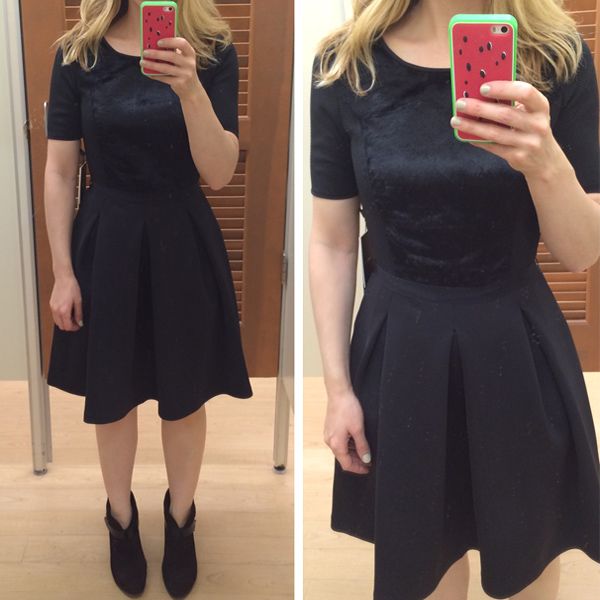 The mock layer sweater in the pale oak combo colorway has a less than soft nubby texture and the blouse part is slightly sheer with a print of the Chrysler Building. I didn't love the fit or length of the blouse panel, as I felt it wasn't flattering. I paired it with the mixed media leggings in fawn beige. They have a seam detail at the knee, an elastic waistband, and mid rise. I loved the comfort factor. On the right, the faux suede moto jacket is layered over the slightly sheer Chrysler Building chiffon blouse. I thought the print on the blouse looked like a snake print from a distance. The hem is longer in the back, and the length is long, so I tucked it in. The jacket is well-tailored and can also be worn with the flaps down. It's super soft, lined, and has two pockets. It's one of my top picks from this collection due to its classic shape and quality construction.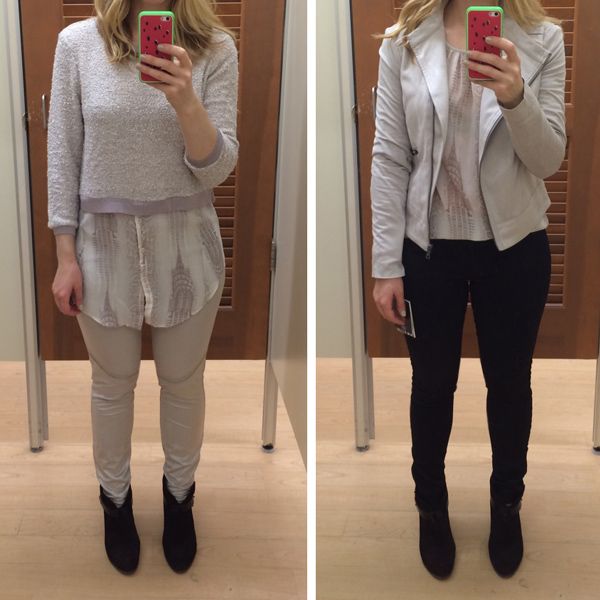 I paired the mixed media faux fur sweatshirt with the ribbed pencil midi skirt for a casual look. As a fan of embellished sweatshirts, this was another top pick. It wasn't as soft as I'd hoped, but the fit worked for me. I'd wear it with a variety of wardrobe staples, including: pencil skirts and heels, dark denim, silk blouses, and printed trousers. I appreciated the skirt's stretchy comfort, although the lack of structure, elastic waistband, and slightly sheer rayon/nylon fabric didn't appeal to me.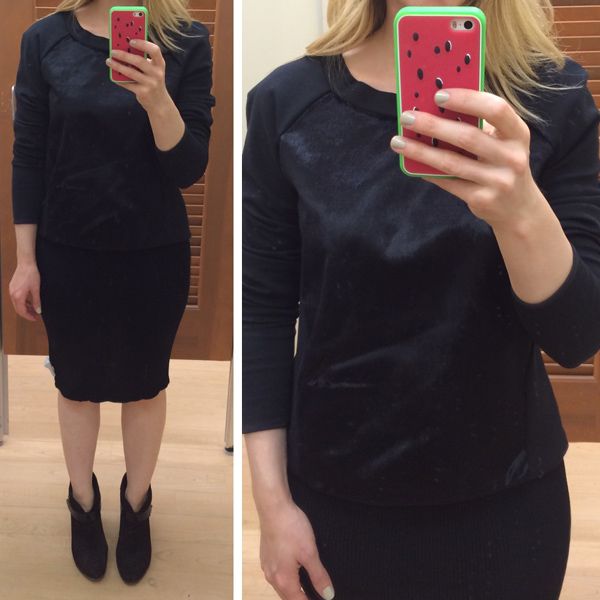 The georgette zipper-front blouse is very lightweight, and I'm wearing it both zipped and unzipped over the taxi sweatshirt. It felt like more of a cardigan than a blouse due to its length and front-zip detail. The wrists were tight, and once again, I saw loose threads on the cuffs. It also comes in a pretty shade of cobalt.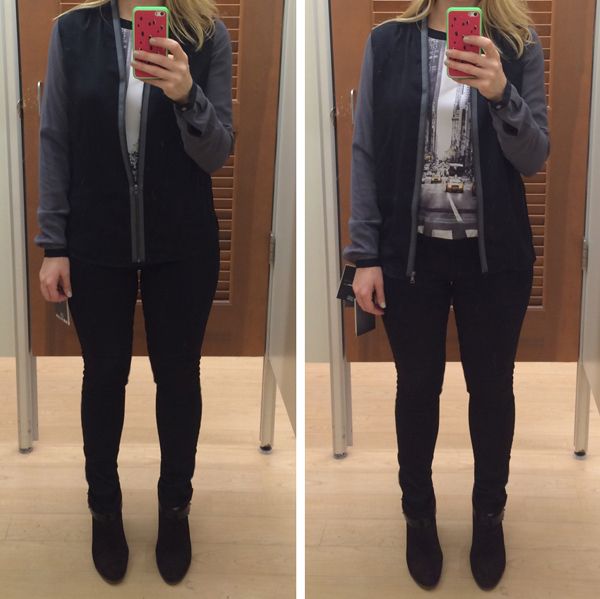 For variety, I styled the mock layer sweater (seen above in the pale oak combo colorway) in gray and cobalt blue with the scuba leggings, and in cobalt blue with the pencil skirt.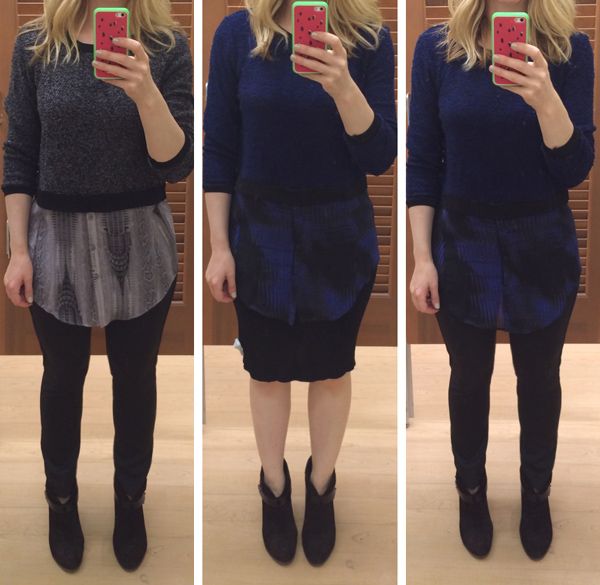 I found the Brooklyn Bridge mixed media tee to be very comfortable and another favorite. The front is crepe, while the back is a soft jersey. I'd tuck this into a pencil skirt and add ballet flats for an office look, or dress it down for the weekend with black skinny jeans, a denim jacket, and sneakers. The taxi print sweatshirt has sheer sleeves and is a very lightweight georgette. I adore the energy of the print, and to counteract its overly lightweight construction, I'd layer it over a denim shirt or black turtleneck for colder weather. The slouchy French terry jogger pants were comfortable, with black crepe side pockets and reverse seams on the cuffs. The New York City graphic tee, on the right, is super soft and stretchy, and comes in two other prints. It has a drop-tail hem, which I like for pairing with fitted bottoms. I'm wearing the mesh scuba leggings on the left and right. They run true to size and have a sporty mesh side panel, mid rise, and even better - they come in three different lengths.
While I wasn't impressed or enthusiastic about many of the polyester tops and tunics and their prices, I did appreciate the attentive tailoring of the dresses and faux suede moto jackets. They are my best bets in this collection because they make for great long-wearing basics that transcend seasonal trends. As a wearer of prints, I gravitated most towards the fun city prints of the three tops pictured above. I'll also be checking out the Kohl's website to see the NYC sweater as worn by Kate Bosworth, the mixed media jackets, and the soft pants that my store didn't carry.
Sizing notes: my store carried sizes XS to XL, although there are some items online available in XXS. Short and long lengths in the leggings are available online that my store didn't carry.
Catch up with me on

Twitter

and

Instagram @thekeytochic, and

share your thoughts and favorites with #ElieTahariforKohls.
October 18, 2018 update - For more Kohl's style, see my POPSUGAR at Kohl's review.
This post contains affiliate links and I may be compensated if purchases are made by clicking links.
Shop the Elie Tahari for Kohl's collection: