One of the reasons that I love fashion is that it's always changing. A trend may be relevant one week and on the way out soon after.
So how do we keep up with the constantly evolving trend cycle?
Fashion trend forecasting companies such as New York-based Fashion Snoops provide in-depth trend reports and forecasts, complete with Pantone color swatches, mood movies, street style galleries, and an abundance of style inspiration for any fashion designer, manufacturer, buyer, or merchandiser who wants to know what will be on-trend in 12-18 months.

For fall 2015 and winter 2016, there are four key fashion trends that Fashion Snoops is highlighting. I had a chance to visit the Fashion Snoops trend galleries and attend their popular trend seminar at MAGIC Market Week, and I'll be sharing key points on each of their four trends.
*Please note that this blog post is protected by copyright laws and may not be republished without permission. Students - please feel free to use this information for school projects as long as it's not reproduced or republished online and you properly cite
Fashion Snoops
and
Fashion Trend Guide
as sources.
The first trend story, Inner Calm, is a cozy translation of a Sunday afternoon in bed with a cappuccino and a duvet. Tucked away miles away from civilization, the Inner Calm man and woman live in a minimalist wood cabin, where they've created a cocoon atmosphere with their home and way of dress. Fabrics are knit heavy with chunky yarns and multiple textures. Shapes are voluminous, with layered looks. Ribbed knit, mohair, high pile furs, brushed wools, and tissue knits are key. Nature factors in not only with natural fibers, but with fur pelts and abstract motifs. Neutral and light colors keep it clean yet warm. Minimalist lines add subtle modern edge. Design details include draped pockets, sweater tie knots, and elongated sleeves. Marbelized techniques and cracked surfaces complement the coldness. The sweater set is an important item, as are: the elongated sweater dress, wide-leg pants, cocoon coat, knit pants, turtlenecks, and the blanket coat. A Nordic heritage with colors inspired by ice and glaciers is key to this story.
Retailers and brands to reference for the Inner Calm trend include Asos, J.Crew, Reiss, and Topshop.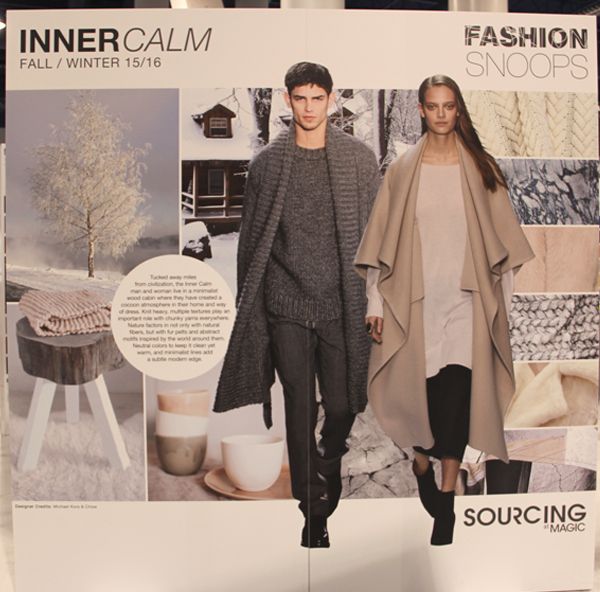 See Inner Calm examples:

The second trend story, City Slicker, is about the ultimate urban dweller who is at home in an active setting. Their metropolis surroundings are reflected in their lustrous surfaces, sharp silhouettes, and plenty of contrasting details. There's an underlying reference to sport. The head-to-toe look embraces the mineral sleekness of the city and is a celebration of the sportif lifestyle with a decidedly urbane approach. Materials are tweed, double-faced, and technical. Mesh, quilting, and PVC are important for this story. Sheer sleeves, side-panel pants, and mixed media techniques figure prominently. Marbled surfaces reflect the metropolis influence. The elongated shirt, cocoon coat, shirtdress, cropped wide-leg pants, Bermuda shorts, and parka are key items. Colors are bright and energetic (like on this sporty top) with positive energy. Digital blue, bright orange, and yellow contrast with industrial steel, concrete, and glass colors.
Retailers and brands that serve as great examples of City Slicker include Nasty Gal, Boohoo, Forever 21, and Adidas.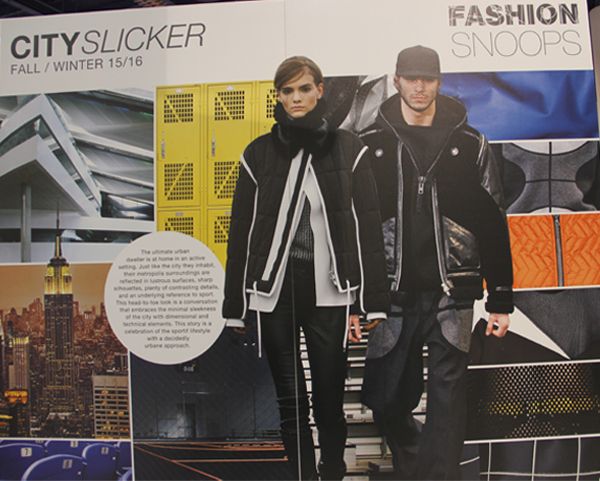 See City Slicker examples:

Northern Narrative (a.k.a. Artisan Journey) is about old textile traditions. Decorative elements create a one-of-a-kind feel expressed by the Bloomsbury set of intellectuals of London. Recalling the first half of the 20th century, the story calls to mind the quarters of writer Virginia Woolf and painter Duncan Grant. There's a dreamy and adventurous spirit. It's rooted in bohemian territory with an arts and crafts element. Materials are silk chiffon, needlepoint, lace, and jacquard. Outerwear is shearling, wool, and astrakhan. Design details include embroidery and quilting. The mid-calf silhouette is important. William Morris florals influence the trend. The blanket coat, peasant blouse, classic cardigan, shearling jacket, quilted jacket, turtleneck sweater, and mid-calf dress are key items. The color palette is bright and lively. Burgundy red and golden are important, as well as blues and moss green or pine greens.
To see more examples of the Northern Narrative trend, check out Threadsence, Free People, and Anthropologie.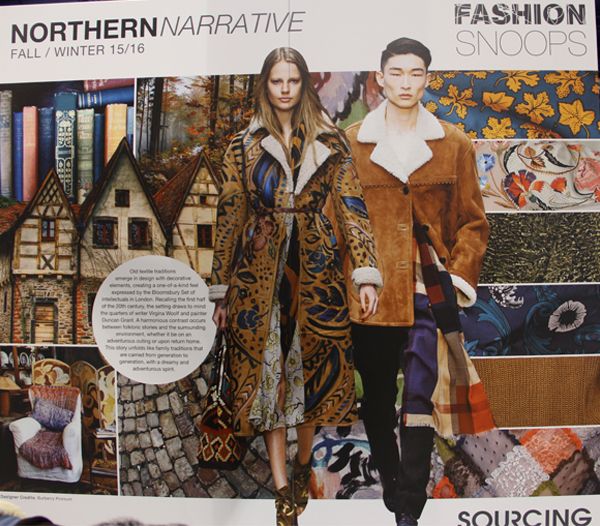 See Northern Narrative examples:

Kingdom is a beautiful story that addresses the unchartered territories, cozy corners, rustic surfaces, time-honored tribal traditions of the North, tales untold of strong men and women and their rugged adventures. Telling the story of a medieval romance, Kingdom is rooted in fairytales coupled with a tough warrior reality and a will to conquer. With a harmonious contrast between pure air, aggressive barren surfaces, and enveloped green earth, this story is raw romance at its best. The color palette is rich and includes forest green, maroon, jewel tones, lavender, and earthy brown. Materials are leather, draped jersey, Army fatigues, velvet, lace and jacquard. Patterns are folkloric and nature-inspired, with storybook inspiration. Key items are the cape, lace-up leather pants, pleated skirts, embellished folk hardware details, mohair sweaters, parkas, and full-skirted dresses. Closures are lace-up and belted, with 3-D appliqués. Statement chokers, chain belts, and palm bracelets round out the jewelry options.
For more examples of the Kingdom trend, see Free People, Asos, net-a-porter, and Anthropologie.


See Kingdom examples:

To see more photos of future trends, follow along with me on
Pinterest,
where I'll be posting color palettes, fabric examples, and more trend forecasting inspiration.
Catch up with me on
Facebook
and
Instagram
@thekeytochic for exclusive fashion content, shopping, and personal style photos.
Want more forecasts? See my top 7 fall 2016/winter 2017 fashion trends for Juniors, spring summer 2016 trend forecast, 2016 denim trend report, and fall 2016/winter 2017 trend forecast.
For a look at footwear, see my 2016 shoe trend report.
Browse more 2015-16 trends:


* Check out Fashion Snoops for additional trend reports and subscription services.
All photos are protected by copyright and text published on Fashion Trend Guide is adapted from Fashion Snoops and may not be republished in any medium without written permission from Fashion Trend Guide.
© 2014 fashiontrendguide.blogspot.com.