This post contains affiliate links and I may be compensated if purchases are made by clicking links.
You may recall the small collaboration that footwear brand Dolce Vita did with Target in the summer of 2010. They offered a well edited selection of studded oxfords, ballet flats, and ankle boots under $35. Full disclosure: I still regret not buying their buckled ankle boot. #ShoeAddict
Fast forward to February 2016 and Target has teamed up with Dolce Vita again, this time for a new collection of sandals and espadrilles under the DV by Dolce Vita line. While sandals dominate the selection, there's a notable cutaway ankle boot called the Nya that's similar to Dolce Vita's 'Noa' boot and 'Haddee' boot. The fringe peep-toe 'Josie' boot at Target looks a lot like Dolce Vita's 'Mazarine' boot. See the similarities?

September 28, 2017 update - See new fall styles:


See the newest by Dolce Vita:


June 27, 2017 update - Shop main line Dolce Vita:
May 4, 2017 update - See my new favorites:

January 16, 2017 update - See my spring 2017 dv by Dolce Vita shoe review.


Here are some of my favorite spring 2016 styles.
Here's a look at the bags that my Target store had to offer.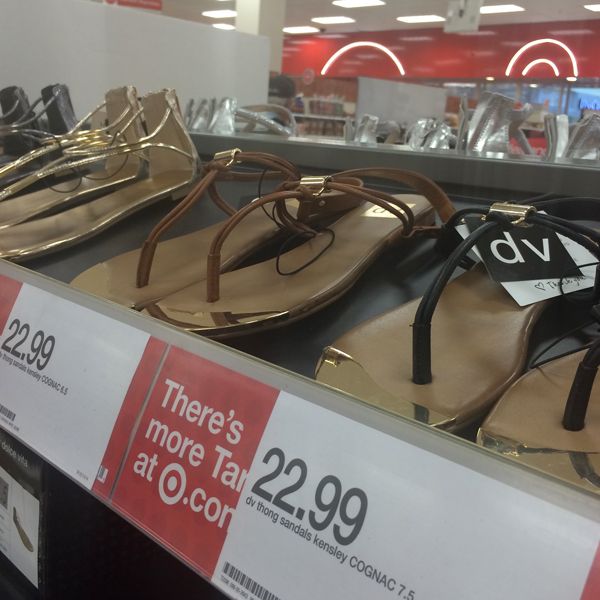 Thong sandals and espadrilles are displayed in a variety of colors, all under $30.
Use #dvlook to share your style.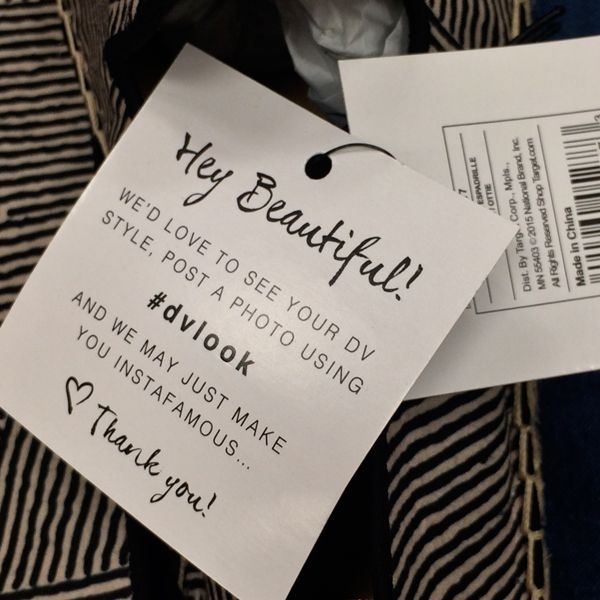 Now for the sizing. The Skye espadrilles come in two colors and run slightly small. (They remind me of the Dolce Vita 'Ceyla' espadrilles, which have studs, or the Dolce Vita 'Ciara' espadrilles, which are lacking the ankle strap and woven uppers.) If you have wide feet, I'd go half a size up for these. I found them to be slightly narrow in the toe box. They have nicely cushioned insoles and are a little stiff.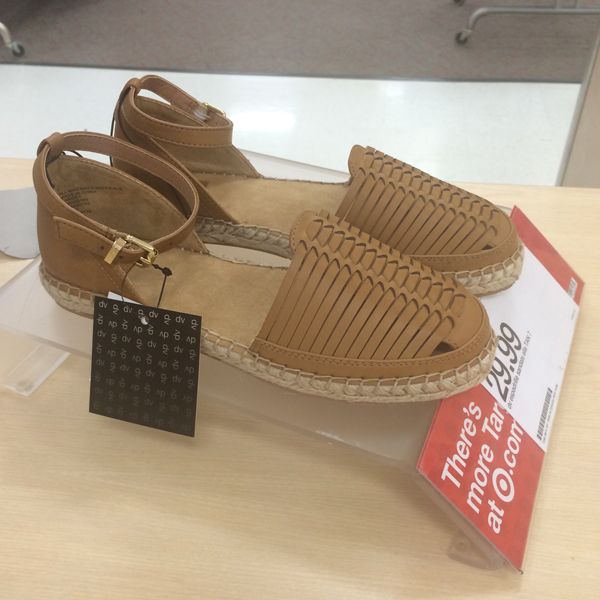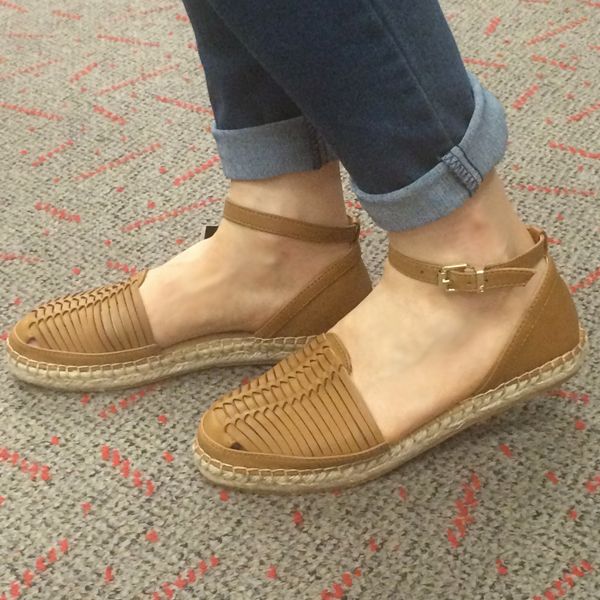 The Ottie espadrilles come in three prints and have cushioned insoles. The black print below is similar to Dolce Vita's 'Javier' sandal. The Ottie style runs true to size and felt the most comfortable of all the styles I tried on. They're perfect for casual summer days when paired with denim, shorts, and day dresses.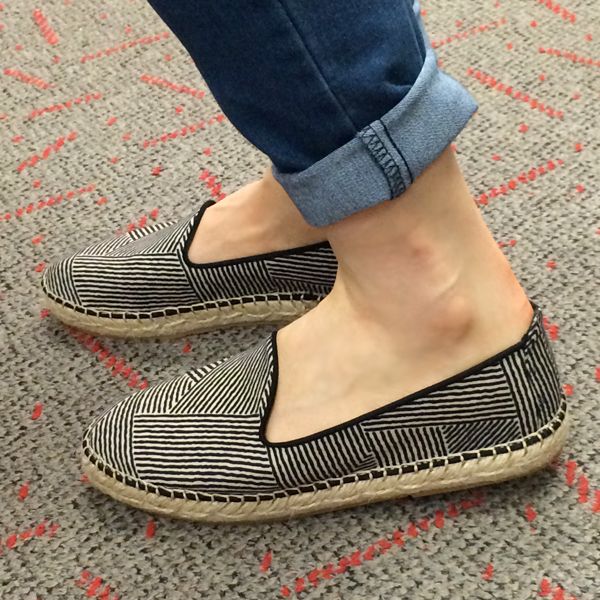 I love the colors below when paired with dark denim. There's a matching wristlet for under $20.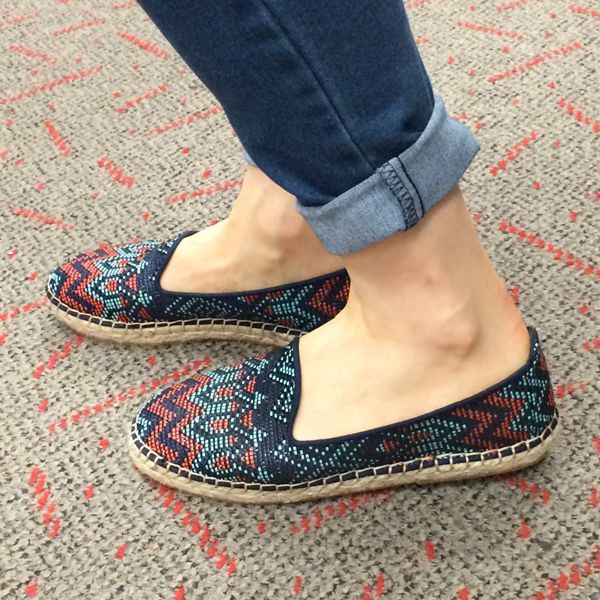 The Kaden thong sandals run big and have a nice back zip. They look much like the Dolce Vita 'Marnie' sandal. They were way too big in length and my foot slid around, so I'd go a full size down on these. I found them to be slightly less comfortable than the other sandals in the collection.
The Kaya thong sandals are true to size. They also come in black or tan. They're similar to Dolce Vita's 'Dixin' sandal, they felt comfortable, and have cute braiding detail on the straps.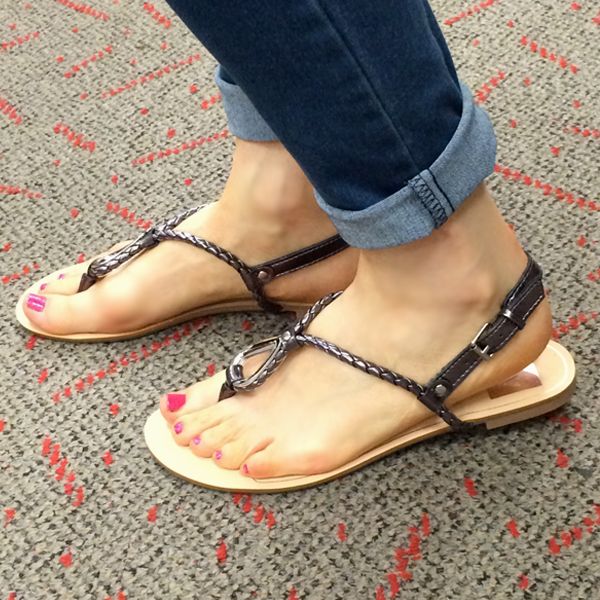 The Kensley thong sandals run slightly big. I'd go a half size down on these. They come in three other colors. Note the metallic detail on the toe area, which gives them a dressy look. These felt similar to the Kaya pictured above in terms of comfort.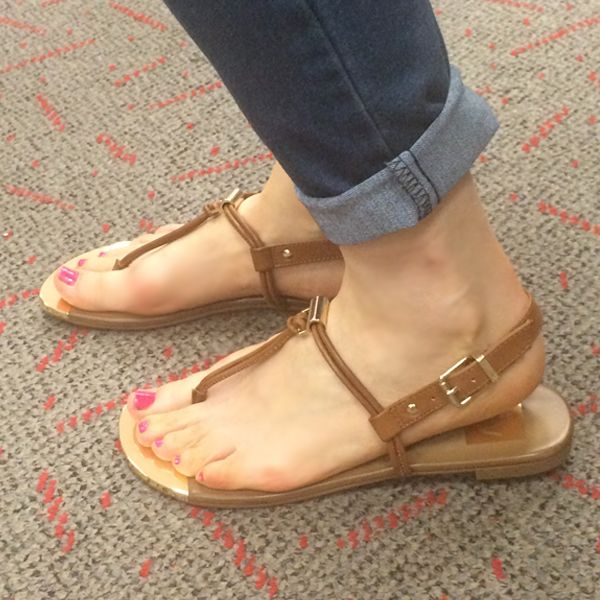 The Nya booties are almost sold out, so had to try a 6.5 instead of my usual 7. They felt really comfortable, easy to walk in, and they fit well.
Feb. 25, 2016 update: I tried on a size 7 (my regular size) and found them to run slightly big, so I'd go half size down on these. The same goes for the Josie fringe booties.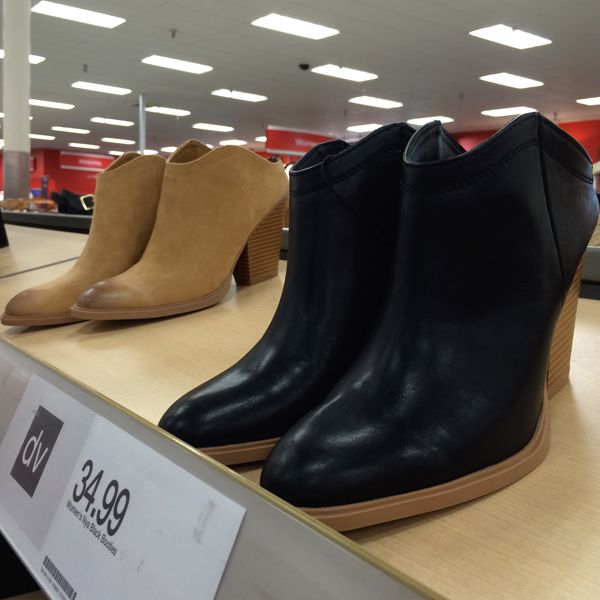 Please excuse the track pants. Instead, I'd wear these booties with crochet dresses, printed rompers (like this summer-ready V-neck style under $50), and cropped denim (like this MiH pair) for spring. The Western styling and mule silhouette is particularly on-trend for 2016. In fact, you can see more of my favorite mule shoes for spring in this trend report.
There's also a selection of DV handbags under $45, including this fringe bucket bag and this chain strap crossbody bag that I have my eye on. I'm looking forward to seeing more of their shoes (especially ankle boots like these fringe 'Josie' boots which resemble the Dolce Vita 'Mazarine' open toe boot) and bags as we get closer to the spring/summer season. As far as Dolce Vita goes, I'm currently admiring this suede lace-up wedge and these lace-up stacked heel sandals.
Love shoes? See my fall 2016 shoe trend report and keep up with my fashion and shopping adventures on Snapchat with user name thekeytochic.
Shop DV by Dolce Vita: