With the official release of the Balmain x H&M lookbook, many shoppers are eagerly awaiting the November 5 launch of the glitzy #HMBalmaination collection at 250 H&M stores around the world and online. Now comes the hard part - waiting for launch day and narrowing down your favorites. Having shopped a handful of H&M collaboration launches in the past few years, I'm sharing my shopping tips for how to score your Balmain x H&M must-haves both in stores and online.
December 2, 2018 update - Shop Balmain for H&M:
November 4, 2015 update - read my Balmain for H&M review with shopping info, fitting room pictures, and sizing tips. See my Balmain for H&M alternatives for all budgets (including this beautiful embellished dress on sale for $66 in black or in blue) if you were unable to buy your favorites.

The Online Strategy
1. Learn the lookbook. Study the lookbook and ad campaign to select your favorites, get outfit inspiration, and check the prices. See highlights from the New York event for inspiration, watch interviews with Olivier Rousteing, see the looks on the runway, and check out behind-the-scenes photos of Kendall, Gigi, Karlie, and more.
2. Play favorites. Make a list or collage of your favorites to help you stick to your budget and prioritize your potential purchases.
3.
Know when and how to shop.
In the U.S., these collections launch online in the morning at a set time specified by H&M. In the U.S., the collection is set to launch online at 8am EST. Unfortunately, the website has crashed in the past.
Be extra prepared by using more than one web browser, mobile device, etc. Refresh your browser often and have patience. Expect some glitches but don't give up. Remember, persistence and patience are key. (If I was forced to choose between shopping online and in store, I'd shop in store. This allows you to try things on, see the sizing, and not have to deal with website crashes.)
4. Save your info. As the time to shop online approaches, log onto hm.com and have your checkout and payment details saved ahead of time. Clear your cart of any items in order to streamline the checkout process. This reduces the chances of having your cart emptied of any out-of-stock items before you can click the "complete order" button.

5. Click quickly. Shop your top pick(s) first and s
ubmit your order right after placing in your cart. Do not shop and fill up your cart. Why? Once an item is in your cart, it's not reserved for you. In order to avoid an item being removed from your cart because it's sold out, you need to click quickly and complete your order!


6. Stay social. Use social media channels such as Twitter and Instagram using #HMBalmaination for up-to-the-moment shopping updates, product info, and to connect with other shoppers. Find me on Snapchat, Twitter, Facebook, and Instagram @thekeytochic for shopping photos, sizing info, and more. See the collection up close in my Balmain for H&M review.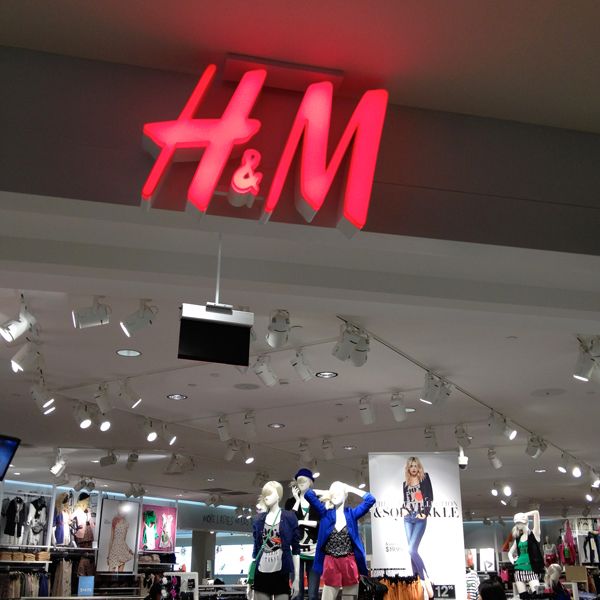 The In-Store Strategy
1. Know where to go.
Plan your shopping in advance. Be ready to stand in line on Wedneday night or early Thursday morning (see just how early in #3.) Once it's published, use the H&M store locator to find the H&M stores near you that'll stock the Balmain capsule collection.
*October 29, 2015 update - Use the store locator for a list of stores in the U.S. that will carry the collection for men and women.
2. Phone it in. Be extra prepared by calling your local store the week before the launch to confirm if they'll carry the collection and ask them where you should line up to shop.
3. Be an early bird. You know what they say about the early bird. Stores open at 8am (instead of 10am) on launch days. I've found in the past that if I arrive by 4am or earlier, then I'm able to get into the first or second shopper group. For example: for Lanvin, I arrived in line around 3am and I was #65 in line. For Marni, I arrived around 2am and was #27 in line (after several friends of shoppers arrived and took cuts in front of me.) For Isabel Marant, I arrived before 4am and lucky for me, I was in the first shopper group. For Margiela, I was fortunate enough to able to shop the fashion editor preview the night before the launch.
4. Play the waiting game and respect the line. For people wanting to shop the Women's merchandise, H&M reps will pass out color-coded wristbands to the first 420 people in line. They do this several hours before the store opens, with each shopper group consisting of 30 people. Each group of 30 shoppers is allowed fifteen minutes in which to shop the collection in a secure and sectioned-off area of the store. The fifteen minute time slot goes by really fast, with employees calling out the time at five minute intervals. It's hectic, crazy, and dizzying. This poses a dilemma if you want to shop both Women's and Men's first thing because the Men's area is open to all shoppers at 8am. Note that all people can enter the store at 8am. In between shopper groups, employees rapidly replenish the merchandise in five-minute intervals. Oh, in case you're not awake yet, there's thumping loud music via a live DJ. Expect long lines at the fitting rooms and people hoarding whole racks of clothes in piles on the floor.
5. Preparation is key (but first, coffee).
I bring a blanket/pillow, cozy jacket, and plenty of snacks/water to stay energized and comfortable while in line. Bring coffee if needed. I have seen people camp out overnight in tents to be first in line for these collabs. Crazy, yes, and dedicated!
For people who live in large cities, I'd recommend going several hours before the store opens if you're really motivated to shop. In my experience, stock varies widely from store to store, with flagships carrying the best selection.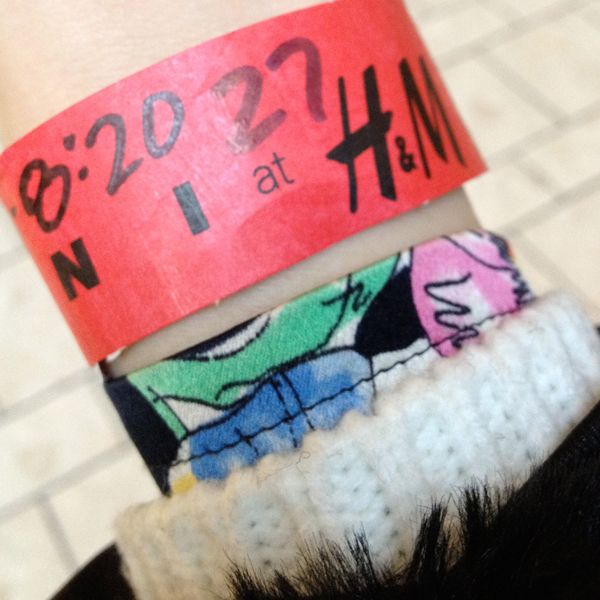 my Marni x H&M wristband, for shopping from 8:05am-8:20am
6. Bring a buddy. A family member, friend, or significant other might be able to help you get the pieces you want and help you make purchasing decisions. "Divide and conquer" should be your strategy! Arrange to meet in line at the same time so you're not cutting in line and you can be in the same shopper group for maximum teamwork. The Lanvin for H&M faux fur coat and embellished tee would not be mine if not for a dedicated boyfriend.
The same goes for the Isabel Marant pour H&M fringe boots, and I feel really fortunate!
7. Check for go-backs and barter. If your favorite pieces disappear from the racks in a flash, be courteous, be patient, and don't be afraid to chat with H&M employees and other shoppers to politely trade to get what you want!
8. Know your limits. There are quantity limits on these collections (it's 2 items per style in stores and 1 item per style online) to prevent buying in bulk, and the return policy time frame is shorter (3 days). Be aware of these restrictions in order to prevent any buyer's remorse.
9. Persistence pays off. H&M does not restock these collections, but you can still score your favorites. If you don't find what you want after the launch, check back for returns in the coming days, as many shoppers take items back to the store. Returns or exchanges with receipt must be made by Nov. 8 for this collection, and after that store credit will be issued. Accessories can't be returned for hygiene reasons, so select them carefully. How about that buyer's remorse? Don't forget to check the customer service desk and clearance racks for returns in early November as well.
Call your local stores to ask what they have in stock.
10. Alternative options after the launch.
With the inflated resale prices on eBay, you can likely buy main line Balmain on sale at up to 75% off. Or, consider these budget-friendly Balmain for H&M inspired items that I've curated on my other blog The Key To Chic.
Catch up with me on Snapchat, Instagram, Twitter and Facebook @thekeytochic before, during, and after the launch for more shopping information, photos, fit tips, and fashion inspiration. Read my Balmain for H&M fitting room review for a closer look at the collection, and see my Balmain for H&M alternatives on The Key To Chic if you couldn't shop your must-haves.
For more inspiration, see dozens of photos from the New York fashion show and party.
Shop budget-friendly Balmain for H&M alternatives:

Shop Balmain pieces that inspired the H&M collection:

Get inspired by Balmain:


Shop the H&M fall/winter collection: