A few years ago a reader asked me to do a review of
LC Lauren Conrad
for
Kohl's
. Having shopped at Kohl's quite often throughout the years, the collection never really captured my attention enough to write a review until recent seasons. The pretty pastel color palettes, floral prints, and feminine silhouettes are perfect for the winter-to-spring transition, and I find myself loving some of the spring 2015
LC Lauren Conrad apparel
. So better late than never, here's my spring 2015 Lauren Conrad for Kohl's fitting room review.
March 22, 2018 update - Shop the newest arrivals:




(Update: see my fall 2015 LC Lauren Conrad Runway review and spring 2016 LC Lauren Conrad review on my other blog The Key To Chic.)
My store recently received a new shipment of spring LC merchandise, and it was arranged neatly on the racks on the day of my visit.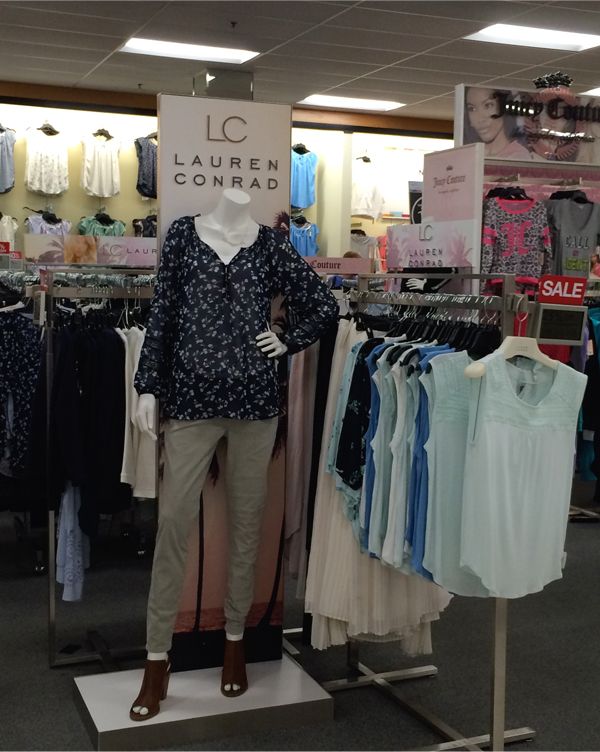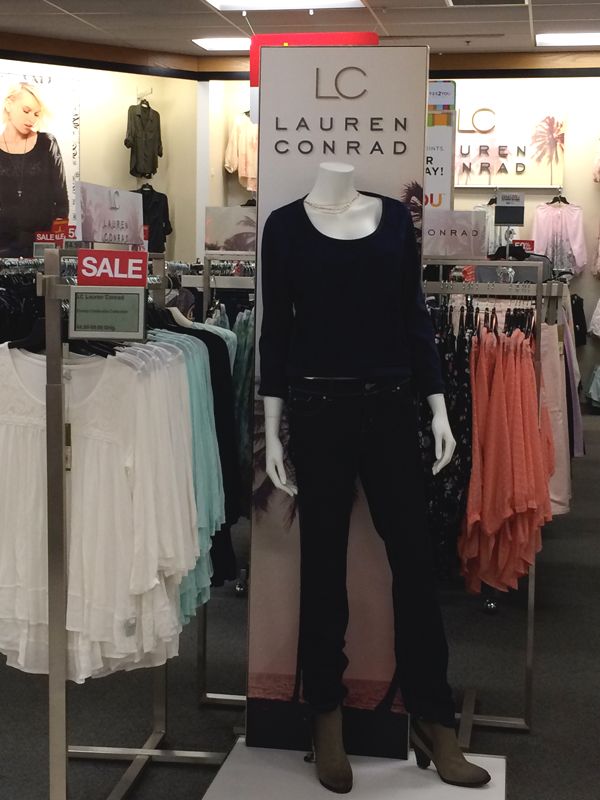 For reference, I'm petite and currently a size 2 or XS at Kohl's, so that's what I tried on in everything. I'm also wearing 3" heels.
The floral jumpsuit was a favorite pick because not only do I adore floral prints, I also have a soft spot in my heart for jumpsuits. They remind me of my childhood, and of sunny, languid summer days. This one is ultra comfortable, has adjustable straps, an elastic waist, a large ruffle that hits near the waistline, and side slits at the hems. Bonus points for having pockets and also coming in a fun polka dot print. Wear it now with a turtleneck underneath or a cozy cardigan on top and for spring/summer with strappy sandals and cute layered jewelry.
Below I'm wearing the cropped floral mesh sweatshirt (which also comes in navy) and the scalloped-edge crepe shorts (which also come in polka dot and solid black). I have these shorts in black (see how I wore them recently on my other blog The Key To Chic), and I love the side pockets, scallop hem detail, full lining, comfortable elastic waistband, and easy fit. Unfortunately, the sweatshirt's neckline is too big/wide for my personal preference, and the fabric felt stiffer than I'd like.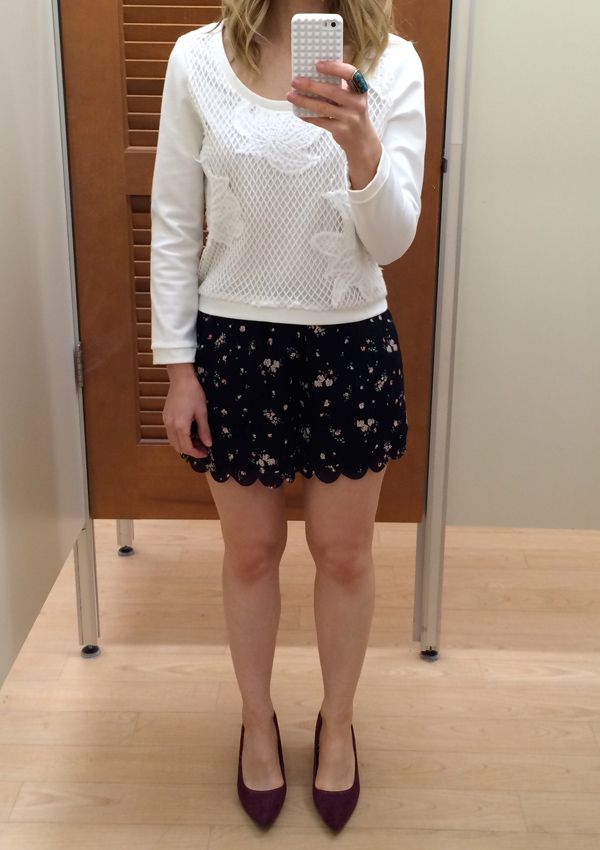 Below I have on the lace bomber jacket, floral chiffon henley blouse, and cropped mid-rise skinny jeans (which also come in medium and dark indigo). The blouse was too sheer for my taste, but I love the floral print. The fit was oversized, so I tucked it in for the two photos on the left. Bomber jackets are another wardrobe favorite of mine, so naturally, I adore the lace bomber jacket (I got it in pale blue and it also comes in black and ivory). I did spot some loose threads near the zipper, but loved the fit, price, and comfort factor enough to overlook that. The cropped jeans surprised me with their spot-on fit, mid-rise, and short length. I found them to be soft but not too stretchy, with some minor gapping in the back waistband that I fixed with the woven belt that comes with the jeans. They were thick enough to not be too revealing, as light denim can often be. Overall, I'm impressed with the fit and quality of the jeans. I wish they came in more pastel shades!
Below, a look at the LC Lauren Conrad Cinderella collection.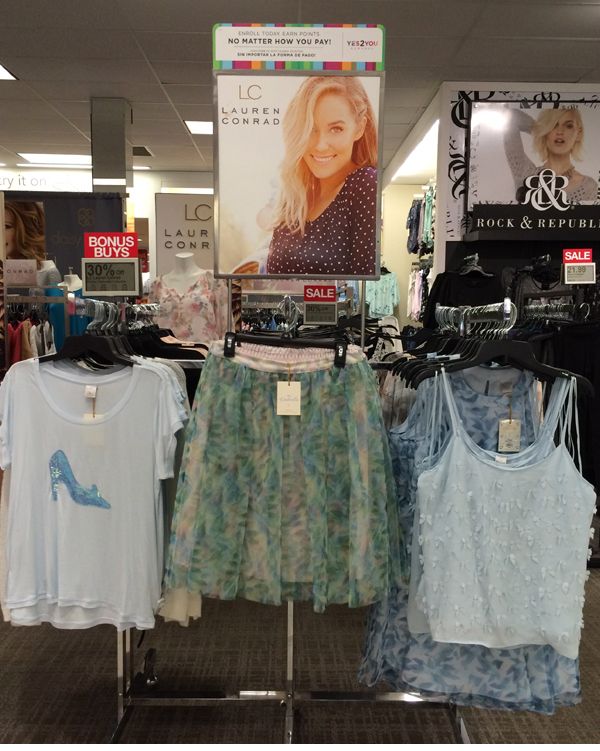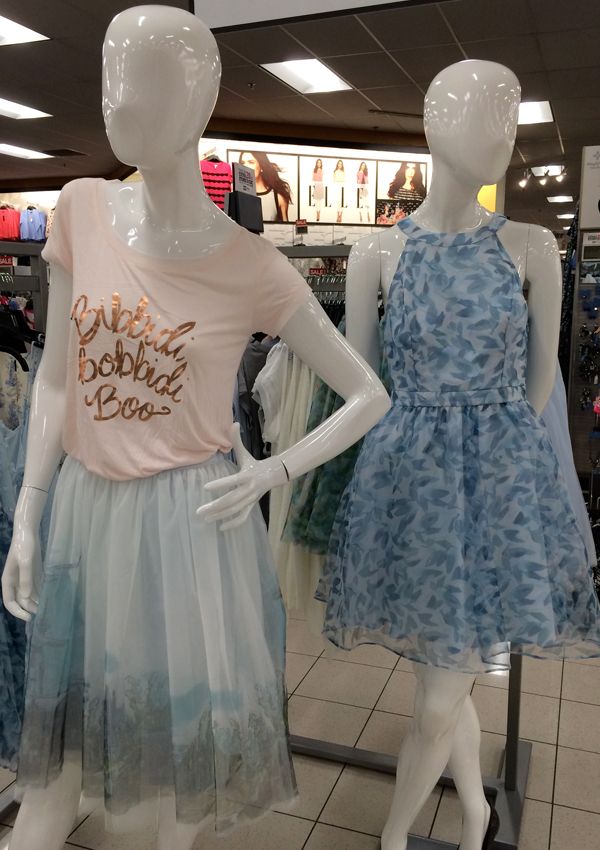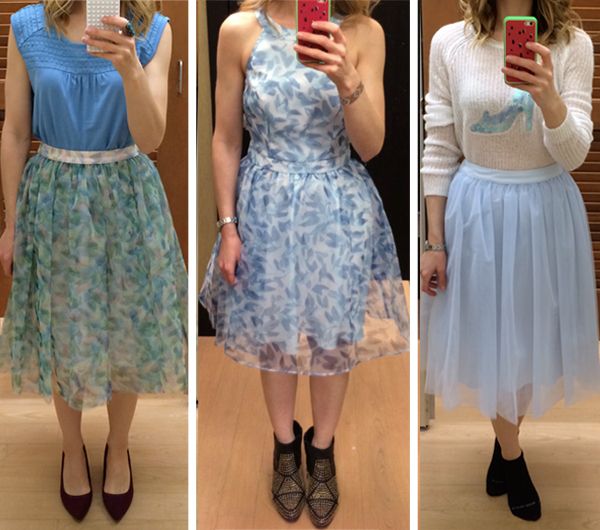 The Disney's Cinderella princess tulle midi skirt caught my eye on the racks with its contrasting elastic waistband and aqua color palette. It's lined with an ivory slip and is super comfortable, but I found it to be slightly too loose in the waist. The soothing print reminds me of wallpaper or a watercolor painting, and I paired it with a blue crochet trimmed top (which also comes in shades of green and ivory). The skirt is perfect for a fancy lunch, a spring party, a bridal shower, or a twirl in the park, and I think it would be great with this ballet slipper sweater from the Cinderella collection.


Update - Feb 18, 2015: I visited another Kohl's store to try on more of the LC Cinderella pieces.

The

glass slipper sweater

was a top pick from the

Cinderella collection

. It also comes in blue, is lightweight, has an open weave, raglan sleeves, and runs big. Since it's sheer, I layered it over the pale blue bow appliqué camisole from the collection.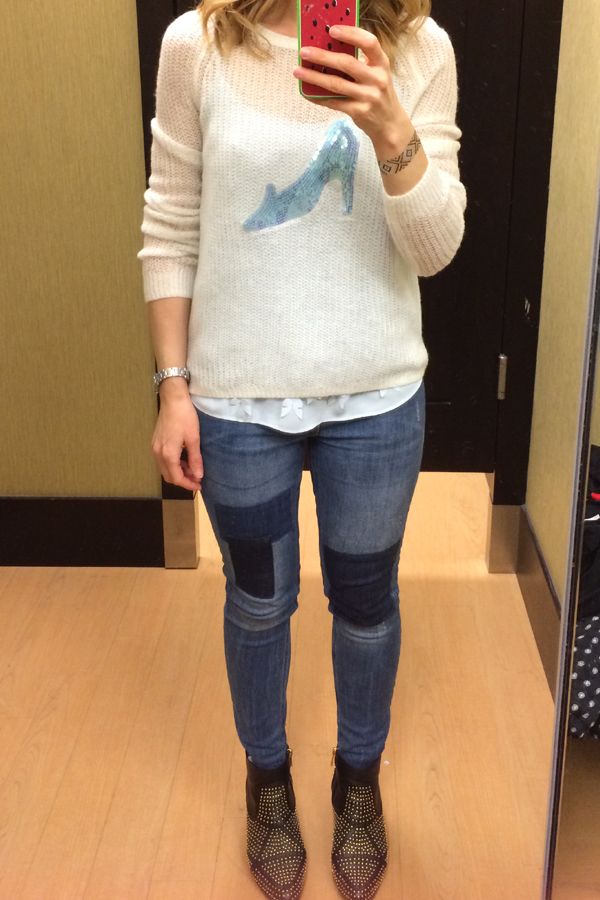 The glass slipper tee runs big, is very lightweight, and comfortable. I think it would be amazing styled with the tulle skirt from the collection.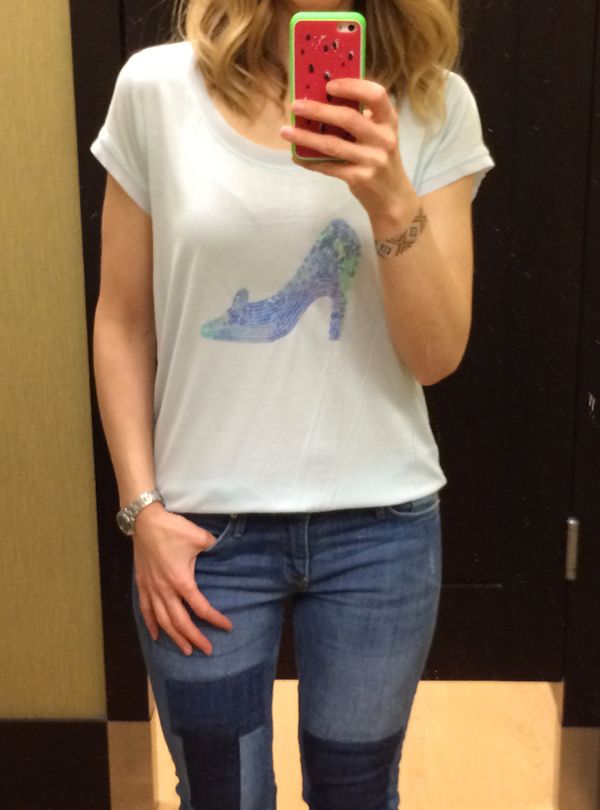 The organza bow back dress had a pretty print but unfortunately, mine had a faulty side zipper which got stuck when I was trying it on. It is lined, lightweight, and comfortable, but also very prone to static cling. The size 2 was big on me. If you try this on, make sure your zipper was better than mine! See how I style it as a skirt on my personal style blog The Key To Chic.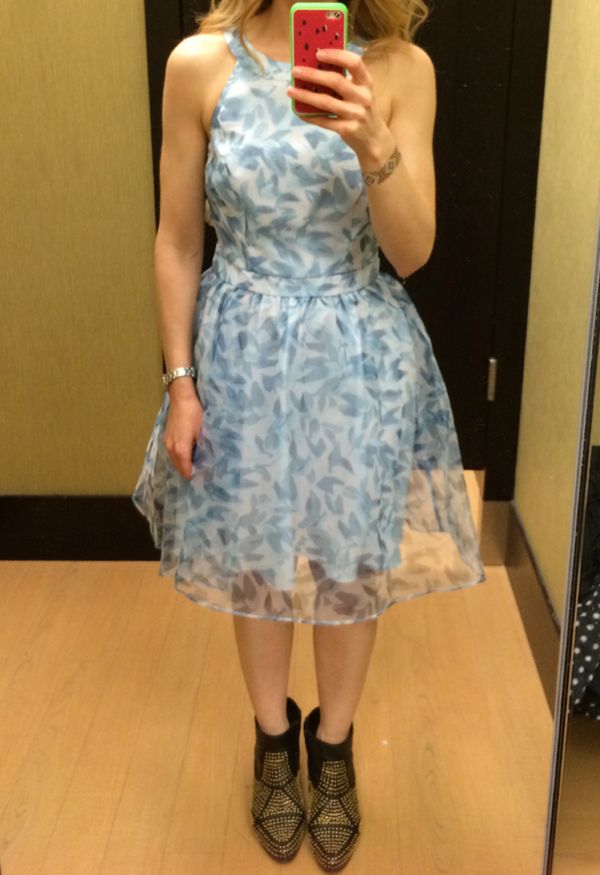 Note the playful bow detail in back.




The bow appliqué camisole had adjustable straps, great 3-D texture, an easy fit, and jersey lining. I'd pair this with everything from dark denim and pencil skirts to tuxedo shorts and A-line midi skirts. It also comes in heavenly pink and marshmallow colorways.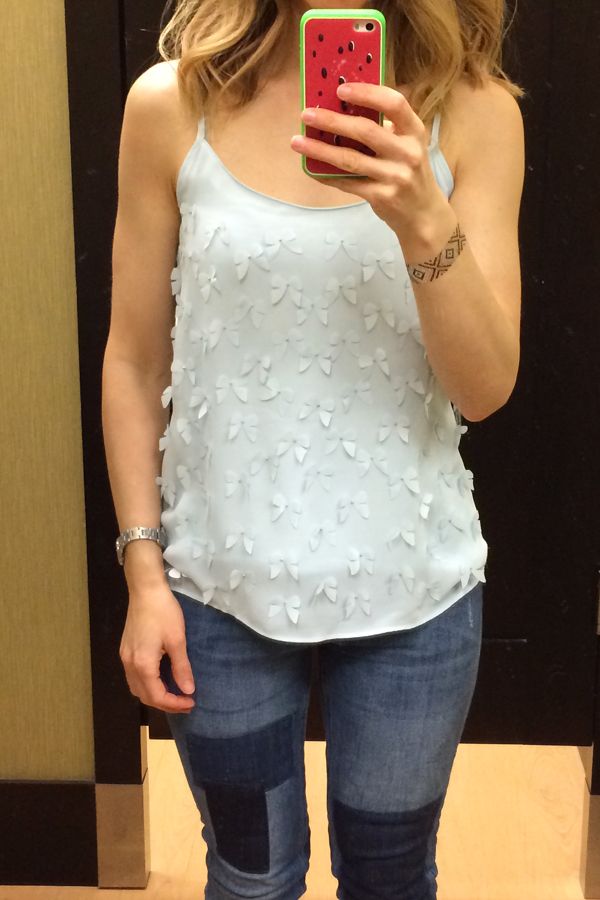 Watch this space for more shopping reviews, updates, and fitting room photos.
See how I wear the collection on my personal style blog, and see more LC Lauren Conrad (including cute jewelry and footwear) and keep up with my shopping adventures on Facebook!
This post contains affiliate links and I may be compensated if purchases are made by clicking links.
October 18, 2018 update - For more Kohl's style, see my POPSUGAR at Kohl's review.
September 2015 update - For more LC style, see my LC Runway review for fall 2015.
January 2016 update - See my spring 2016 LC Lauren Conrad review on The Key To Chic.
Shop LC Lauren Conrad: