With the holidays behind us and spring on the horizon, new shoe arrivals by Sam & Libby are sprouting up at Target. It may be too cold to bare your toes, but this shoe addict thinks it's not too early to stock up on spring footwear. Like previous seasons, I tried on a few pairs and I'll be sharing my thoughts on fit and sizing in this review.
May 25, 2017 update - Shop the spring/summer 2017 collection:


January 29, 2017 update - See the latest: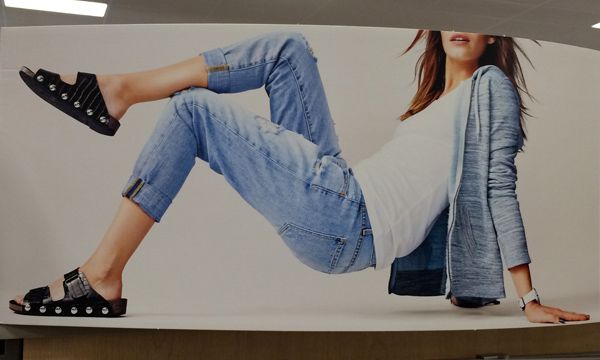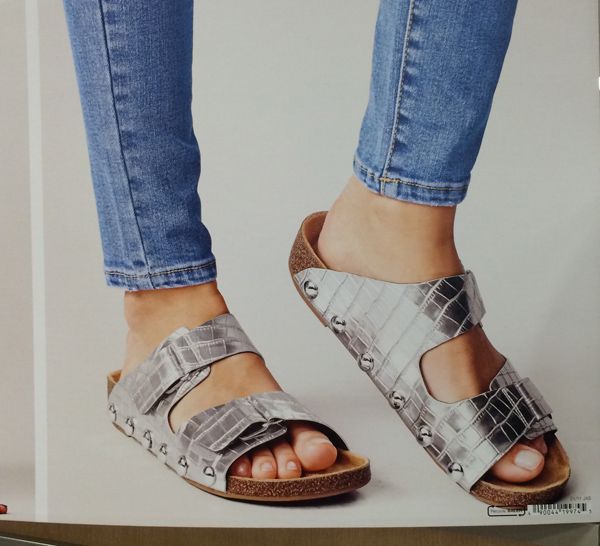 Styles range from sexy cage heels and wedge slides to chic two-piece flats and comfortable studded sandals. Below, the Arianna gladiator sandals in the fawn colorway are my top pick.
Unfortunately, the store I visited did not excel in visual merchandising, but the selection of sizes was decent. The styles that I tried on are all under $30.
See the entire
Sam & Libby spring 2015
collection, including bags.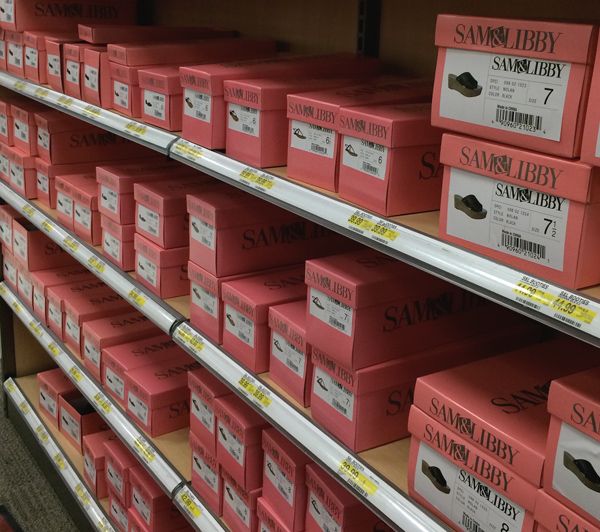 First up are the Nolan wedge slides, which also come in a gold and in a non-patent black colorway. This is the fawn colorway. They were easy to walk in with a perfect platform-to-wedge ratio and I sized down from my usual 7 to 6.5 for these. I love the color and the shiny finish, which makes them perfect for both casual days and more dressy affairs. My only concern would be potential blisters on top of the feet from the slightly stiff straps due to their synthetic composition. Note the tiny Sam & Libby logo on the side. I think they look more expensive than their $29.99 price point.
I also sized down half a size for the Arianna gladiator sandals. They also come in black. I could've gone a full size down because the length of these seems long. I adore the tassel trim, adjustable laces, and the easy back zip. These came home with me due to their high comfort factor, textural detail, and easy-to-style neutral color. Pair with a printed day dress or a fringe kimono and cutoffs for spring festival vibes.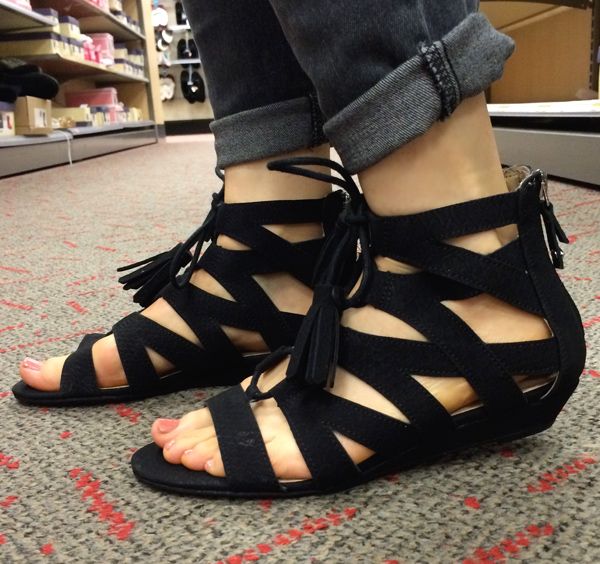 The Heidi two-piece flats come in other colors (which my store did not have). I went down half a size because they also seem to run big/long and pointy. I found them a little narrow in the toe box, so my verdict is that they are best for people who don't have wide feet. Otherwise, I think they're a cute and chic option, just not a great match for me. I'd recommend styling them with ankle length skinny jeans, cropped trousers, or pencil skirts.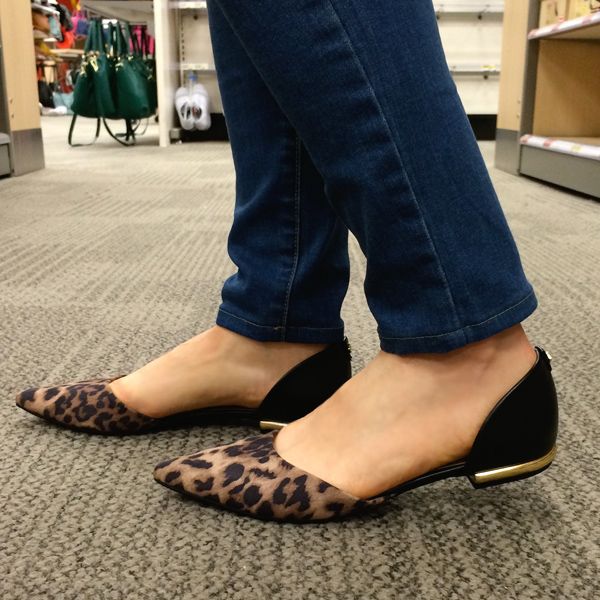 I have the Ashland sandals from last season in both black and silver, and not only are they extremely comfortable for long days on your feet, I got a lot of compliments on them. They're back this season with an updated mock croc texture and silver studs. I love this luxe update! I'm wearing my usual size 7 here. They run true to size. I predict the black will sell out quickly, so don't hesitate to scoop these up! I wear mine constantly in rotation with my Birkenstock Arizonas.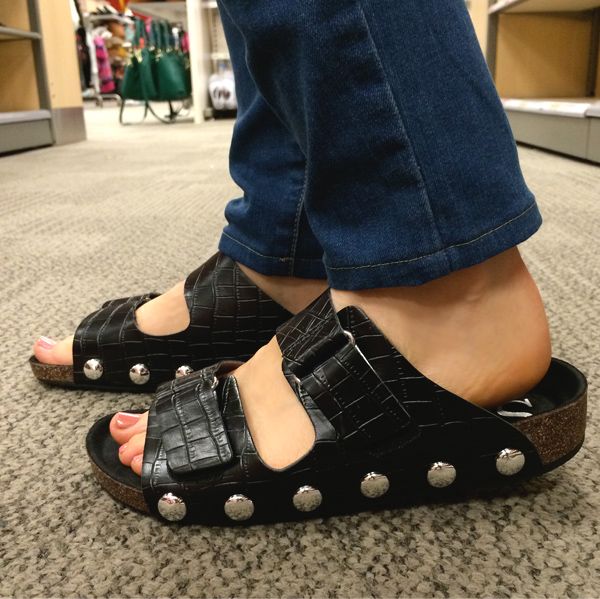 The Cheri cage heels are reminiscent of the Prabal Gurung for Target heels. They also come in a pretty beige colorway. The heel feels slightly higher and harder to walk in than the Prabal style, but the laces are softer and more comfortable. I would've preferred a lower heel or higher platform. On the other hand, I love the easy back zip, strappy design, textural detail, and tassel trim on the laces. I found these to run big; I'm wearing a 6.5, and could've even sized down to a 6.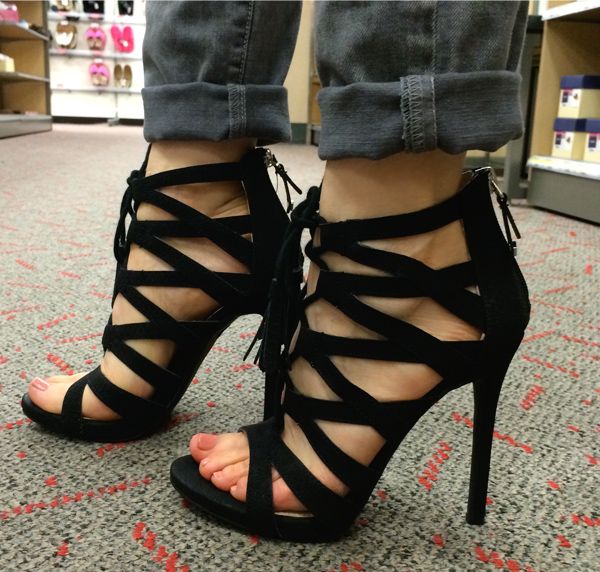 I also scored the Chelsea bow flats in the elusive gold color I'd been wanting. I went down half a size for a snug fit. I have quite a few pairs of these because I find them so comfy, plus they're leather! Considering that flats are tricky for me since I'm used to arch support and ankle boots, these are major must-haves. The Chelsea flats also come in silver, in pink floral, and in a laser cut update in black or white for spring.
Watch this space for more photos, shoe reviews and Sam & Libby updates (see my fall 2015 Sam & Libby review), and keep up with my shopping adventures over on Facebook and Pinterest.

April 17, 2016 update - Shop Sam Edelman for spring/summer 2016:

Shop my favorites: