It's been almost two years since my first Joe Fresh at JCPenney review, and I'm back to share some looks from their spring 2015 collection. Up until recently, my JCPenney store
had relegated the Joe Fresh collection to an inconspicuous corner of the store. Now it's back to its original location (it traded places with the JCP collection) in a more prominent area. I was happy to see an assortment of cool basics that Joe Fresh is known for: cute graphic tees, striped knits, and skinny jeans under $50.
August 12, 2017 update - Shop fall 2017 arrivals:

July 3, 2017 update - Shop new Joe Fresh arrivals:

January 26, 2017 update - See the newest at Joe Fresh:

Here's what the spring merchandise looked like on a Friday afternoon.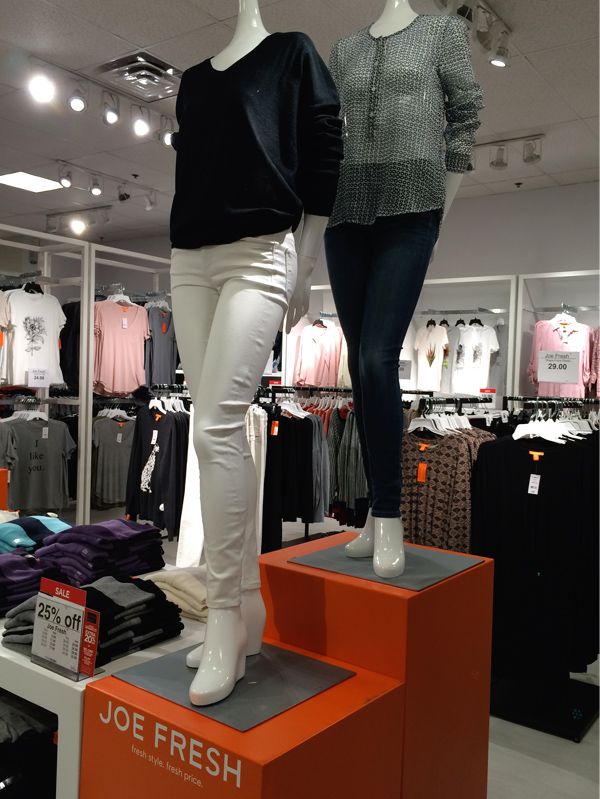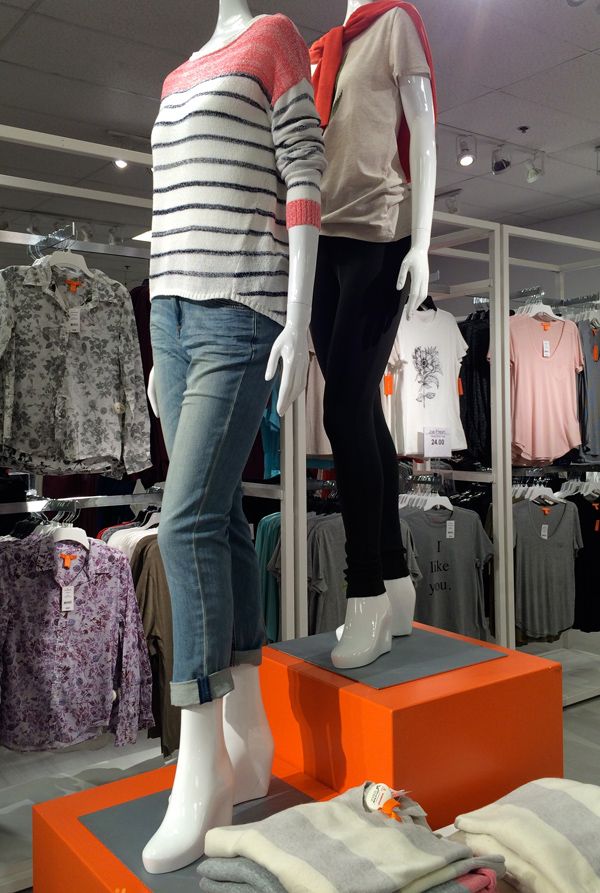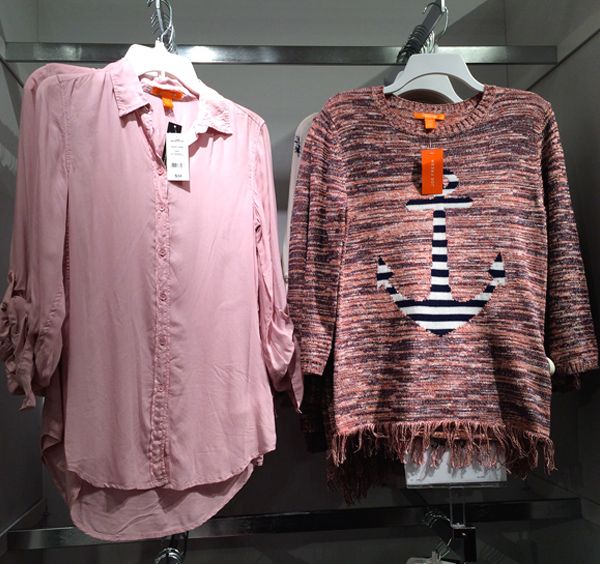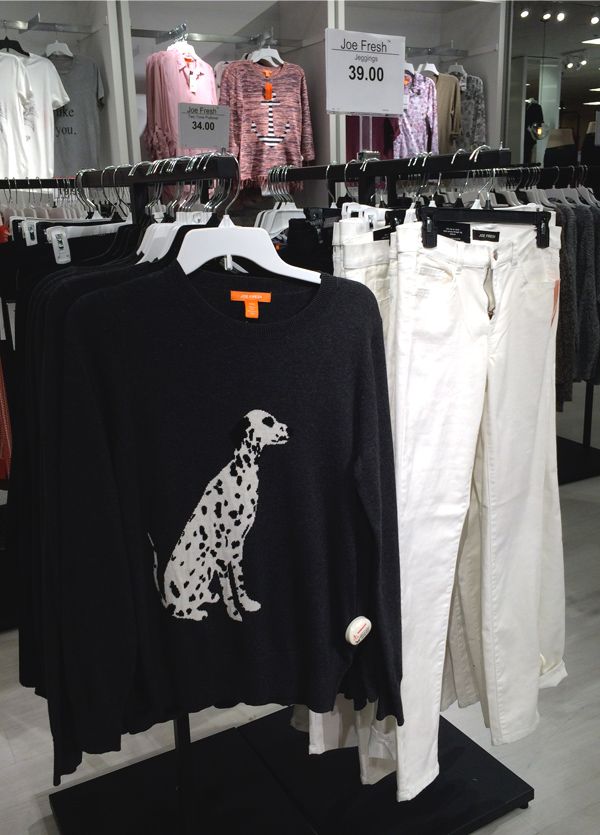 The whimsical floral sketch tee was a favorite of mine.
Naturally, I styled some looks in the fitting room. For reference, I'm wearing size XS or 0 and size 25 in denim unless otherwise noted.
The first look is the cotton long-sleeved striped tee and boyfriend jeans. I found both to be comfortable and made of hefty fabric, although the jeans run large and were too loose in the waist. I liked the rolled hems (which I rolled twice more) and slight fading. The top was too long for my taste, so I tucked it under for a shorter fit. It also comes in six other colors, including solids.
I'm wearing a small in the cable knit sweater, which runs big, and a size 2 in the ponte knit pants, which run small. Although the sweater felt soft and comfortable, the sleeves, neckline, and length were too big on me. It also comes in black, white, grey, red, and pink and it's currently under $20. I love this blue color, but the fit wasn't right for me. As for the ponte knit pants, they also come in brown, army green, charcoal, and navy. They are very fitted to the body, have back pockets, and a zip with button fly. I found them to feel like thick leggings. They also have circular seams on the lower legs.
I paired the anchor sweater with white skinny jeans for a nautical look. I like the fringe detail but feel there's too much going on between the fringe, marled knit, and the striped anchor. I loved the soft feel, the slim fit, and crewneck silhouette. As for the white jeans, there was very little stretch (only 1%), but I liked the subtle distressing. They felt too stiff and while I liked the slim fit, I found them to run small compared to other Joe Fresh skinny jeans.
I'm wearing the "très chère" sweatshirt with the distressed skinny jeans below. The sweatshirt ran small for me, so I'd size up if you're curvy in the hip or waist. It has small side vents and a textured print which I think would be cuter in black. The distressed skinny jeans had more stretch/run bigger than the white pair, felt comfortable, had a flattering mid-rise, and fit me well in the waist.
I've got on the Dalmatian sweater which was surprisingly soft despite the partial wool content. It also comes in another dog print, runs big, and is lightweight enough for winter or spring layering without adding bulk.
The blooming flower print tee was a surprise favorite. It's super soft, fits true to size, and comes in a V-neck version. I'm wearing it with the slim leg joggers, which I've got on a lighter grey colorway as I type this. The joggers run big for me, but I adore the slim leg silhouette, two side pockets, and shorter inseam of 29" (since I'm petite). They're perfect for workouts on cool mornings or for lounging at home. The tee is true to size, while the joggers seem to run big. (Both are XS.)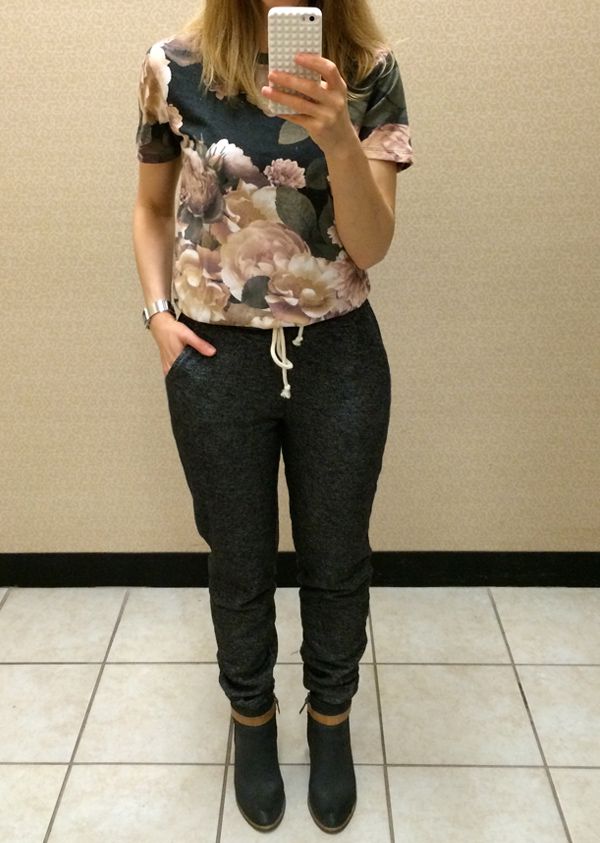 The dolman turtleneck sweater is a versatile basic that also comes in grey, white, and navy. It runs big in the sleeves and in length, and it's also soft yet lightweight. The hem is ribbed, and I tucked it under for a shorter length. The geometric knit skirt has a black elastic waistband, and runs big. It was soft and thick, but not flattering on me.
I liked the thick fabric of the sleeveless polka dot dress, as well as the two side pockets and slightly tailored waist. The back zip was easy to fasten. Unfortunately, I found quite a few loose threads on the inside. I'm wearing a 0 and found it to be a bit loose, so if I were to buy, I'd style it with a belt for more waist definition or get it tailored. I love the versatility; this dress looks chic and professional, yet it also works for a party, night out, or other dressy event. I can envision it with a skinny belt and some great pumps or heeled sandals like this gold pair.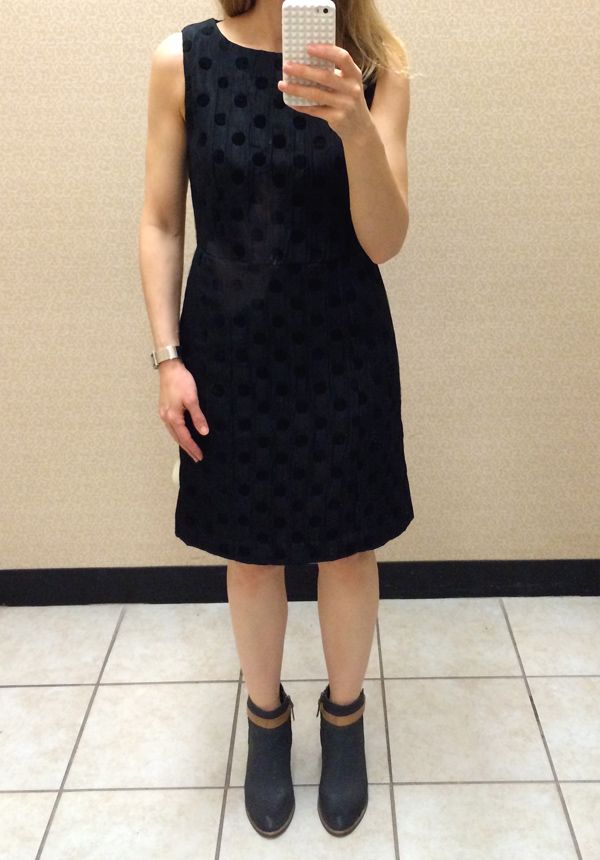 The drape-front knit dress was incredibly comfortable and I can see it being worn both casually and in a more dressy manner. It's a poly/rayon bled and feels just like a comfy T-shirt dress. I'm wearing it in a blouson style because I found the draping of the fabric to be slightly awkward since the waist seam would be too low if I didn't adjust it this way. My conclusion is that it's a better fit for taller ladies or those with longer waists than myself. It's under $30, runs slightly big, and also comes in a geometric print. I'd style this with flats or ankle boots and a denim jacket for the weekend or with layered necklaces and pumps for dressier situations.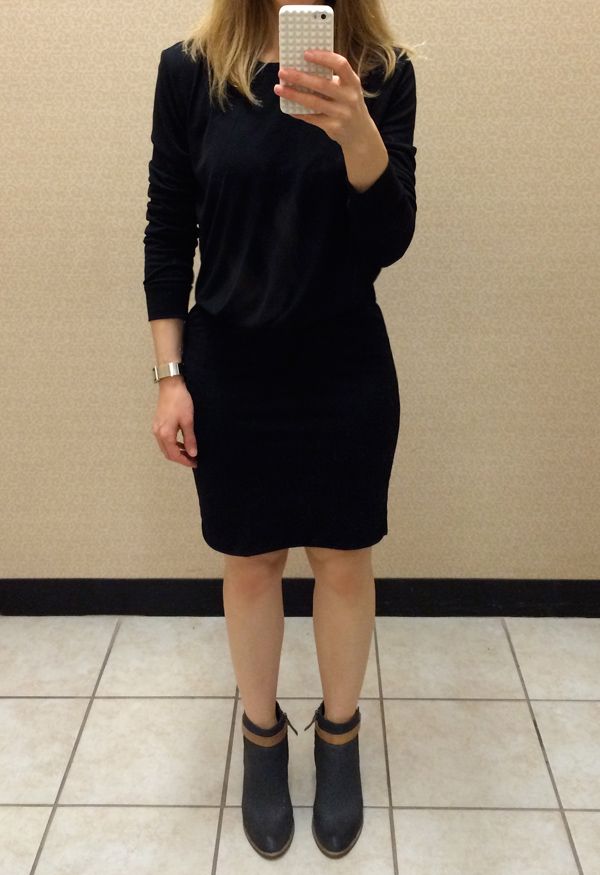 I'm looking forward to seeing more colorful offerings by Joe Fresh for spring and summer, as well as cropped and skinny denim in more colors. Since they excel at affordable basics, something from their collections always seems to catch my eye when I'm browsing at JCPenney. Right now I'm obsessed with their graphic print tees!
Jan. 7, 2016 update - Given the news that JCP will be pulling the plug on their in-store Joe Fresh boutiques, links have been changed to direct to the Joe Fresh U.S. website.
Keep up with my shopping adventures on Facebook and see more of my style inspirations on Pinterest.
More Joe Fresh: