Please note that this post contains affiliate links and I may be compensated if purchases are made by clicking links.
With the recent resurgence of '70s-inspired styles, it's no surprise that retro accessories like the Chloé 'Faye' and 'Drew' saddle bags are dominating the street style scene. They come in a wide variety of sizes and colors, and their minimal design makes them an effortless choice for wearing with both casual and dressy ensembles. Celebrities such as Jada Pinkett Smith, Blake Lively, and Chrissy Teigen are fans. While the real deal could cost from $795 to $2400, there are a multitude of options to get the Chloé handbag look for less. Case in point: this under $40 version by Emperia is almost a dead ringer for the Chloé 'Drew' bag.
Here's a look at how bloggers Something Navy, Viva Luxury, and Sincerely Jules wear their Chloé Faye and Drew bags.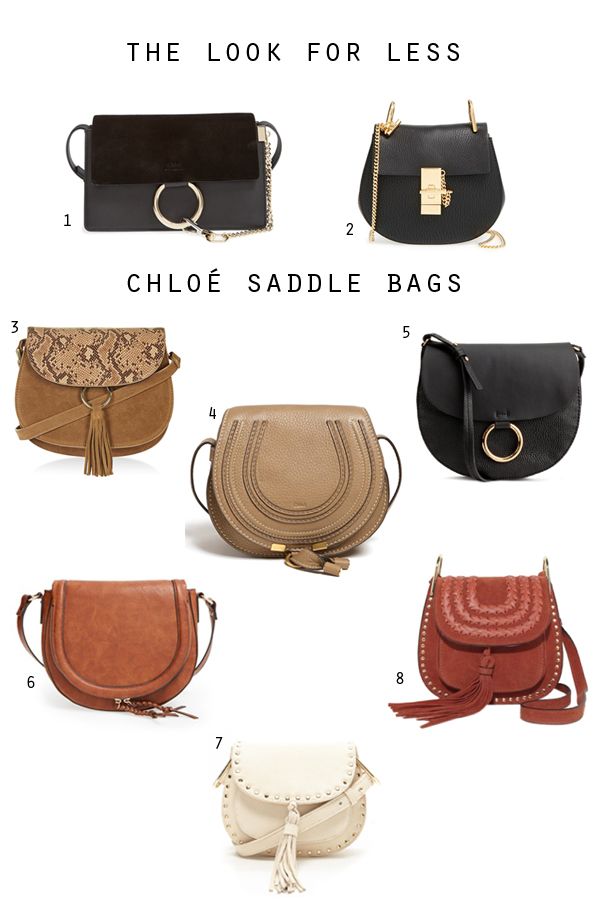 1. Chloé small 'Faye' bag, $1390
2. Chloé small 'Drew' bag, $1650
3. Topshop saddle bag, $60
4. Chloé small 'Marcie' bag, $795
5. H&M shoulder bag, $24.99
6. Sole Society 'Thalia' bag (also in black), $49.95
7. Forever 21 studded bag, $27.90
8. Jessica Buurman suede braided bag, $95 (looks like the Chloé 'Hudson' bag)
Shop the real deal:
Shop the convertible Faye backpack:

Get the Look for Less
April 3, 2017 update - Shop new styles for less:
March 20, 2017 update - See how to get the Chloé Nile bag look for less.
March 1, 2017 update - Shop the look for less:

February 15, 2017 update - Shop new styles for less:
February 11, 2017 update - Get the look for under $80 with international shipping:

February 7, 2017 update - See new styles for less:

February 4, 2017 update - Get the backpack look for under $50:

February 4, 2017 update - Shop styles under $200:

January 13, 2017 update - Get the look under $60:
November 19, 2016 update - Shop styles under $250:

November 6, 2016 update - Shop chic saddle bags:



November 5, 2016 update - Shop saddle bags under $100 with international shipping:

October 30, 2016 update - Shop styles under $200 with international shipping:
October 19, 2016 update - Shop new styles under $50:

Get the look for less and see more options: