One of my favorite aspects about attending Magic Market Week in Las Vegas each August and February is scouting the Juniors' fashion trends. Sure, I absolutely love scouting footwear trends, but clothing is really fun to browse as well. I usually leave the trade shows with new sources of style inspiration, an excitement for what's to come, and too many photos to count. In this report, I'll be highlighting ten spring 2016 trends for Juniors and providing retail examples for more inspiration and trend direction.
Like what you see? You can get more photos, trend information, and style ideas by catching up with me on
Instagram
,
Facebook
,
Twitter
, Pinterest, or Snapchat
@thekeytochic.
August 7, 2016 update - See the top 8 back-to-school fashion trends for fall 2016.
August 20, 2016 update - See the top 7 fall 2016 and winter 2017 fashion trends for Juniors and
the top 7
footwear trends for fall 2016 and winter 2017
as seen at MAGIC Market Week.
August 24, 2016 update - See six trends for fall 2017 and winter 2018.
1. Midi Moment
Skirts hit their stride in midi lengths, fuller silhouettes, and fun print/texture fabrications. The just-below-the knee length works well with crop tops and flirty blouses.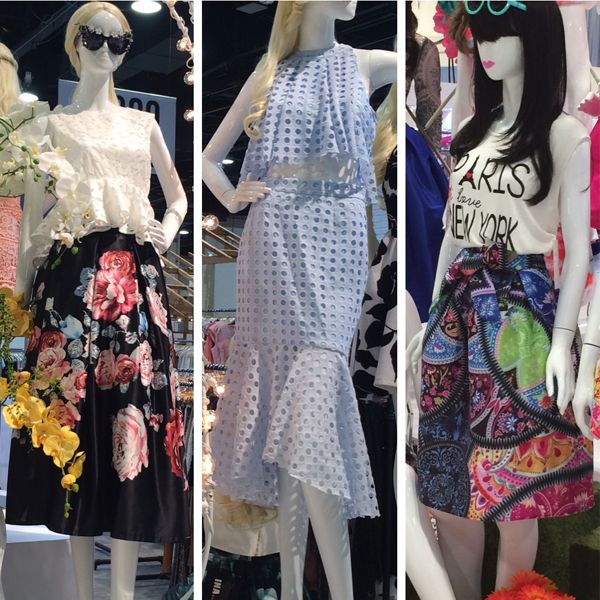 See more midi lengths:

2. 1970s Denim
Classic denim goes retro with a nod to the '70s. Think culottes, flared shapes, button-front styles, braided trim, medium washes, and gold-tone buttons.
See more '70s denim:

3. Lace and Crochet Come Out to Play
Dresses and tops are injected with visual interest by boho accents including crochet panels and lace trim. Practically every booth I passed featured some form of prominent lace or crochet.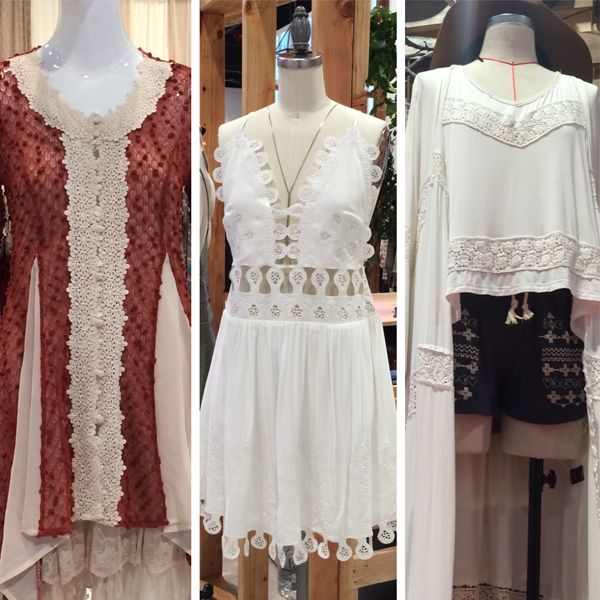 More lace and crochet:

4. Shoulder to Shoulder
In a continuation from last spring, off-the-shoulder and open-shoulder is the name of the game. I noticed the trend on many bohemian blouses, breezy dresses, and printed tops.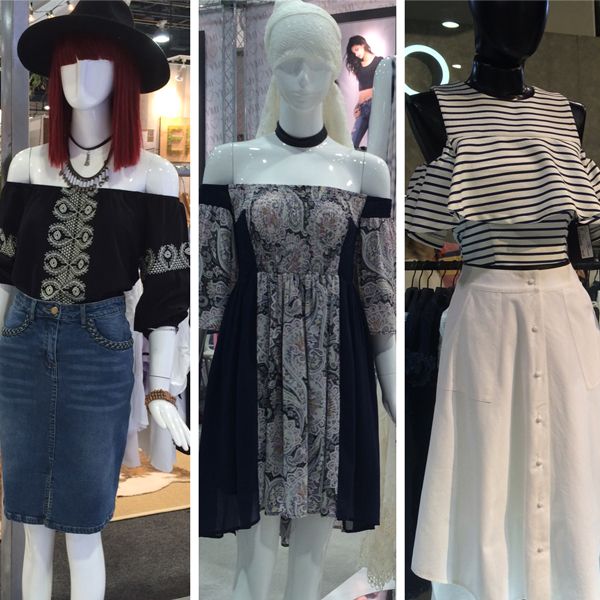 See more cold shoulder styles:
5. Fit To Be Tied
Lace-up details continue to be strong for spring and summer, most notably on fitted dresses and casual tops.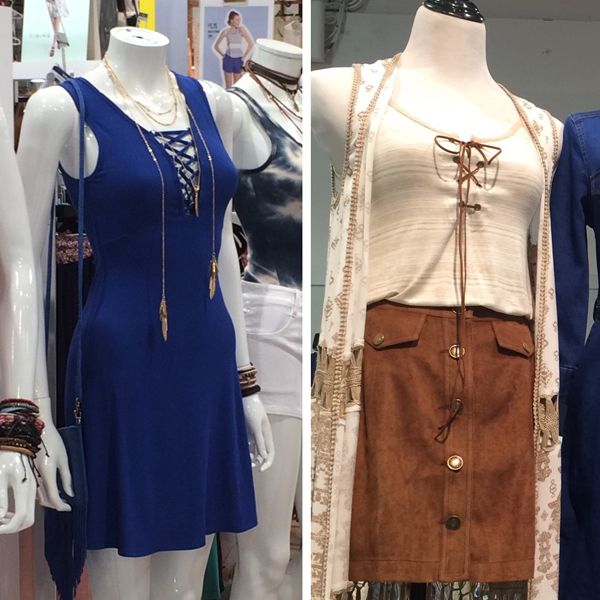 More lace-up styles:

6. A Stitch In Time
Colorful embroidery is a key detail on peasant dresses, relaxed blouses, and light cover-ups.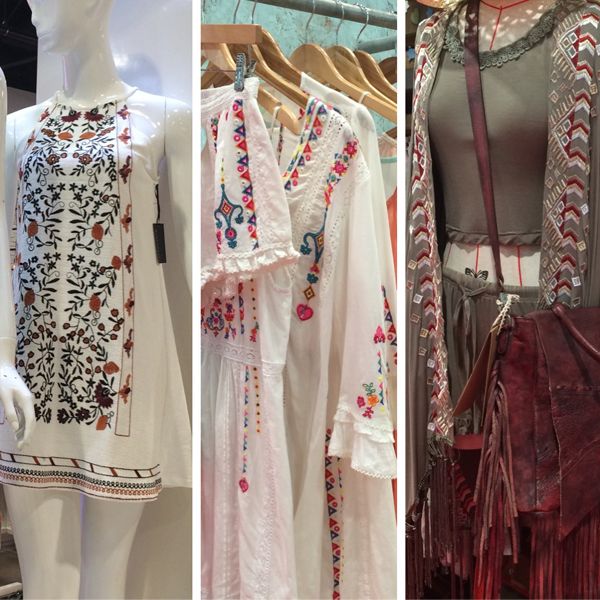 See more embroidery:
7. Pink About It
There's no escaping one of spring's most popular colors - pale, dusty pink. I saw it on lace dresses, crochet tops, maxi skirts, and maxi dresses.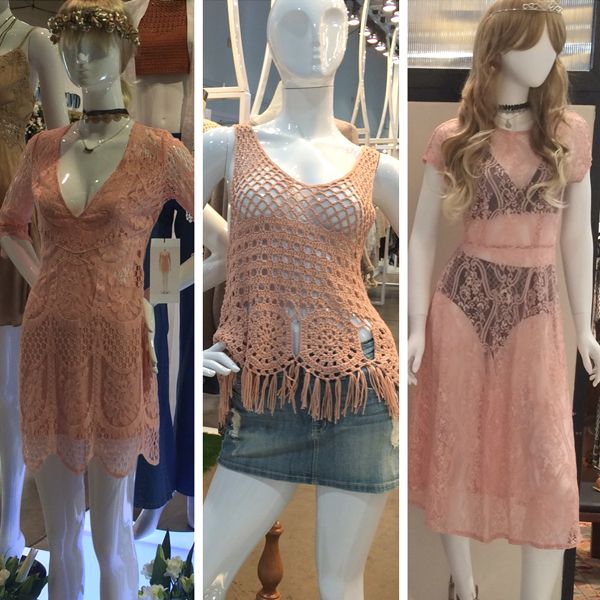 See more pink:
8. To Dye For
In addition to the expected florals, geometrics, and paisley prints of spring, tie-dye figured prominently in many booths. It lends a strong retro/festival vibe when used on knit dresses.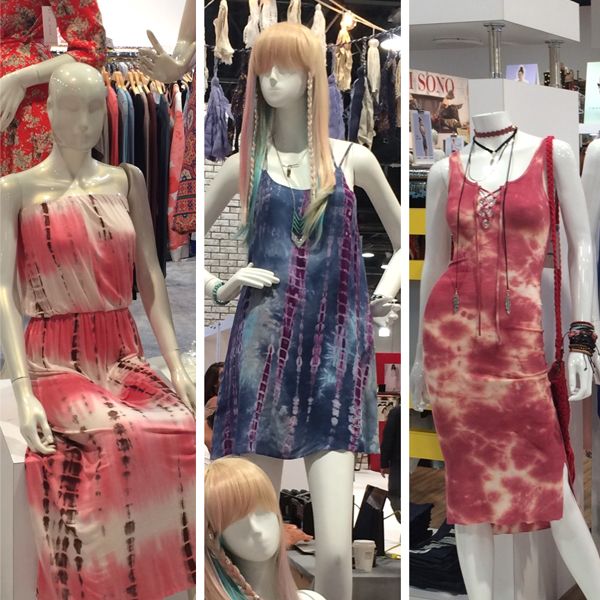 See more tie-dye:
9. Want a Waist?
Waist tie details add a modern edge and create shape on dresses and shorts.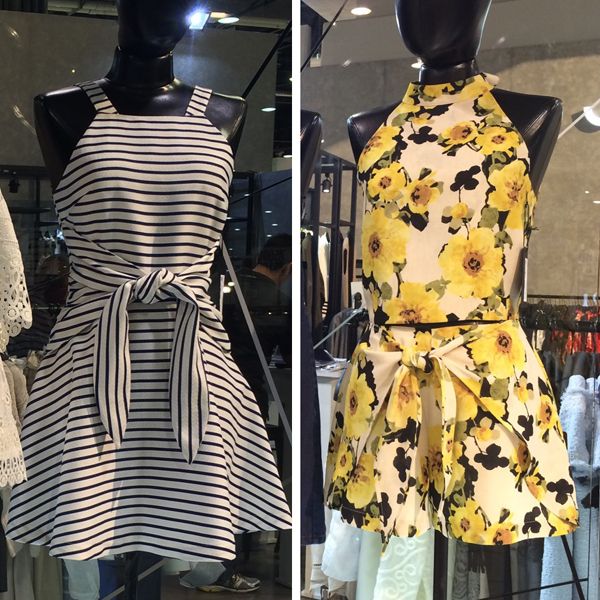 10. Pom Pom Party
Vividly colored pom poms lend a playful edge to wedges, bucket bags, and sandals for spring.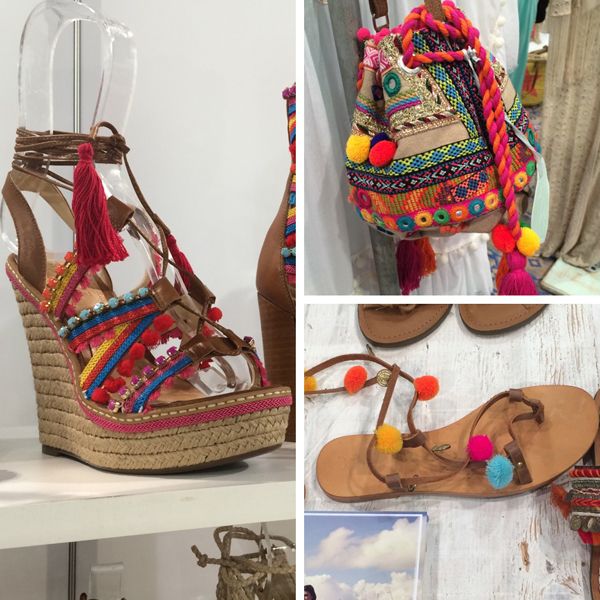 See more pom poms:
Quick reminder! Find me on
Instagram
,
Facebook
,
Twitter
, Pinterest, or Snapchat
@thekeytochic
for more fashion forecasting information, shopping reports, and style inspiration.
See my 2016 footwear trend report, my seven denim trends for spring/summer 2017, my top 7 fall 2016/winter 2017 trends for Juniors, my spring/summer 2016 trend forecast and my spring/summer 2017 trend forecast for additional insight into upcoming Women's trends.
July 31, 2016 update - See denim trends for 2016/2017:

Get more trend ideas: