With the continued popularity of athletic apparel and footwear in the fashion industry, the chunky-soled sneaker is poised to replace the chic, minimal sneaker as the shoe style of choice. Joining the ranks of hoodies, leggings, fanny packs, parkas, and other fitness-inspired must-haves are a myriad of colorful, unmistakable new sneakers. For the spring/summer 2018 season, Louis Vuitton, Stella McCartney, Balenciaga, and Chloé have designed standout styles perfect for dressing up or down. In luxurious materials and unexpected color combinations, they strike the balance between '90s dad sneakers and futuristic lifestyle kicks.
You may have spotted the Louis Vuitton Archlight sneaker on your favorite influencer or model as pictured below.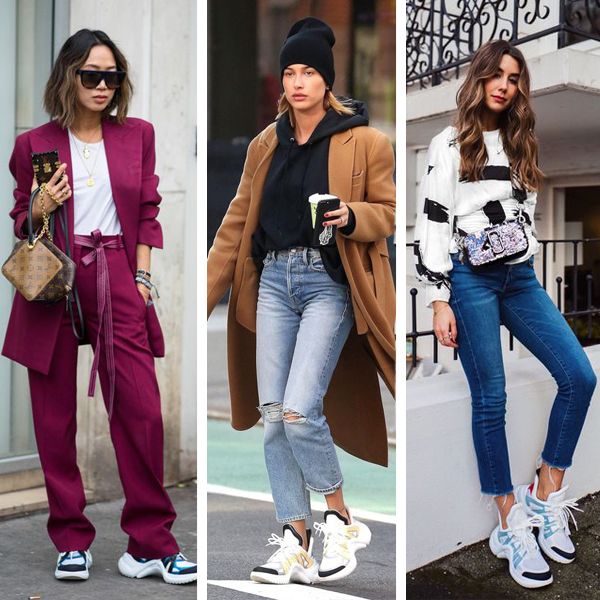 So what exactly makes the Louis Vuitton Archlight style so special? This distinctive sneaker features an exaggerated arched sole, low-cut ankle, high tongue, and of-the-moment chunky sole. It's the kind of shoe that takes an outfit to the next level while keeping you comfortable. If the $1090 price tag doesn't fit your budget, there are may inspired versions for less available.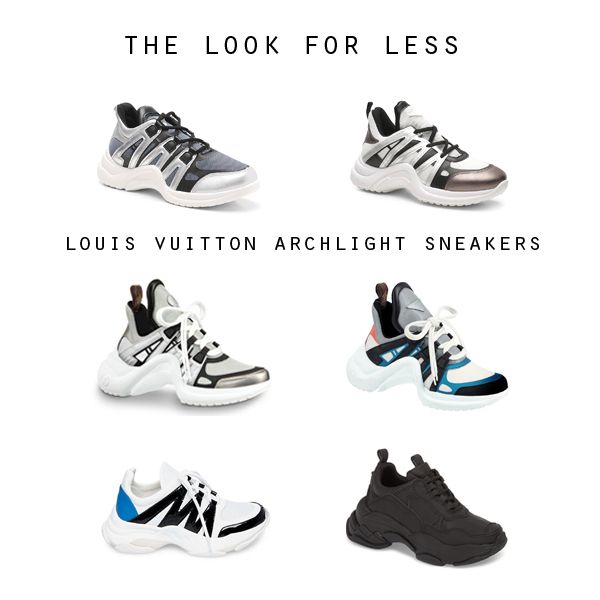 Top row from left to right: Boohoo chunky dad trainers, $32, Boohoo chunky sole trainers, $32
Middle row: Louis Vuitton Archlight sneakers, $1090
Bottom row from left to right: Steve Madden Maximus (more colors available), $99.95, Jeffrey Campbell Lo Fi, $159.95
March 18, 2019 update - Shop the Louis Vuitton Archlight look for under $75 with these dupes:
March 11, 2019 update - Shop these Archlight replica sneakers under $30:
February 25, 2019 update - Get the look for under $30:

Wear them with:

February 18, 2019 update - Shop dad sneakers on sale under $100:

February 9, 2019 update - Shop chunky sneakers under $150:

Wear them with:

January 24, 2019 update - Get the look for under $80:

October 1, 2018 update - Dip your toes into the chunky sole "dad sneaker" trend for less than $100:

September 28, 2018 update - Get the look under $160:

This post contains affiliate links and I may be compensated if purchases are made by clicking links.
Shop designer sneakers:

Shop chunky-soled sneakers for less:

Wear your sneakers with:

Get the Louis Vuitton Archlight sneaker look under $100: