Please note that this post contains affiliate links and I may be compensated if purchases are made by clicking links.
I've been looking forward to the colorful
Milly for Kohl's collection
ever since the preview photos popped up on Instagram several months ago. The collection, which is inspired by the isle of Capri, features a multitude of prints and true-to-
Milly
feminine silhouettes. Think crisp sheath dresses, flirty midi skirts, breezy peasant blouses, on-trend crop tops, and plenty of perfect-for-summer prints.
To show just how similar the Kohl's collection is to recent Milly runway looks, I shared some interesting comparisons recently. You may have seen my Milly for Kohl's lookbook outfit and preview featuring photos of me wearing the Ciao bella striped tee and umbrella print pencil skirt on my other blog The Key To Chic. Full disclosure - I've been equally excited for this collection as I was for Lilly for Target because I find it just as cute and colorful. If you like Milly for Kohl's as much as I do, the bonus is that it won't crash the Kohl's website, sell out in five minutes, and end up in the hands of resellers. Plus, there are lots of really pretty floral prints in case you didn't get your hands on any Lilly for Target.
Here's how the merchandise looked on a quiet Tuesday night. This empire print maxi dress pictured below is one of my top picks.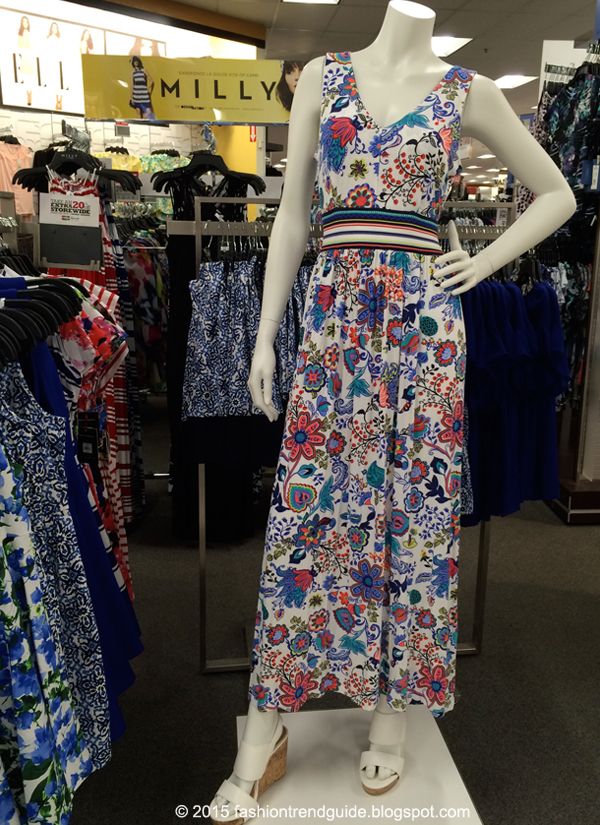 Below, a look at some of the Milly for Kohl's dresses for little girls. These mommy-and-me pieces are available in sizes 4-6X. So cute, right? Just in time for Mother's Day, too.
Below are the stretchy knit printed maxi dresses and the strappy jumpsuit in black.
I love the mix of saturated blues and reds. These prints are exactly what I want in my closet. They're cheerful, chic, and very summery.
In the fitting room
For reference, I'm wearing sizes 2 or XS in everything. I'm petite and my current weight is 101 lbs. The collection does have size 0, but my store didn't carry anything in a size 0. Sizing runs true to Kohl's Women's department. Unfortunately, my store didn't carry most of my wish list items, so I'll be stalking other locations for a wider selection.
I found everything to be true to size except the V-neck maxi, which runs small in the bodice, and the sateen shorts, which run big in the waist. Overall quality and construction looked great compared to earlier DesigNation collections, with my least favorite pieces being the stretchy knit striped maxi dresses and sheer peasant tops. I preferred the pieces with more structure and shape.
Now for a
closer look inside the fitting room...
From left to right below:
floral fit and flare scuba dress: it has pockets, a good quality back zip, hefty scuba fabric, and is super comfortable. I'd hem a few inches for a shorter length on myself. This is a top pick for me. I love love love this floral skirt from the collection just as well, but my store's inventory was limited. I'll be hunting this down for sure.
striped pleated shirt dress: one of the chicest pieces in the collection. It has pockets, a partial side zip and button front, and is made of a lightweight cotton blend. I think it would look better if ironed, as the pleats didn't lie quite right. The fit was slightly loose and it felt very comfortable. The nautical vibes, belted tie, and preppy A-line shape make this one another top pick.
abstract floral midi scuba skirt: it's made of the same scuba fabric as the dress on the left. It's a simple pull-on style with a contrasting black waistband. I rolled the waist on this to shorten the length. I love this paired with a striped tee or organza crop top from the collection.
From left to right below:
mosaic print sateen tank top and sateen shorts: the crop top also comes in a pretty blue floral (on my wish list). It's a boxy, structured fit in a cotton/spandex blend, and I think the XS fit me well. The shorts in size 2 had plenty of room to spare in the waistband, so I'd have to size down to a 0 because they run big. They also come in white.
blue floral A-line dress: an easy to wear, comfortable cotton blend. I found it slightly roomy in the waist and underarm area. Unfortunately, there aren't pockets. I'd shorten the length on this just a little to fit me better. The print is gorgeous.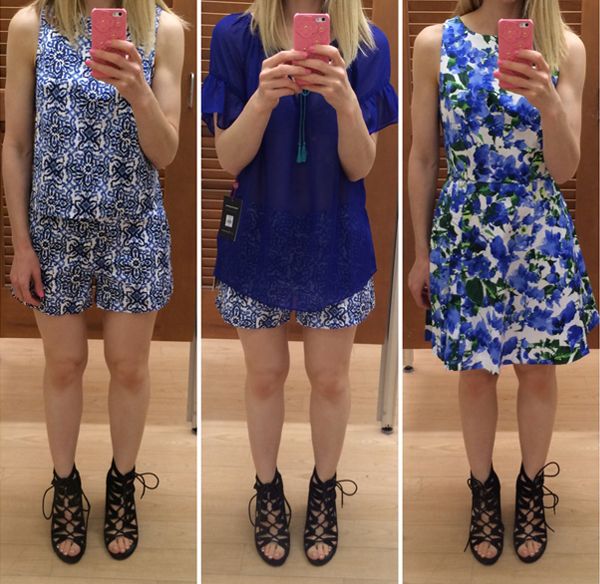 From left to right below:
floral print peasant top and floral maxi skirt: the top is just like the blue one above, but the print makes it less sheer. I tucked the top into the skirt but don't love the way the skirt's striped panel looks on me. The skirt is a comfy stretchy knit rayon and is lightweight.
V-neck maxi dress: one of my favorites. It runs small and very fitted in the bodice and waist. Love the stretchy knit rayon construction and high comfort factor. If you're curvy up top, then go up a size.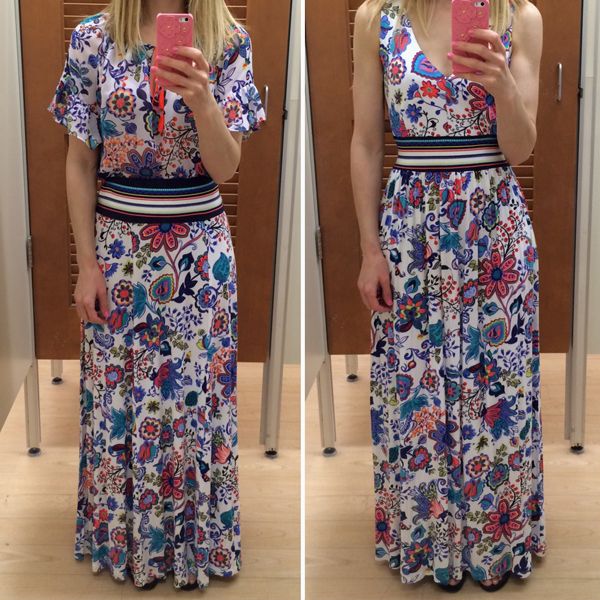 Shoe notes since some of you might inquire...I'm wearing old 4" wedges from Aldo. They are sold out but can shop a similar style here for under $43 or in suede for $130.
Get your hands on the collection (check out online only pieces too like this floral dress) and see/share photos on social media using #MillyforKohls.
Keep up with me on Twitter, Facebook, or Instagram.
June 27, 2017 update - Shop Milly for 2017:
Shop Milly: