Coachella is on the near horizon and I can't help but be inspired by all the festival-themed fashion that dominates the retail scene this time of year. It's the season for crop tops, crochet, fringe, short shorts, and printed kimonos...not to mention the proliferation of accessories that channel free-spirited '70s style such as temporary tattoos, flower crowns, colorful jewelry, and floppy hats. Even if you're not trekking to the desert to partake in the festivities, you can still incorporate the nostalgia of the '70s (it is one of this spring's most popular trends) with flared pants, fringe tops, and crochet details. Festival fashion is all about making a personal style statement with a mixture of fun prints, tactile textures, and embellished accessories. Key to having fun? Being prepared with comfortable footwear, a hands free bag, sun protection, and a battery charger!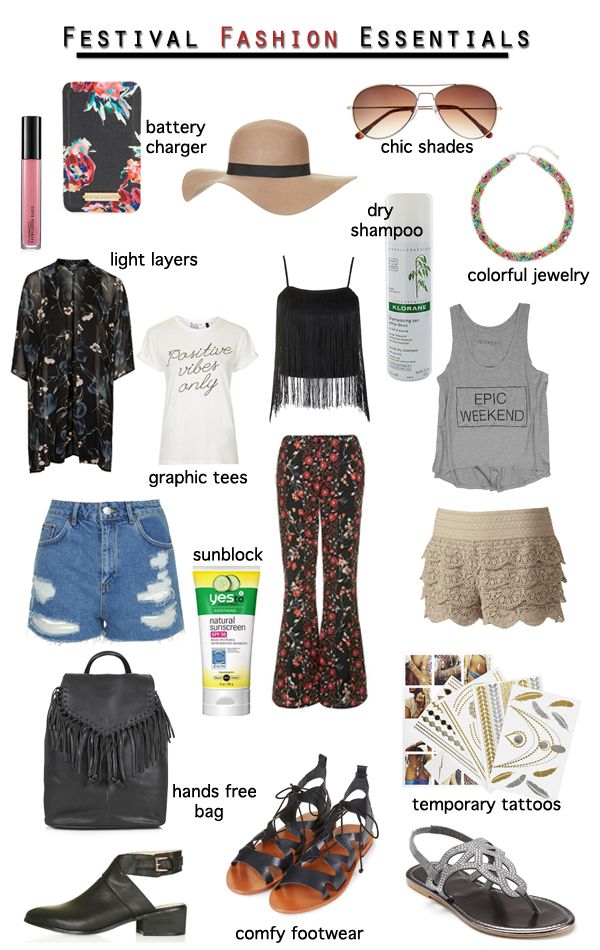 See more ideas for what to wear to Coachella on my other blog The Key To Chic.
March 28, 2016 update - See 20 ideas for what to wear and pack for Coachella 2016 on The Key To Chic.
Shop the post:
M.A.C. Cremesheen Glass, $20
Battery charger, $68
Felt floppy hat, $52
Aviators, $9.99
Beaded necklace, $25
Floral printed kimono, $80
Positive vibes only tee, $38
Fringe camisole, $48
Klorane dry shampoo (this stuff is the best!), $20
Epic weekend tank top, $12.99
Distressed denim shorts, $58 (similar style under $15)
Yes To Cucumbers SPF 30 natural sunblock, $11.99
Floral flares, $75 (similar style under $45 for spring 2016)
Tiered crochet shorts (many other colors available), $24.99 (in navy, brown, or ivory for spring 2016 under $15)
Suede fringe backpack, $105 (similar in black or brown for $110 for spring 2016)
Open heel ankle boots, $75
Black lace-up sandals, $65 (similar studded style in brown leather for spring 2016)
Flash Tattoos, $22
Embellished pewter sandals (other colors available), $17.99 (fringe style I love by Sam Edelman for spring 2016)
This post contains affiliate links and I may be compensated if purchases are made by clicking links.
March 28, 2019 update - Shop these festival items:



More festival ideas: