Please note that this post contains affiliate links and I may be compensated if purchases are made by clicking links.
Last spring I dipped my toes into the sporty sandals trend with some Prada-inspired DIY jeweled Teva sandals and some gold Aldo sandals.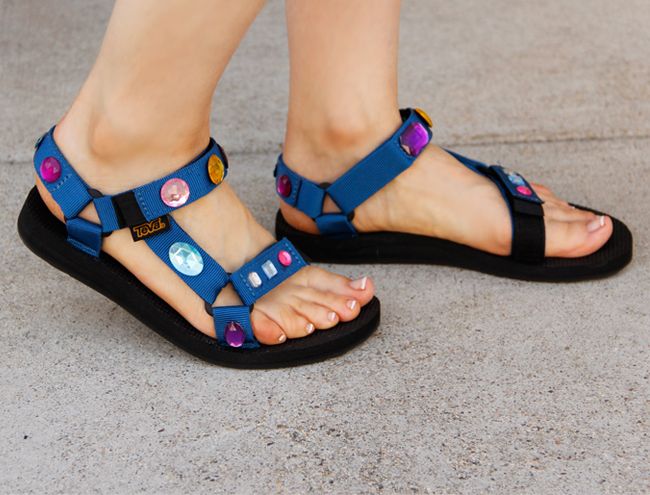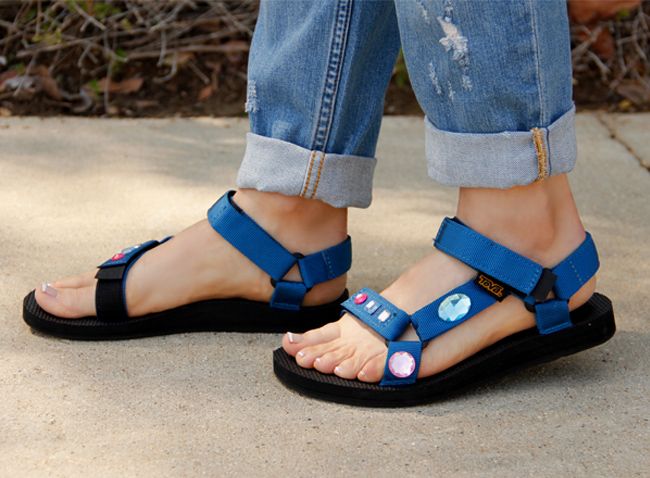 After months of wearing boots and sneakers, spring has arrived, and I'm more than ready for sandal season. This year, I'm still incorporating the sporty sandals trend into my spring 2015 lineup with everything from cropped denim and day dresses to printed shorts and culottes.
How to wear sporty sandals? The trick to pulling off the trend without looking like you're heading to or from the gym is to inject dressier elements into your look such as fluid blazers, silk blouses, cropped trousers, midi skirts, or city shorts. The contrast of dressy with sporty/casual is both glamorous and unexpected. The best part about this trend is the high comfort factor. Who knows...you might even find yourself putting those heels away and hitting the streets for long walks.
While designer versions abound in styles ranging from slides and cleated soles to wedges and flatforms, there are myriad styles if you want the look for less. Below are my top twelve picks under $150.
Get the look for less:
1. United Nude, $95 (also in black, white, blossom, yellow, and red)
2. Steve Madden, $99.95
3. Topshop silver sandals, $70
4. Topshop velcro sandals, $65
5. Teva flatforms, $59.95
6. Report Signature sandal, $59.95
7. Steve Madden, $79.95
8. Aldo gold glitter sandals, $70
9. Aldo studded sandals, $70
10. Splendid leather slides, $68
11. Steve Madden, $139.95
12. Kate Spade leather slides, $98
June 19, 2017 update - Shop styles under $40:
Wear them with:
June 17, 2017 update - Shop sporty sandals under $200:
See more budget friendly versions:
Shop designer versions: