I spent some time browsing the new
Jennifer Lopez Collection
at Kohl's last Thursday. My shopping strategy was to try on the apparel, handbags, and perhaps some shoes; I wasn't particularly interested in the home goods or jewelry. As I inspected the
clothing,
I noticed a signature Jennifer Lopez-inspired neutral and muted color palette with dusty mauves, light grays, ivory, gold, and shades of beige. I steered clear of the thin, drapey polyester tops and cropped jeans, and picked out a handful of items that caught my eye to try on. Most of the prices fell between the $54 to $100 range, which is higher than other brands at Kohl's. I found the clothing sizes to run big, and I tried on mostly extra small, small and size 4 in the jeans.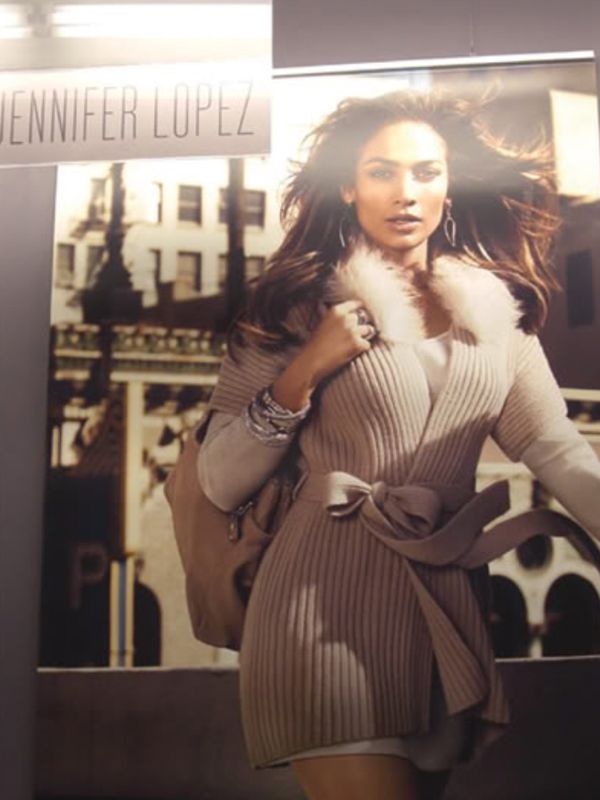 December 19, 2017 update - See the latest:



November 3, 2017 update - Shop the latest arrivals:


Some of the handbags were OK, although I'd probably wait for a sale or coupon before buying.
Shop Jennifer Lopez handbags for fall/winter 2017:

I tried on these glitter pumps and found them to run at least one size big. They were also uncomfortable and narrower than I would've liked in the toe box. I was drawn to the two-tone metallic colors, although not enough to buy. My store didn't have the beige over-the-knee boots that I wanted to try on, and none of the other boots appealed to me. (Mid-calf styles and plain slouchy boots aren't really my style.)
Shop Jennifer Lopez footwear for fall/winter 2017:

Now on to the clothing and fitting room photos...
The faux fur jacket felt plush and comfortable, although for $100, I'd expect full length sleeves and pockets. If I'm paying that price for a jacket, the least it can do is keep my hands warm. I've found similar versions at Forever 21 for under $40 in the past, especially during the Christmas season.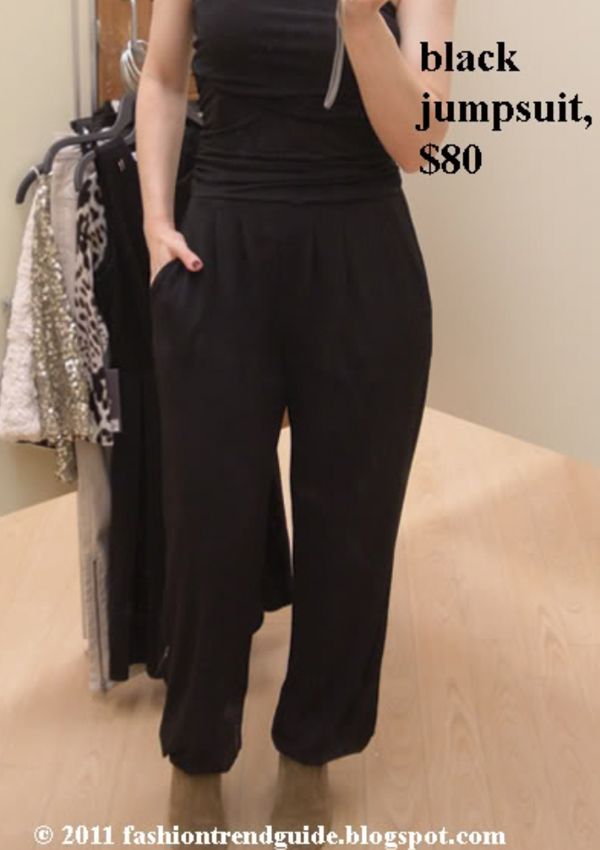 The black jumpsuit has a side zip, which is nice, and two front pockets. It also has pleating at the waist and a banded waist detail. The tight closures at the ankle could be awkward for getting dressed, though. Overall, a bit pricey for a basic polyester jumpsuit, but well made with a decent zipper, and super comfortable. I tried on a size small, and found it to run big. It might be worth it for someone who would wear it often, since it's versatile and easy to accessorize and layer with many other pieces. (Perhaps it could be styled with a tuxedo blazer, strappy heels, and sparkly necklace for night, or with a crochet cardigan and ankle boots for day.)
I wasn't thrilled about the thin, stretchy fabric and cowl neck on this leopard dress, and I didn't care for the print or the ruching in the waist area.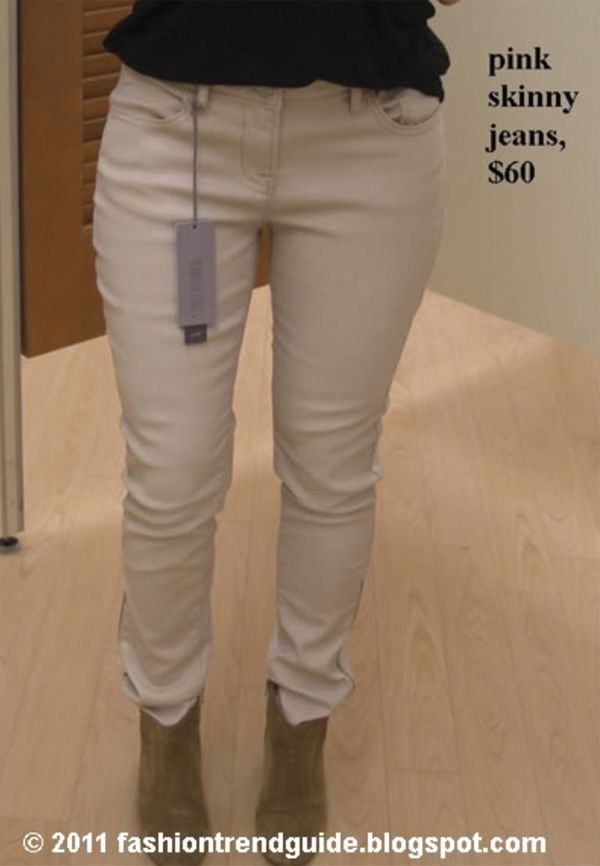 These jeans were a surprise hit for me. I liked the flattering cut, ankle zips, and medium rise. The color isn't one which I'd think to buy for fall, but it's both neutral and versatile. It's a very pale grayish pink, although it doesn't appear that way in the photo. I'll probably go back for these jeans when they go on sale or with a coupon in hand. They'll go well with my growing collection of fuzzy fall sweaters and low-heeled ankle boots.
The sweater with faux fur trim was a great layering piece, but I wasn't sold on the sleeve length or shape. I also found a black stain on the belt, which is odd, considering this merchandise just hit the racks. At least it wasn't itchy, like many of the wool and angora sweaters I've encountered recently. Overall, not worth the price in my opinion.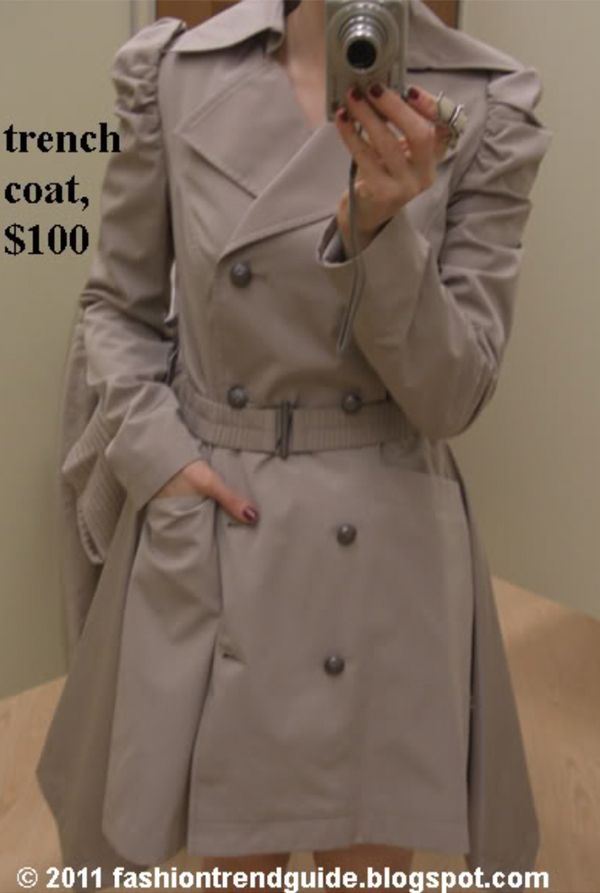 Although I already own a classic trench coat, I tried this one on out of sheer curiosity. It looked appealing on the racks, and after putting it on, I was amazed by its well-tailored design, interesting skirt shape (see the godet-like sides below), puffy sleeves, and flattering fit. I tried on an extra small. This was by far my top pick from the collection. At $100, I think it's the only piece worth its full price. It's chic, elegant, and easy to throw on over almost anything for a sophisticated and polished look. If I were to buy it, though, I'd probably swap the belt for something less elastic.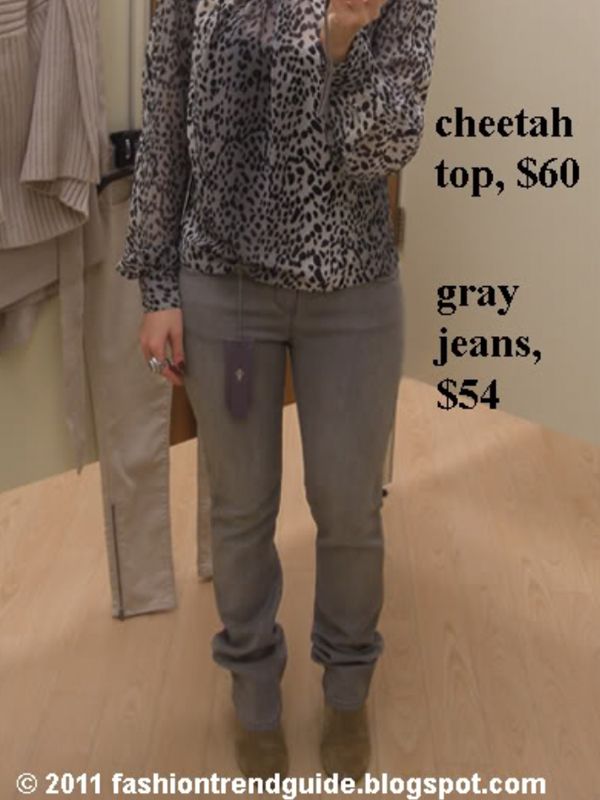 The gray cheetah top has an interesting open back design and comes with a black camisole. I found it tricky to put on, and the tight wrist closures made it even more difficult. Once I got it all sorted out, I liked the way it looked when paired with the gray straight leg jeans. If I didn't already have two pairs of gray jeans, I might have bought these. The jeans were made of a cotton/polyester/spandex blend, which made them soft and stretchy. The rise was medium, and the back did not gap at all, and I was happy with the flattering fit of the size 4s that I tried on. Jennifer Lopez knows a thing or two about designing jeans for girls with curves, and thanks to both genetics and working out, I can definitely appreciate that.
In general, I think the collection captures Jennifer's glamorous aesthetic quite nicely, and the quality on some of the pieces is higher than other brands I've purchased from Kohl's, however, given the current economic conditions, the prices may scare away regular Kohl's shoppers, at least until they go on sale in typical Kohl's fashion. The trench coat and skinny denim are my top picks in the collection, as they have timeless appeal and appear to be well-tailored.

Shop the Jennifer Lopez Collection:

This post contains affiliate links and I may be compensated if purchases are made by clicking links.