It's the slip skirt that everyone seems to be wearing on social media. You know the one. It's got a timeless leopard print, falls below the knee, and is a silky, bias-cut beauty. It looks amazing on everyone and transcends seasonal trends with its classic print and simple silhouette. If you're finding yourself yearning for the Réalisation Par Naomi Wild Things leopard print skirt, you're in good company. It's popular with good reason! Not only is animal print everywhere this season, it's easy to style for work, weekends, or fancier occasions. I love the skirt just as much with sneakers and a T-shirt as with a camisole and minimal heels. During the colder months, style it with over-the-knee boots, a chunky knit, and a wool coat. See how these street style stars wear it.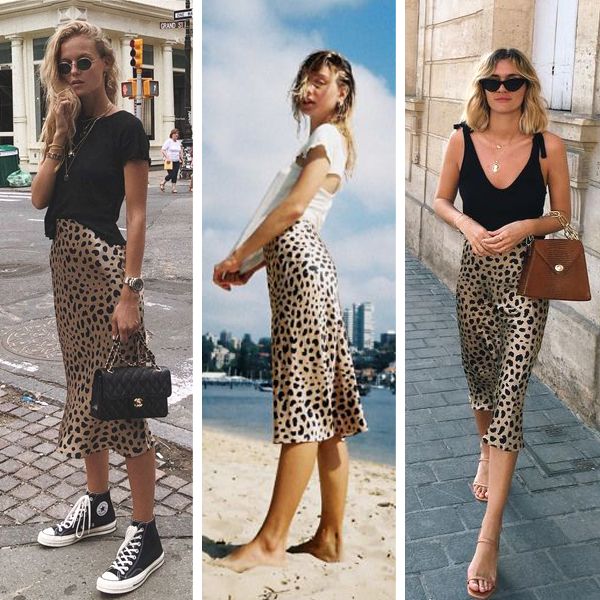 The skirt retails for $180, which may not be suitable for many budgets.
The Look for Less
If the $180 price point is out of your budget and you're looking for a Réalisation Par leopard skirt dupe, there are many alternatives for getting the look for less.
June 4, 2019 update - Shop this leopard print slip dress pictured below under $25:
June 1, 2019 update - Shop these skirts under $35:
May 3, 2019 update - Shop the style pictured below under $60. It has a side zip and high waist fit, and runs true to size.
April 30, 2019 update - Shop these Realisation Par skirt dupes under $15:
Style the skirt with:
April 23, 2019 update - Shop these new midi skirts:
April 12, 2019 update - Shop these animal print skirts under $30:
Here are my favorite Réalisation Par leopard print skirt look alikes.
Style your skirt with:
Shop more skirts I love:
This post contains affiliate links and I may be compensated if purchases are made by clicking links.