This post contains affiliate links and I may be compensated if purchases are made by clicking links.
Fall footwear has arrived at Target, and with it, a new selection of shoes from Sam & Libby for Target. In keeping with tradition, I'm reviewing some of the ankle boots and pumps my store recently received. (Perhaps you've seen my fall 2014 Sam & Libby review or my spring 2015 Sam & Libby review.) Let's talk shoes!
Pros and Cons
Pros:
Ankle boots are easy to walk in and felt comfortable
Good selection of styles, sizes, and colorways (with more options available online)
Chic details such as buckles, ribbon trim, and metallics
On-trend silhouettes (my absolute must-have is this block heeled bootie which channels the 1960s)
Cons:
Sizing on boots seems to run small/narrow
Synthetic materials make the boots feel stiff
Price points are higher than other brands at Target stores
Many styles have other colorways that are only available online
May 25, 2017 update - See new styles for spring/summer 2017: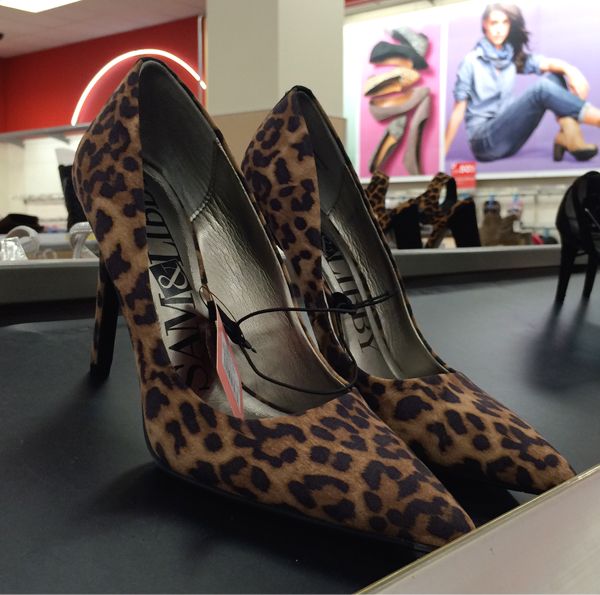 The Dixie pumps pictured above and below retail for $39.99. In addition to leopard, they come in blue, black, wine, leopard, and blush. I tried on my usual size 7 and they run true to size. I found them to be much more comfortable and easy to walk in than they look. The heel height is 4". The single sole silhouette and pointy toe shape make them an instant classic, while the leopard print didn't look cheap. These are so chic with everything from to an LBD to skinny jeans.
Note the SJP-inspired grosgrain ribbon and Sam & Libby logo detail on the back.
The Orianna pumps come in black or pewter and retail for $39.99. They weren't as comfortable as the Dixie pumps but they felt easy to walk in. The heel height is 2.75". They run fairly true to size, although I could've gone down to a 6.5 (from a 7) due to the long and pointed toe shape. This is a great shoe for the office or for nights out, as it pairs well with trousers, fancy dresses, or even denim.
The Peyton ankle boot is Sam & Libby's answer to the popular Sam Edelman Petty boot (which I admit I own in three colors). The Peyton costs $44.99 and also comes in black. The sizing runs small. I tried on a size 7 with thin socks and found them to be narrow. I'd size up a half size or whole size if you plan on wearing them with thick socks for fall and winter. The comfort factor isn't as good as the Petty boots because they are synthetic. On the bright side, they have nice stitching details and are super versatile.
The Marley buckle boot is a returning style from last fall. It also comes in black or navy and has a price of $44.99. It was the most comfortable of all the shoes I tried on. The heel height is 2.5", and they're super easy to walk in with a cushioned sole. The size 7 I tried on felt narrow, so once again, I'd size up if you have wide feet or plan to wear with socks.
The Deanna boot is another style they revived from last fall, and this metallic colorway was a refreshing change from typical black. Like the other boots, it's $44.99 and the sizing felt small. This is a pull-on style with a 3.5" heel. They were easy for me to put on, but I'd size up since they felt narrow. The chunky heel makes them stable and sturdy. I like these styled with plaid tops, dark denim, and casual dresses for fall.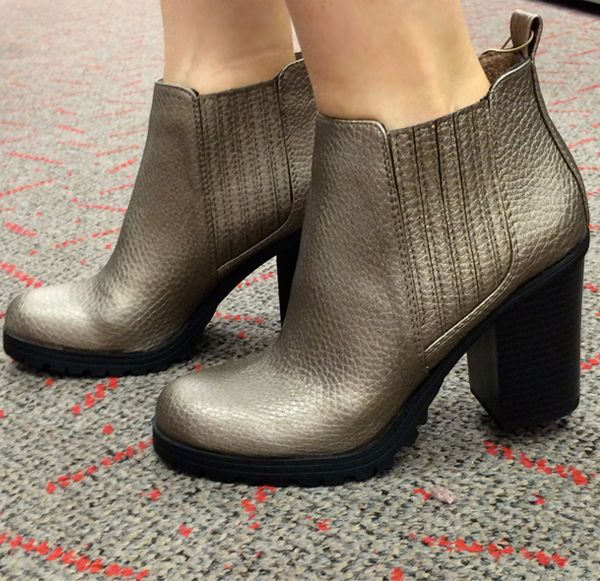 I was pleasantly surprised by the Audrey boots. They also come in navy, pink, and black online and cost $44.99. I tried on size 7 and they fit pretty well because of the long pointed toe shape, although I'd size up for the same reasons listed above. The heel height is 3", and I found them much easier to walk in than I expected. The shape is classic and flattering, while the heel height makes them versatile for both causal and dressy occasions.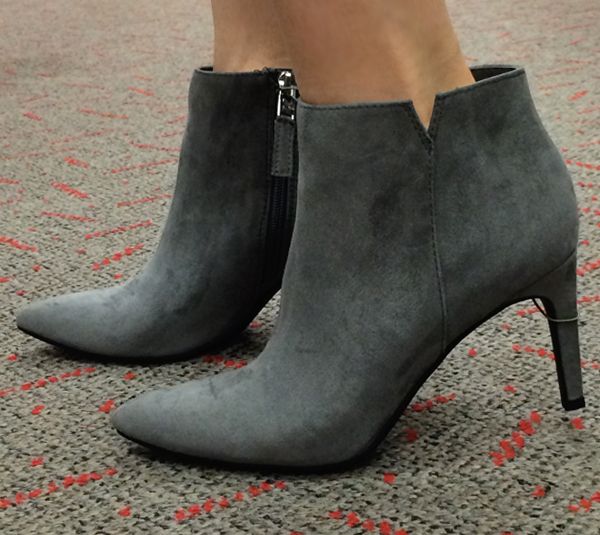 I saved my favorite style for last. The Eliza boot also comes in glossy black and retails for $44.99. The 2" block heel gives them a mod 1960s vibe, and the leopard print adds some attitude. They also run narrow, so I'd size up at least half a size. These are similar to Sam Edelman's Edith boot, minus the suede details and black textured heel. I love these styled with an A-line skirt or shift dress.
Shoe addicts, unite! Get a preview of fall 2016 footwear trends in my trend report. See more of my favorite footwear and Target finds by catching up with me on Facebook or Snapchat @thekeytochic.
Shop Sam Edelman: