As a self-described shoe addict, I'm no stranger to a great pair of boots, especially ankle boots. This season though, I'm trying to switch things up; I'm enamored with over-the-knee boots. They are ideal for fall and winter, when you want to keep your legs warm but still look stylish. This Stuart Weitzman style is a splurge, and also a blogger favorite, but there are many options that you'll find right here for under $200. My current favorite is this synthetic suede style for $70.
Admittedly, over-the-knee boots can be a difficult style to pull off, especially of you're petite or have curvy legs like me. Fortunately, there's endless outfit inspiration to draw from (hello,
Pinterest
).
With
my eight simple style tips, you'll be wearing them with panache, just like my favorite street style stars pictured below.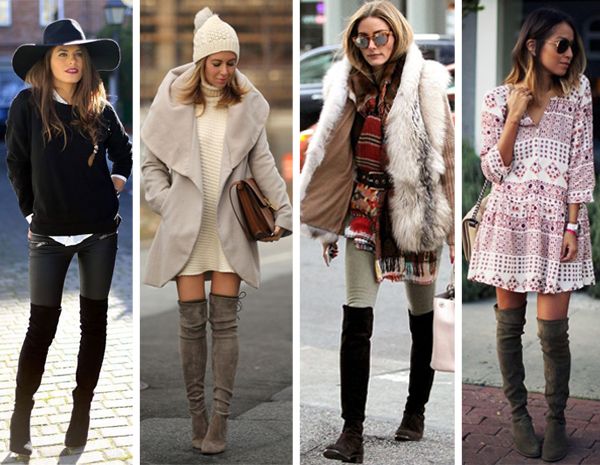 Do
pair them with tights and a dress or dark skinny jeans when temperatures drop for a sleek and chic look.
Don't wear them with a short, tight skirt unless you're going for head-turning Pretty Woman vibes. A full skirt or dress (like this paisley style) will balance out the sexiness of the boots. For example, see blogger Julie
Sariñana
on the far right above.
Do choose fun and on-trend details such as laces, buckles, slouchy fits, equestrian details, or fringe to suit your personality.
Don't forget to consider the right length for your height. The longer your legs, the higher the over-the-knee boot you can wear.
Do style them with A-line dresses, culottes, geometric prints, and faux fur (like this cute vest) for a bohemian-meets-modern update.
Don't
opt for latex or patent styles, which can sometimes appear cheap. I find that suede textures (and faux suede like this chic pair for $80) look more luxe (or like this pair on sale.).
Do choose classic colors such as black, taupe, or grey for maximum versatility like the ladies above.
Don't forget about color. Matching your boots to your tights or bottoms will visually elongate your legs.
Love shoes? Read my spring and fall 2016 footwear trend report for a peek at what's new and trending.
December 20, 2016 update - Shop styles under $140:

November 13, 2016 update - Shop styles under $100:

Wear them with:


November 5, 2016 update - Get the look under $150 with international shipping:


October 22, 2016 update - Shop styles for fall 2016 under $275:
September 27, 2016 update - See new styles:


September 22, 2016 update - See top styles for fall under $250:


Wear over-the-knee boots with:

Shop my favorite styles under $90:

Styles under $200:


More options: