By now, you may have heard about Target's upcoming collaboration with London-based luxury design duo Peter Pilotto and Christopher De Vos. The young designers are known for their vivid kaleidoscopic prints, sculptural shapes, and sporty construction. A quick glimpse of a Peter Pilotto dress and its signature details reveal a sophisticated, modern, and daring aesthetic. Now fashion-hungry consumers will be able to get their hands on Peter Pilotto's hyper-real prints for under $80.
December 19, 2017 update - Shop Peter Pilotto for Target:


In a bold move by Target, a curated assortment of the Peter Pilotto for Target collection will be available to international shoppers via net-a-porter.
The colorful collection, which will feature about 70 items, is set to launch on February 9, 2014. Christopher De Vos describes the collection as "fresh, bold, and flirty" to Lucky Magazine, while Peter Pilotto characterizes it as "beachy, colorful, and fun." Expect price points between $14.99 and $79.99 for apparel and swimwear, and prices between $16.99 and $39.99 for accessories.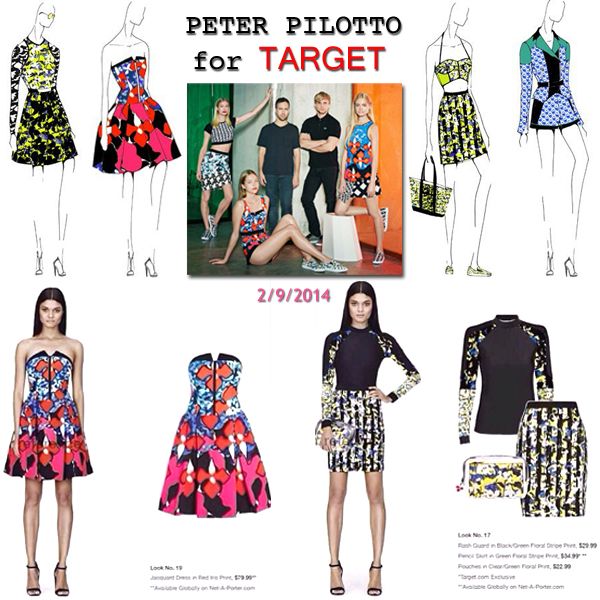 Shoe lovers, those slip-on sneakers (above, center) are part of the collection and are priced at $29.99. Mark your calendars for February 9, 2014.
Lookbook images and sketches of the collection via Elle, Lucky, and Instagram.
For more images of the collection, follow along on my Facebook and Instagram.
**January 13-17 update: see the entire lookbook on Fashionista and Refinery29 and see how I style nine outfits featuring pieces from the collection with other Target favorites.
If you want even more Peter Pilotto inspiration, see how I compare eleven recent Peter Pilotto runway looks to the upcoming Target collection.
collages done by me with Target images via Fashionista and Refinery29
*Feb 9, 2014 update:
read my
Peter Pilotto for Target review
with fitting room photos and sizing information on The Key To Chic.
This post contains affiliate links and I may be compensated if purchases are made by clicking links.



Shop Peter Pilotto: