I can't recall exactly where or when I first heard about stylish Canadian retailer Joe Fresh. It could've been on Twitter, through fellow bloggers, or in a magazine. What I do recall is that I was impressed by the low prices, lively prints, and the selection of chic, printed trousers. Then disappointment set in when I learned that the only U.S. Joe Fresh stores were in New York, and online shopping was not available.
Fast forward a few months to the arrival of good news. When I found out that close to 700 JCPenney (a.k.a. JCP) stores would be revamping their merchandise by opening Joe Fresh in-store boutiques on March 15, I quickly marked my calendar. This weekend I took some time to visit JCP to shop the affordable wares, style a few looks, and share my thoughts in this review.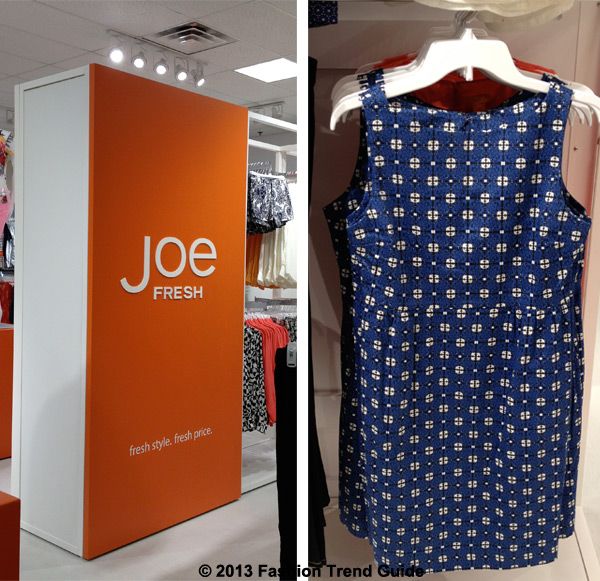 If you're not familiar with Joe Fresh, it's comparable to a lower end J. Crew with simple visual merchandising, preppy-chic silhouettes, and understated yet on-trend prints. Think Old Navy's or J. Crew's silhouettes fused with H&M's modern prints and the icing on the cake - affordable prices that rival retailers such as Zara and Target. The most expensive items I saw were a silk blouse for $49 and a blazer for $69.
August 12, 2017 update - Shop new styles by Joe Fresh:

July 3, 2017 update - Shop the latest from Joe Fresh:

As I shopped, I spied diaphanous ivory blouses, colorful jacquard shorts, pastel skinny denim, and easy to mix-and-match basics. My verdict? Joe Fresh is the kind of preppy-with-an-edge clothing that's effortless to wear and won't be out of style next season. I immediately saw a handful of tops, blazers, and trousers that would be right at home in a casual California office. Other options also caught my eye. For the weekend, there were casual pieces such as: flip flops, V-neck tees, lightweight scarves, and printed jacquard shorts that looked like they cost more than double their price. (I think they'd be perfect for a leisurely Sunday brunch or a summer BBQ.) Unfortunately, footwear and beauty items were not in stock.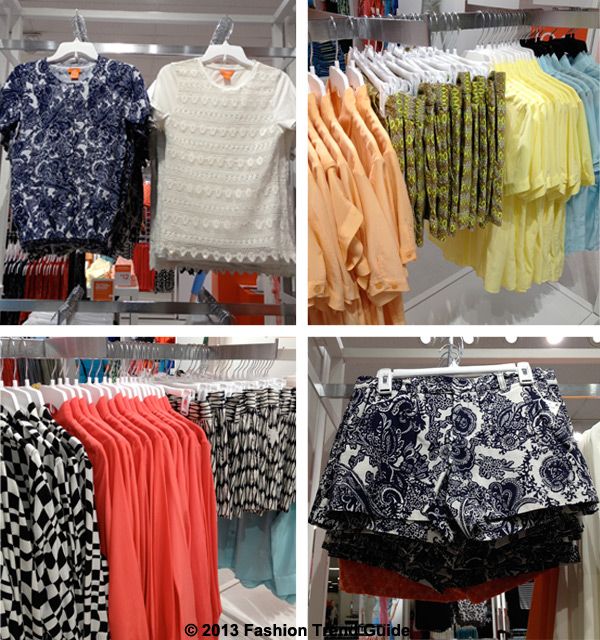 Prints in the spring collection range from florals, geometrics, and stripes to ethnic and paisley varieties. Colors span the spectrum from peach and pastel blues and greens to graphic black and white and even muted neon hues. Sizes run from 2 to 16 for most items.
I found most of the pieces to run big, so I sized down to a 2 (from my normal size 4) for the jeans and trousers, and XS for the blouses and tops.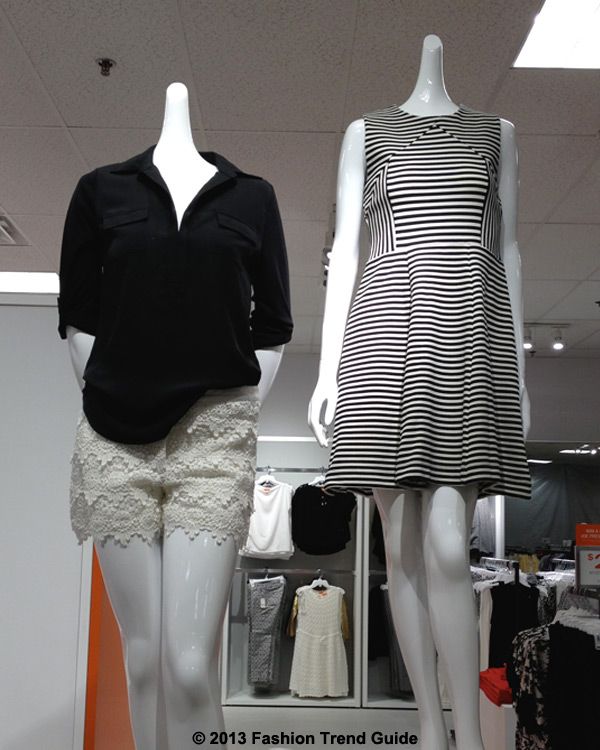 Now for the fitting room photos. I always gravitate towards prints, so I pulled my favorites and styled a few looks with oceanic shades of blue and green predominating. With prices ranging from $16 to the floral tee (below in the middle) to $29 for printed trousers, I was happy with the fit and feel of the clothing, although two of the tops (below on the left and right) lacked the softness I desired. Pictured below: the paisley sweater tunic, floral tee, and gingham blouse with the cropped skinny jeans in blue.
The aqua blouse below on the left was actually made of silk and priced at $49. It was slightly sheer and would require some layering, but I loved the fit and color. The printed trousers (below in the middle and on the right) were lightweight and comfortable with the perfect rise and nice tailoring. I found them to be surprisingly flattering with a close to ideal fit in the waist and hips, and for $29, I was impressed.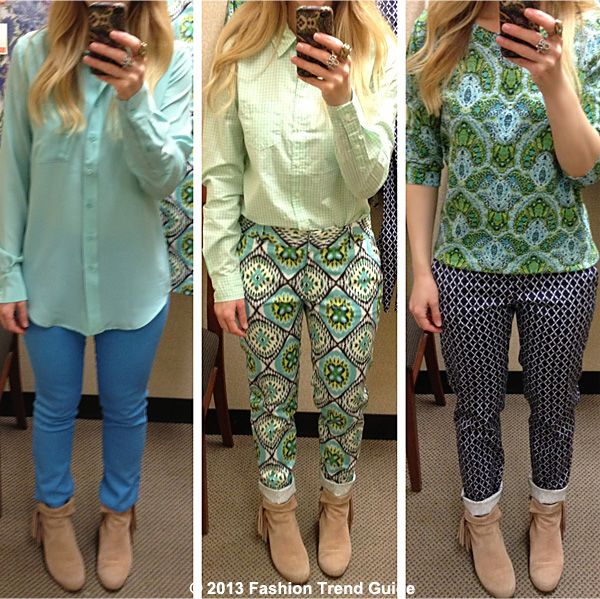 The aqua jeans below on the left have a zip opening at the hem, but the length was too long so I cuffed them with surprisingly little bulk. The fabric felt soft and the fit was impressive. I also liked the cotton canvas shorts below on the right due to their fun print, structured tailoring, and handy side pockets, although they run large.
My top pick? I appreciated the mid-rise, hefty cotton fabric, subtle stretch, and short length of the cropped skinny jeans in blue and dark blue, as they would not require any hemming. They seem to be selling well in the smaller sizes at my store in blue and pink. Although I enjoyed the geometric prints of the tops below on the left and right, I found them to be slightly big, even when trying on size XS.
I expect that the Joe Fresh presence will bring me into JCP more often, although I was told by an employee that new merchandise is received monthly, which is less frequently than I'd hope. If the skinny jeans that I bought hold their shape and resist fading, I'll be back for more colorways. At $19 each, I'm pleased with the fit, the feel of the fabric, and the fun selection of colors.
I'm looking forward to picking up some printed tops, trousers, and preppy pieces for spring and summer. After shopping the collection, I'm a new fan. I feel that the Joe Fresh and JCP collaboration is one that offers both value and on-trend style in an easy-to-shop format. Now all JCP needs to do is add some more Joe Fresh accessories (ahem, beauty products and high heels) into the mix and my expectations will be exceeded. I'm curious to see how well the Joe Fresh merchandise refreshes the JCP sales numbers this year. Time will tell!
Jan. 7, 2016 update
- Given the news that
JCP
will be pulling the plug on their in-store Joe Fresh boutiques, links have been changed to direct to the
Joe Fresh U.S. website
.
Feb. 2015 update - See my spring 2015 Joe Fresh at JCPenney review.
Shop my favorites: