Please note that this post contains affiliate links and I may be compensated if purchases are made by clicking links.
Until now, I've never been motivated to arrive at JCPenney when the store opens to shop a designer collaboration on launch day. The colorful prints and ladylike silhouettes of the Duro Olowo for JCPenney collection changed everything for me. It's clear that JCPenney is improving its retail strategy by bringing in new designers (for example, Pearl by Georgina Chapman of Marchesa) and offering fresh merchandise. Especially with Canadian retailer Joe Fresh on the horizon at JCPenney, I expect to be shopping there more frequently.
As someone whose closet is dominated by prints ranging from florals and animal prints to digital prints and plaid, a handful of items from this collection went onto my wish list immediately after previewing the lookbook in late December. I appreciated that the collection contained everything from bracelets to vases and mini notebooks to heels - quite a variety. I tried on my favorites, and without further ado, here is my Duro Olowu for JCPenney review.
As I entered the store, I had no idea where to look for the collection, but a helpful employee offered to show me the way. An inconspicuous area near a main aisle contained fewer clothing and accessory pieces than I was hoping to see. I was looking forward to some fun print mixing in the fitting rooms.
The housewares were nowhere to be found in my store's second floor Home department, so I selected my favorite clothing items while an employee placed signage on the displays and a couple of middle-aged women quietly browsed the printed pieces with lukewarm enthusiasm.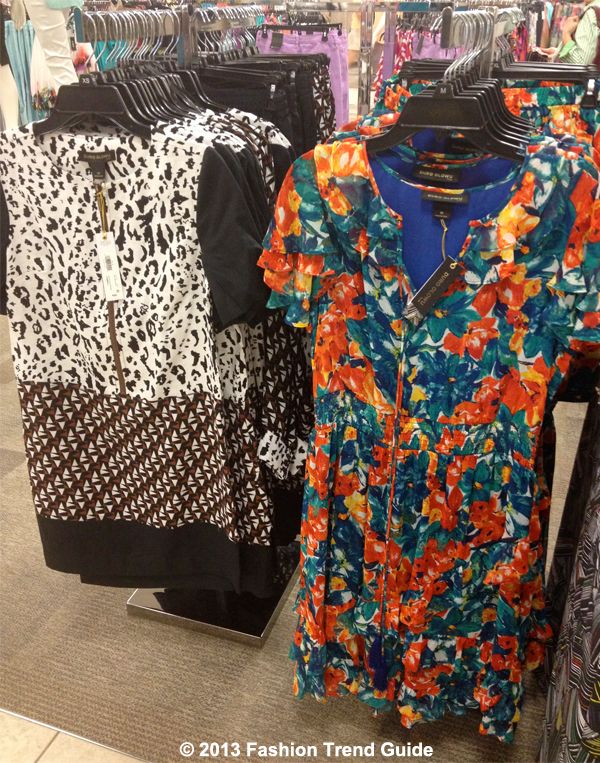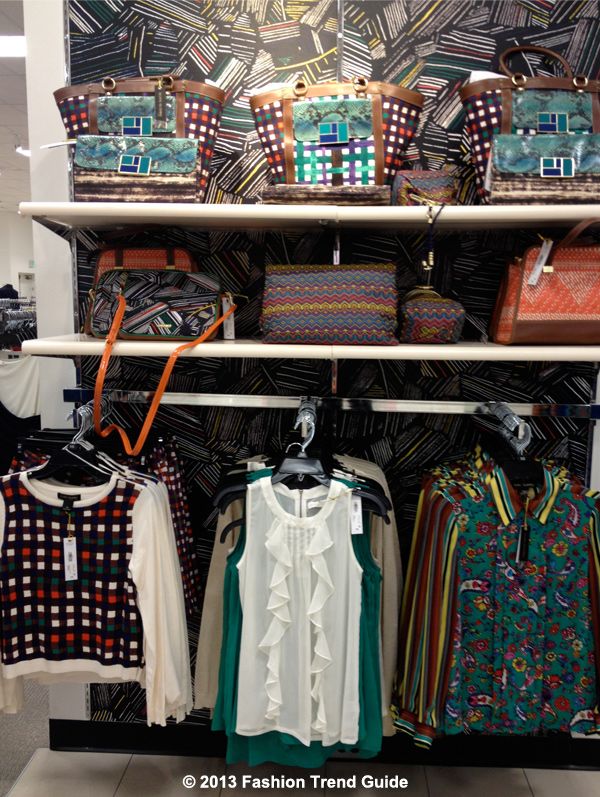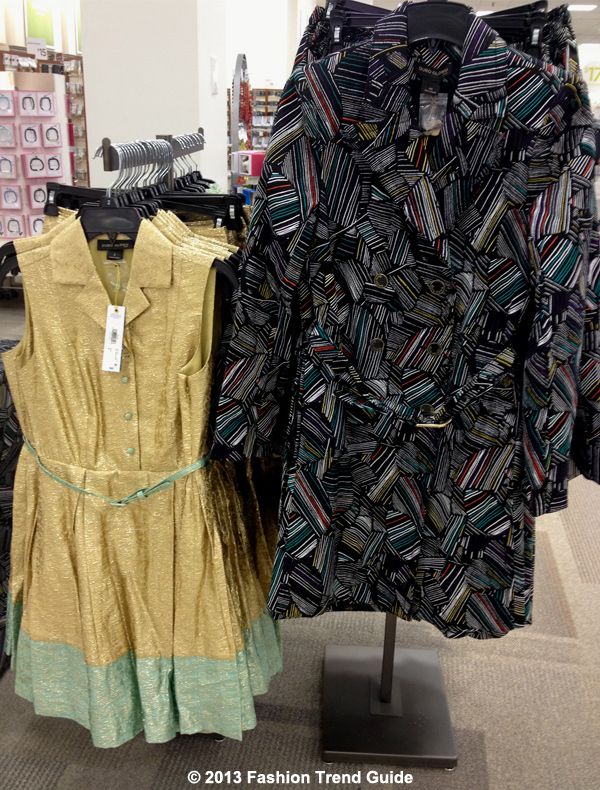 Metallic brocade, boldly patterned bags, ruffled blouses, and mixed prints played together nicely in this collection, which is best suited for those shoppers who love prints. Many of the skirts looked generous in length, and being petite, this was a slight disappointment.
Bold jewelry (like the ram pendant necklace above) and handbags in punchy colors and mixed prints appeared equally as on-trend and eye-catching as the clothing.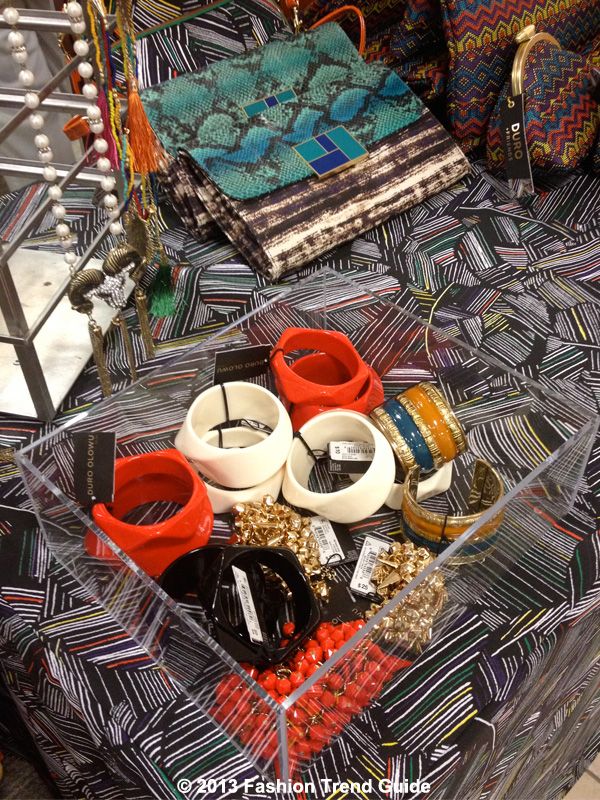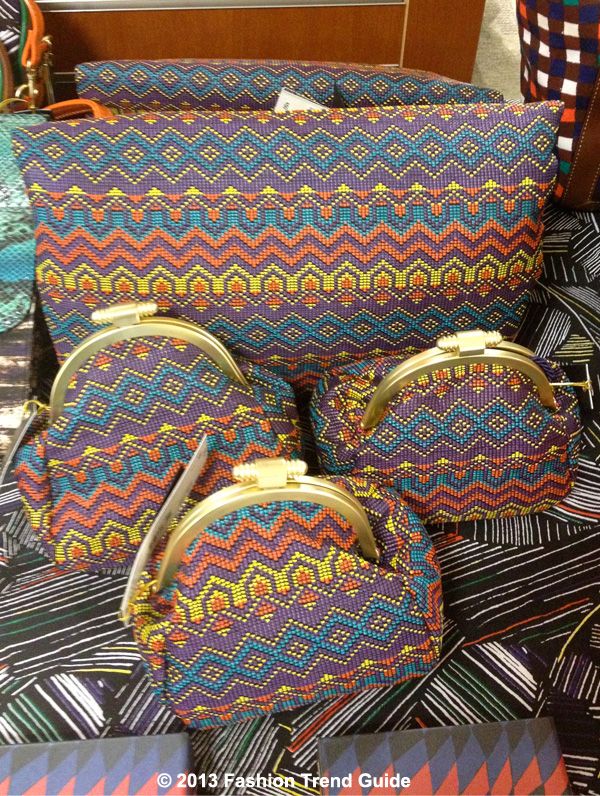 The mixed print canvas tote (for $50) pictured below was a surprise hit. The inside had sturdy fabric lining, hefty hardware, and plenty of pockets for storage.
The prints and potential options for print mixing called to mind the bold patterns often done by designers like Etro or Marni. I took almost a dozen pieces into the fitting room. The first one was this colorful tassel necklace for $25. I managed to get the only one in my store, and although it can tangle easily, it's a fun piece to wear with tees and knits. The arts and crafts vibe of the necklace really endeared me to it. (Below, I'm wearing it over a Topshop tee.)
The plaid sweater, which is one of my top picks, is super soft and has a slightly cropped shape, hitting just above the hip bone. I'm wearing a size small. My only misgiving is that the print is not continued on the back. I still liked it enough to take it home, and it pairs well with the tassel necklace.
I'm still on the fence about these plaid Bermuda-cum-culotte shorts. I'm wearing a size 4. They're lightweight polyester, which can be tricky on dry, windy days like today when static cling is pesky. Their wide legs are cut to look almost look like a skirt, and I like the tailored waist, belt loops, and side pockets. As much as Bermuda shorts are on trend this spring, I'm just not sure about the length, volume, and front pleats.
One of my top picks is this mixed print floral stripe blouse. I'm wearing an XS tucked in, and it has a nice pleated placket with button cuffs that are somewhat tight. I had to unbutton them to put the shirt on, and then I rolled the cuffs for a relaxed feel. The armholes of the XS were slightly high, so I opted for the small and took it home.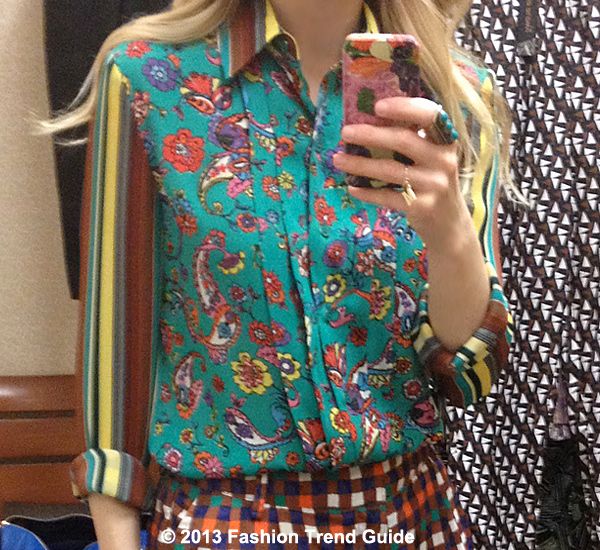 This floral skirt did not catch my eye in the lookbook, but in store, I was intrigued. There's a similar one in leaf print. Pros: it's comfortable, has an elastic waist, is made of crisp cotton twill, and had side pockets. Cons: the length is too long for me and it's not flattering. I'm wearing an XS, as it runs big.
The mixed print blouse is generously cut, so I tucked it into the matching pants for a more tailored look. I'm wearing an XS. The cuffs have buttons, and the blouse is made of lightweight polyester. I liked it, but I didn't love it enough to buy.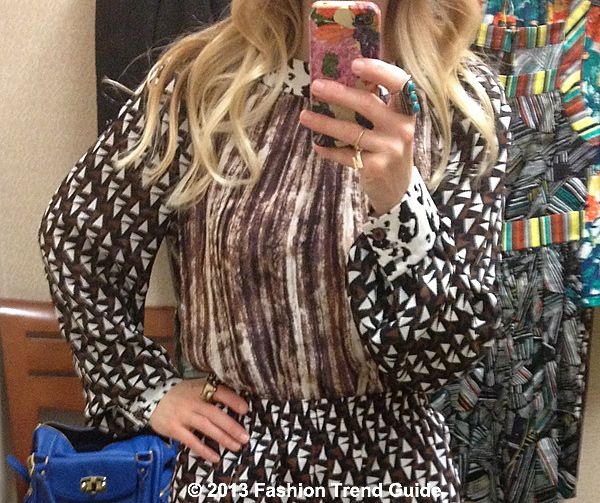 Printed pants are a particular weakness for me, although they can be tricky to pull off. This pair has an elastic waist, two side pockets, and an easy fit. I'm wearing a size small with the cuffed hems rolled up. Although I liked the pants in person, I don't think they photograph well because of the scale of the print. I bought these pants in solid black in XS because they'll be versatile and comfortable for wearing with printed tops.
I tried on this mixed print dress in small, and surprisingly, it was slightly loose in the back. The linen fabric was also a bit scratchy on my ultra sensitive skin. The shape of the dress and the print mixing make it appear to be more expensive/designery, although I thought the drop-waist print and boxy fit in the waist area wasn't flattering on my frame.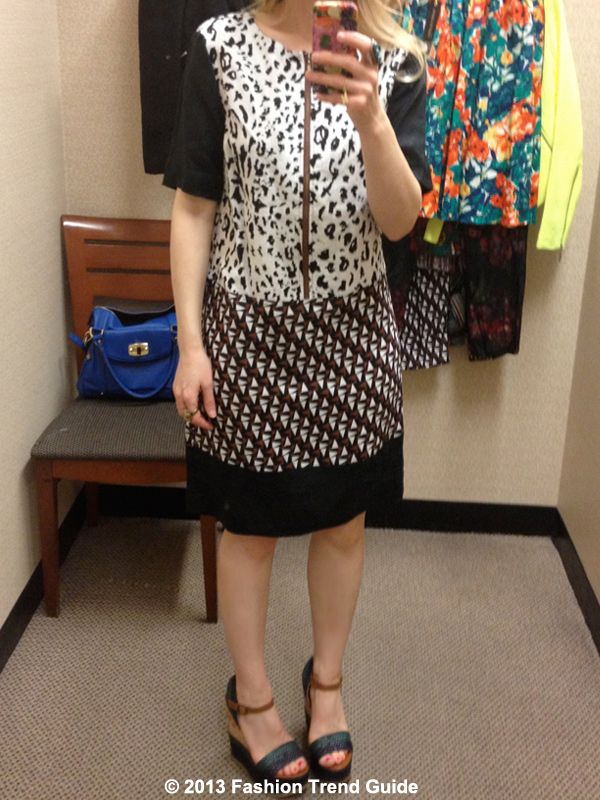 The polyester maxi ruffle dress looked so long in the lookbook that I didn't think it would work for me. Out of curiosity, I tried it on in a size small, and loved the way it flowed. It's a comfortable pull-on style with a tie at the neck and a shirred waist. I'd probably opt for the extra small due to the volume and loose fit in the upper body. I can imagine wearing this to fancier spring and summer events, as the print and ruffles make it a festive piece.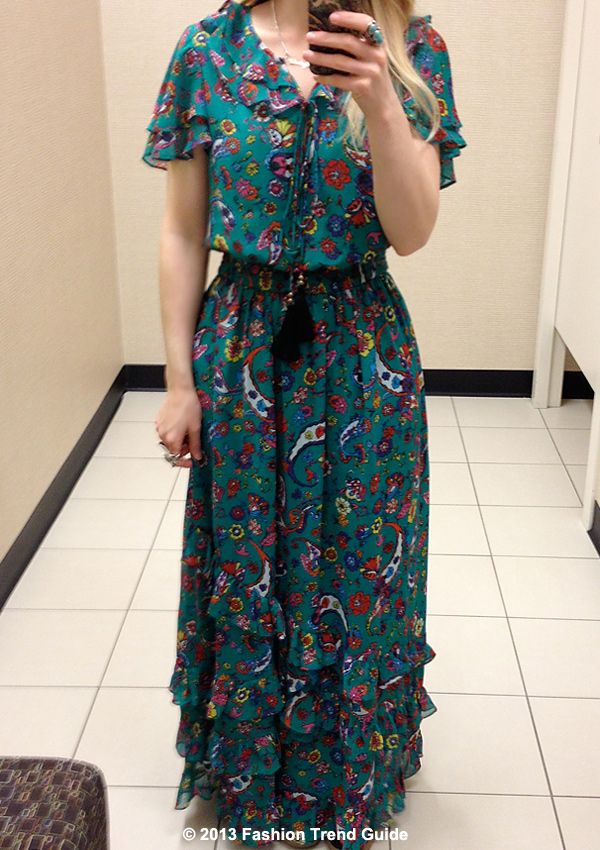 The paisley mixed print jacket was a wish list item. I'm wearing an XS since it runs big. The unstructured polyester fabric is softer and more lightweight than I was expecting based on how it appeared in the lookbook. There's a hidden button placket in front and the 3/4-length sleeves have a subtle bell shape. I love that it can be worn open with the collar turned down like a jacket or worn buttoned like a blouse. I've paired it with the metallic pencil skirt in size 4, which was well tailored with a lining and small back slit (sewed shut). I did spot some loose metallic threads at the hem, and the fabric was slightly itchy at the waist where there was no lining. I think it's a versatile piece that would look chic with a blouse tucked in.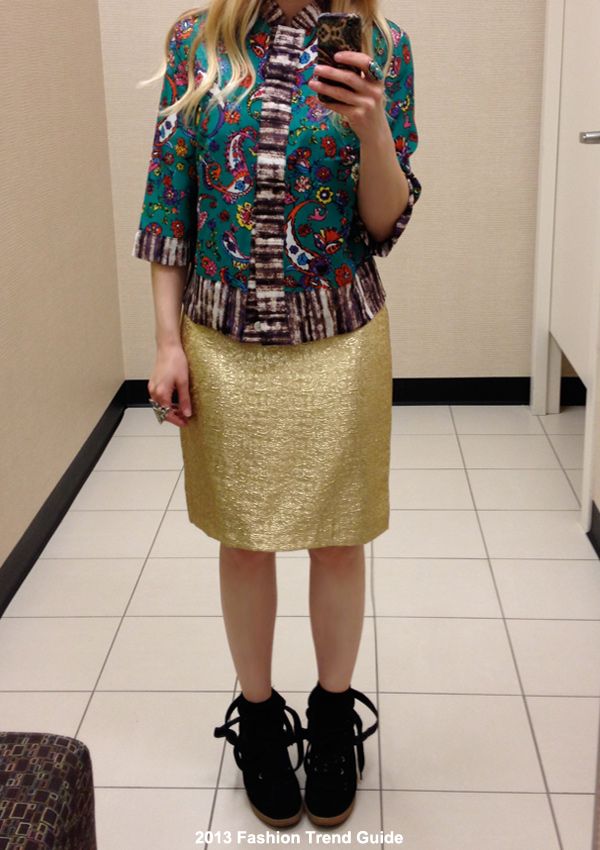 Below, the jacket worn with my good old Levi's and an H&M triple stone ring.
Here's the jacket tucked into the plaid shorts for a bold mix of prints.
Lastly, this leaf print dress (for $40) was a surprise hit. I tried on a size 4, which fit perfectly. The back zip was easy to manage, and the waist definition was both ladylike and playful. The only downside was that there were no pockets. I loved the crisp, structured shape and the way the dress fit. This wasn't a piece on my wish list, but it quickly became a favorite.
Overall, I think this collection sets the bar high for future designer collaborations at JCPenney. Although the bold prints might not appeal to less trend-conscious customers, I was drawn to them and the sheer variety of vibrant patterns in the collection. I also thought the inclusion of housewares and accessories was a savvy move on behalf of JCPenney, reminiscent of the Missoni for Target collection. I'm still on the lookout for a few pieces that my store did not stock, and I'm happy to be incorporating more prints and bright colors into my spring wardrobe thanks to Duro Olowu.
June 17, 2017 update - Shop Duro Olowu:
P.S. See more from Duro Olowu on sale at The Outnet.