Few accessories scream summer like a straw handbag. The sturdy construction, lightweight materials, and variety of silhouettes make straw bags a chic and simple way to update your look for the warmer months. Straw bags work just as well for beach days as they do for staycations, barbecues, trips to the farmers' market, casual parties, or running around town. Look for details such as chain straps, fringe, embroidery, or structured handles to elevate your outfit and add whimsy.
A quick scroll through your Insta feed may prove that there's no denying the ubiquity of Cult Gaia's 'Ark' handbag. This small clutch pairs amazingly with off-the-shoulder dresses, kimonos, ruffled skirts, and distressed denim.
August 7, 2017 update - Shop Cult Gaia:

While the Ark bag ranges in price from $140 to $300, there are many ways to get the Cult Gaia Ark bag look for less. I've selected my top picks for summer 2017 under $150.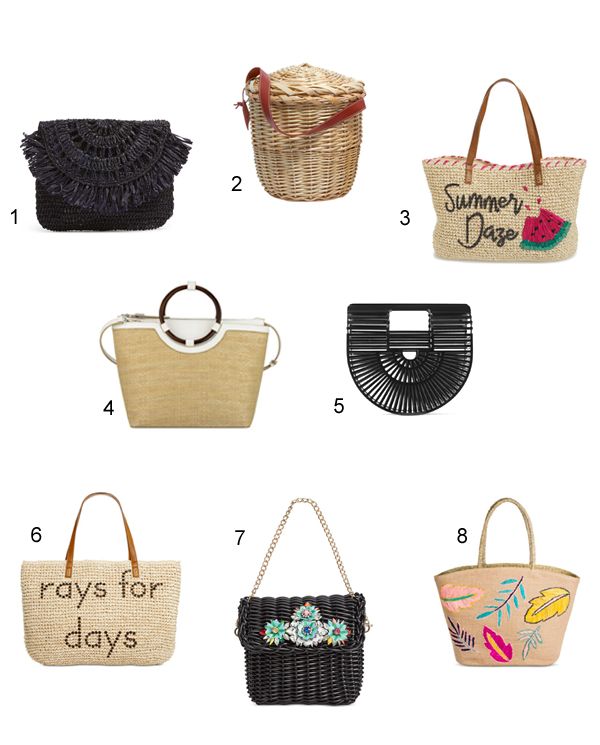 1. Mar y Sol 'Mia' woven raffia clutch, $49
2. Lindroth Designs small tan Birkin basket bag, $150
3. Summer Daze straw tote, $49
4. Nine West 'Alyce' straw tote, $62.30
5. Cult Gaia 'Ark' mini acrylic clutch, $280
6. Style & Co straw beach tote, $11.53
7. Betsey Johnson basket case bag, $108
8. Merona linen tote bag, $34.99


June 4, 2018 update - Get the Cult Gaia Ark bag look for less with these budget friendly straw and acrylic bags:

March 12, 2018 update - See new styles for 2018:
September 4, 2017 update - Shop more options:

August 8, 2017 update - Shop more straw, bamboo, and wicker bags:


Style your bag with:



This post contains affiliate links and I may be compensated if purchases are made by clicking links.
More straw and basket bags: