Every so often, a shoe comes along and turns the fashion game upside down. Maybe it's an ankle boot, studded heel, or comfortable sandal. This time around it's the super stylish Miu Miu ballet flats. With their mismatched laces and tough-girl buckled details, they add just the right dose of attitude and edginess to the perennially chic ballerina flat. Plus, how cool is that gingham lace-up ribbon? It adds a D.I.Y. vibe to the shoe that's unexpected and playful.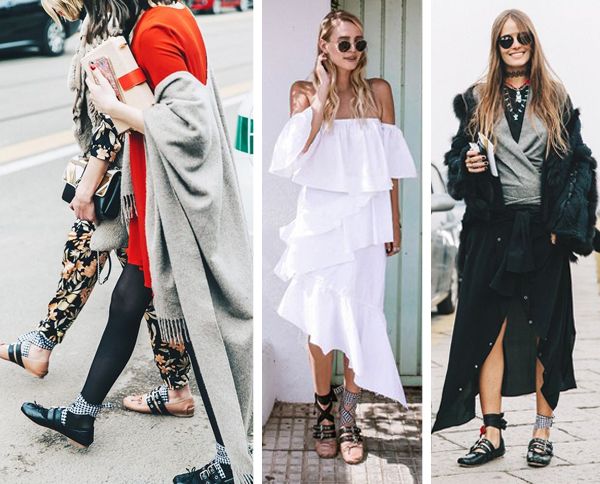 The popularity of these flats amongst the street style elite combined with the ballet-inspired fall 2016 collection by Valentino means that they are right on trend and they're sure to inspire many budget-friendly versions. The Miu Miu flats can range in price from around $550 for this style to $890 for this studded style, with most versions (like this silver one) priced at $620.
December 19, 2017 update - Shop Miu Miu flats on sale before they sell out:

Shop Miu Miu:


The Look for Less
If you want to indulge your inner ballerina, and you dream of twirling gracefully like Misty Copeland, but don't have the budget for Miu Miu, no worries. There are many ballerina-inspired styles at lower price points. Bonus: you'll have enough money left over to get a tutu, buy a bodysuit, or take a barre class!
See how to score the look for less:
April 4, 2018 update - See styles under $40:

March 22, 2018 update - Get the look for less than $85:

March 13, 2018 update - See styles under $70:
February 18, 2018 update - Shop new styles:
February 8, 2018 update - Shop styles under $80:

December 23, 2017 update - Shop this style by Sam Edelman under $70:

December 19, 2017 update - Get the look under $50:


This post contains affiliate links and I may be compensated if purchases are made by clicking links.
Shop more ballet flats: