Sex and the City may be long over, but its fashion influence still lives on. Take, for example the iconic Manolo Blahnik 'Hangisi' pumps from Carrie Bradshaw's proposal with Mr Big. With their bold blue finish, ultra feminine jeweled embellishments, and sleek stiletto shape, they are the ultimate in fancy footwear. While Carrie Bradshaw wore many memorable styles during the beloved HBO series, her Manolo 'Hangisi' wedding pumps are right up there with her tutu, nameplate necklace, and flower corsage on the list of trend-setting pieces that have reached icon status.
Shop the Manolo Blahnik Hangisi: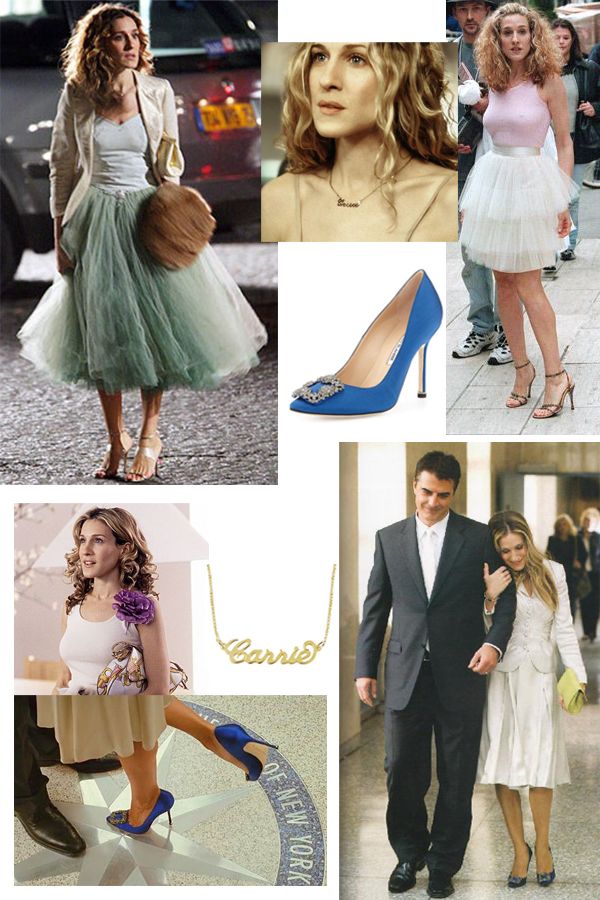 While the real deal Manolo Blahnik 'Hangisi' heels (see all the pretty color options and even these gorgeous flat versions) have a price point of $965, there are plenty of styles to get the look for less. Sarah Jessica Parker, who has her own line of footwear and accessories, is offering a similar style in her collection which comes in black or blue satin and sells for $545. On a tighter budget? Below are six of my top picks under $150.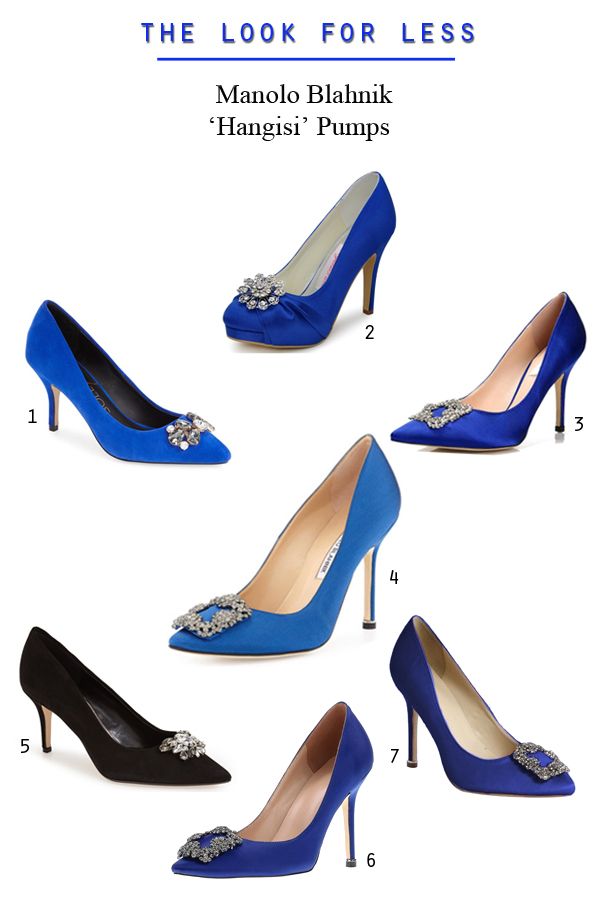 1. Sole Society suede pumps, $79.95 (also in black or taupe)
2. Elegantpark evening pumps, $42.95 and up (many colors available)
3.

Littleboutique pumps,

$46.59
4. Manolo Blahnik 'Hangisi' pumps in 7 colors, $965 (many more colors available at Saks or Bergdorf Goodman, blue available at Neiman Marcus, and Barneys has three neutrals)
5. Dune London pumps, $124.95
6. EKS Kricoa pumps, $59.99
7. Jessica Buurman pumps, $129
December 2, 2018 update - Shop the look under $50:
Style them with:
November 2, 2018 update - Get the look for under $50:
Wear them with:
Shop jeweled pumps: