Please note that this post contains affiliate links and I may be compensated if purchases are made by clicking links.
After seeing glimpses of the new
Kendall + Kylie at Topshop
collection on social media, I knew I had to check it out in person. Priced under $150, it captured my attention with its tropical florals and summery silhouettes. Add to that some distressed denim, breezy white blouses, and skin-baring jumpsuits, all of which underscore the collection's laid back, California vibes. I can easily envision the Jenner (and the Kardashian) sisters wearing each piece in her own way. Plus, I just can't resist a
floral romper
!
My Shopping Strategy
Given how quickly the collection is selling out on Topshop's site, my first choice was to check a Nordstrom store so I could see the goods in person and do a fitting room review. Upon browsing the well-stocked Topshop department at Nordstrom, I hit the jackpot, since they had most of the collection in stock (except for the "When in doubt, vacation" pullover and the graphic tees.)
June 20, 2017 update - Shop the latest collection:
April 27, 2017 update - See new arrivals:


Here's a look at my favorites.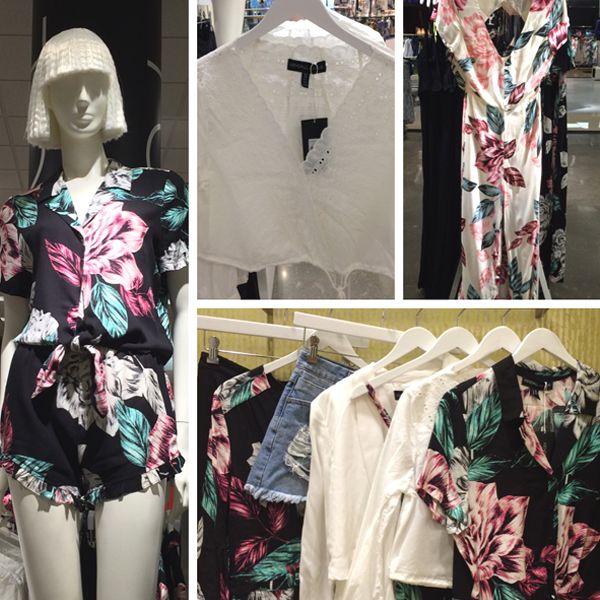 When paired together, the floral tie-front blouse and floral shorts look like a romper. They're ultra soft, run slightly big, and made of viscose. Unfortunately, this store didn't have the shorts in my size (but they offered to order them for me).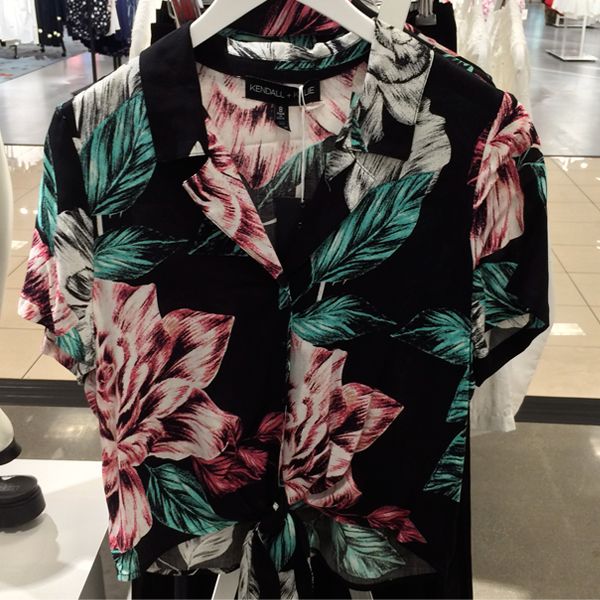 The embroidered surplice top looks much better in person, is lightweight, and runs slightly big.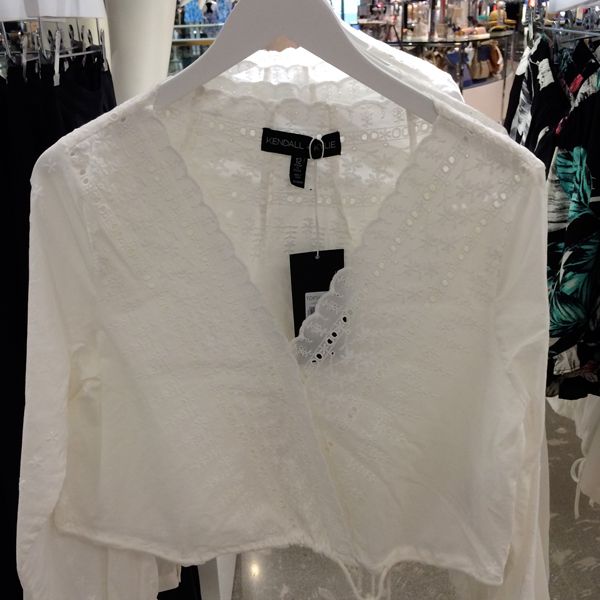 The Fitting Room
Here's what I brought into the dressing room to try on. For reference, I tried on US size 4 in everything except the overlay maxi dress and duster coat, which were a size 2. I'm petite and currently weight 101 lbs. I would've tried on size 2 in most items, but they weren't available. Someone must've got there before me!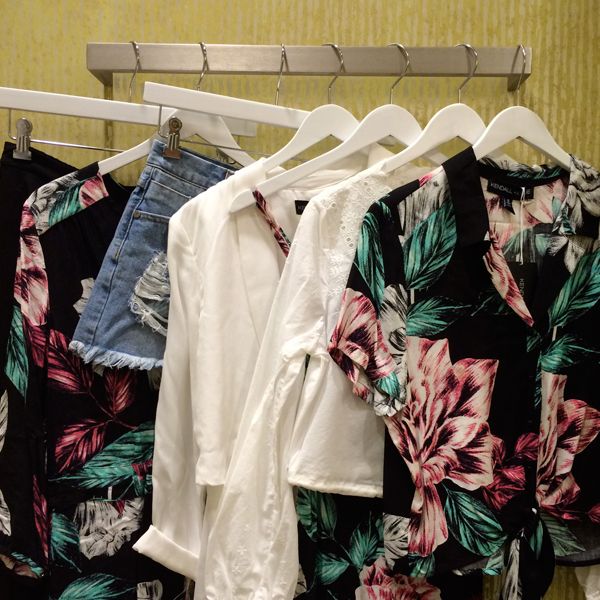 The duster coat was well made and lightweight, with a length best suited to ladies over 5'5". I liked the tailoring, storm flap, button details at the waist, and the cuffed sleeves. I can imagine any of the Kardashian or Jenner sisters wearing it, or even Caitlyn. It's a chic piece that adds drama to denim or printed dresses. The feminine floral overlay maxi dress is a lightweight and soft pull-on style in viscose with a deep V-neck and flounce in back. I loved both pieces but felt that the lengths were too long for me.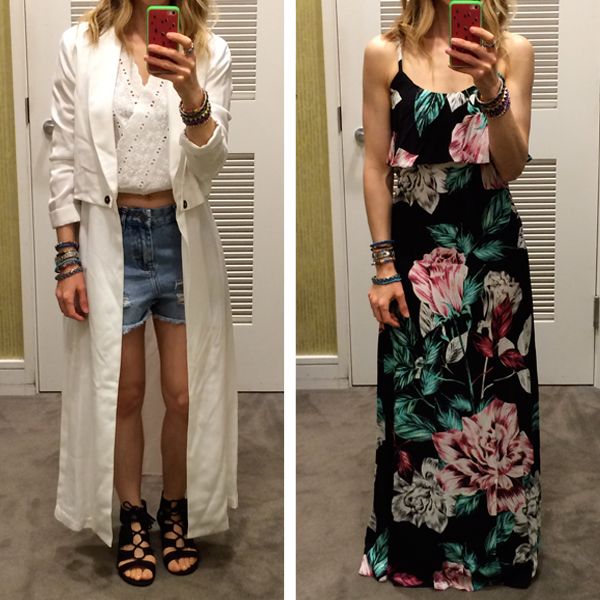 The embroidered surplice blouse was a top pick. The tie at the waist makes it somewhat adjustable, and thankfully, the top isn't sheer. It's simple enough to go with many summer bottoms and has great textural detail. The size 4 that I'm wearing was slightly roomy in the arms. The high rise denim shorts were comfortable with 100% cotton construction, and the size 4 ran big on me. I appreciated the distressing, high rise, and the sturdy denim fabric. The pocket bags on these have a fun tropical print which can't be seen in the photos. The shorts almost made me forget that I really don't need any more denim shorts. Yes, they were that comfy.
The floral print top ran big on me, but the tie in front makes it more adjustable. It's made of a soft viscose which gives it vintage vibes. My favorite piece was the floral romper. The size 4 was (once again) slightly roomy but it has a tie waist for a better fit. It's a piece that would work for women with longer torsos than myself. Unfortunately, no pockets on this one, however, I did like the snap front closures. On the right, I paired the floral top with the pull-on black palazzo trousers, which look more like a maxi skirt in the photo. They're partially lined, comfortable, and slightly sheer.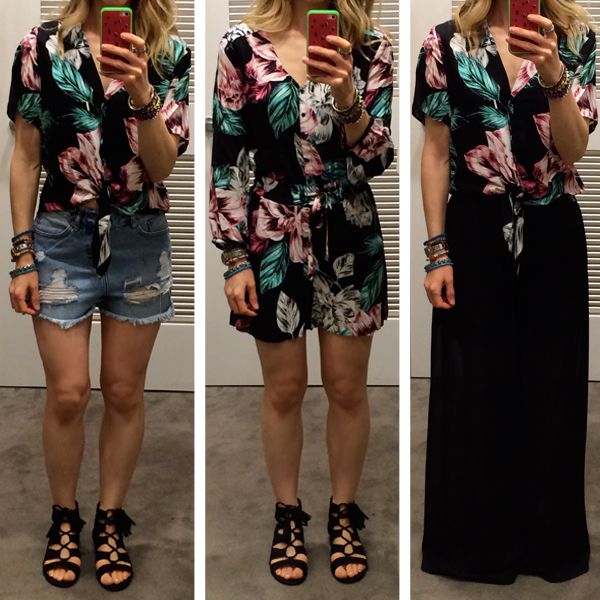 Overall, I was impressed with the versatility and quality of the collection, and given how much I adore florals, I wish they'd produced a range with more printed pieces. The Jenner sisters have a few design collaborations under their belt at this point, so perhaps there will be another Topshop collection in the near future? More jumpsuits and embroidered tops, please!
Although the collection is almost sold out on Topshop's site, you can still shop it here.
Catch up with me on
Twitter
,
Facebook
, and
Instagram
and share your thoughts on the Kendall + Kylie at Topshop collection with #KKforTopshop or #KendallKylieTopshop.