Kohl's must be on a roll because I've been popping in to inspect new merchandise this month, and quite a few things have caught my eye. I spent some time browsing the ELLE for Kohl's spring 2015 collection and tried on a few looks for this fitting room review.
April 19, 2017 update - See my spring favorites: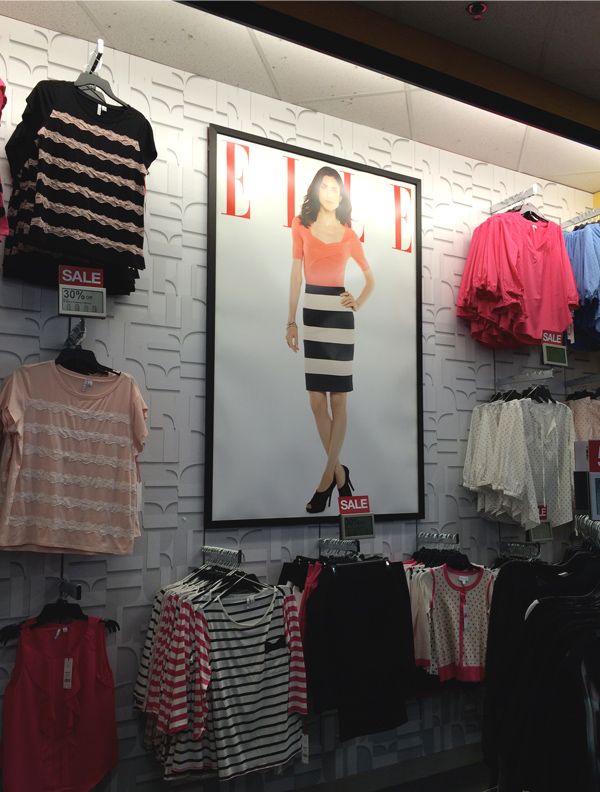 The Elle spring collection features preppy, chic prints, lace, florals, and French-inspired motifs. The general vibe for their spring line is feminine, fun, and whimsical.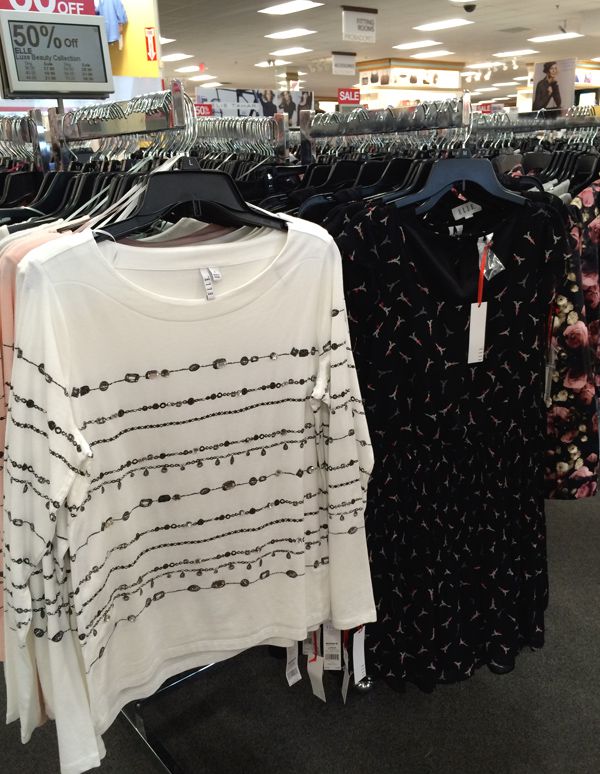 Sleeveless blouses in bold graphic prints and oversized silhouettes are positioned front and center in the store I visited.
This trompe l'oeil Peter Pan collar sweater might've come home with me. It also comes in mint/black.
Now for the looks I styled in the fitting room. For reference, I tried on XS and 2 in everything. Sizing is true to Kohl's Women's sizes, so if you usually shop in the Juniors department, I advise sizing down.
I paired the ELLE super soft striped bow tee (which runs true to size) with ELLE Bermuda shorts for a casual look. On the right, I added the polka dot cardigan (also soft and true to size) for layered, more colorful effect. In the middle, I've got on the graphic print tee, which is slightly sheer and loose. It comes in other artsy prints.
The Eiffel Tower shift dress (which runs big) looked interesting enough on the hanger to get my attention, but not so flattering on me. The shapeless silhouette just wasn't for me, although the pink and red color combo is different from anything I've seen in stores lately.
I liked the floral scuba fit and flare dress much better since it defines the waist and dark florals are more my style. The polyester fabric felt hefty, the length was demure, and the back zipper was easy to manage. Two thumbs up! It's a favorite. See more dresses from the ELLE collection.
The pleated jacquard midi skirt had a feminine and fun feel. My main issue was the flimsy back zipper, which was far too thin for the bulk and weight of the fabric. On the bright side, I adore the textural detail and full silhouette, which make it look more expensive than it is.
I styled the skirt with the graphic tee and floral moto jacket (also from the ELLE collection) to show its versatility.
Watch this space for more fitting room reviews and photo updates as I document spring and summer arrivals during my shopping adventures. For retail reports, coupon codes, trend forecasting info, and sneak peeks of my personal style, catch up with me on Facebook.
March 2, 2017 update - See more of the ELLE collection: