This post contains affiliate links and I may be compensated if purchases are made by clicking links.
When it comes to shopping, shoe shopping is particularly enjoyable for me. As a self-professed shoe addict and Sam Edelman customer, the Sam & Libby for Target collection piqued my interest. I visited two stores on the day of the collection's debut in order to try on my top picks and review them.
With an appreciation of Sam Edelman's ultra comfortable ankle boots, I was really hoping to see a pair represented in this collection. Alas, the loafers, ballet flats, strappy sandals, and mixed-material heels would have to suffice. Before I continue, I should disclose that when it comes to shoe preferences, I lean towards the platform/wedge side of the spectrum as opposed to the minimal, strappy flat sandals side. Furthermore, I avoid sandals with toe plugs and patent finishes as I find them uncomfortable.
Here's what I loved about the collection:
fun details, bright colors, and printed insoles

mixed materials and animal prints add interest

the wide variety of sandals made it hard to pick favorites

sizing runs true to size

fair prices that are not much higher than Target's main labels

many styles come in multiple colorways
Here's what I did not love about the collection:
quality of the zippers was poor

some materials felt stiff and cheap

the demi wedges were online only (I ordered these)

some of the strappy sandals felt narrow and tight; they're best for narrow feet
May 25, 2017 update - See styles for spring/summer 2017:


January 29, 2017 update - See the latest:

The selection of embellished flat sandals was extensive, with sizes running true to size for length, but being somewhat narrow across the toes. If you have wide feet, that may pose a problem, as the straps are synthetic and have no stretch.
I like the leopard print detail on the Karli style ($29.99) above and on the Kamila style ($24.99) below. The touch of snake print on the insoles and the mixed-material construction make the sandals look on-trend and playful. All that's missing is a bright pedicure.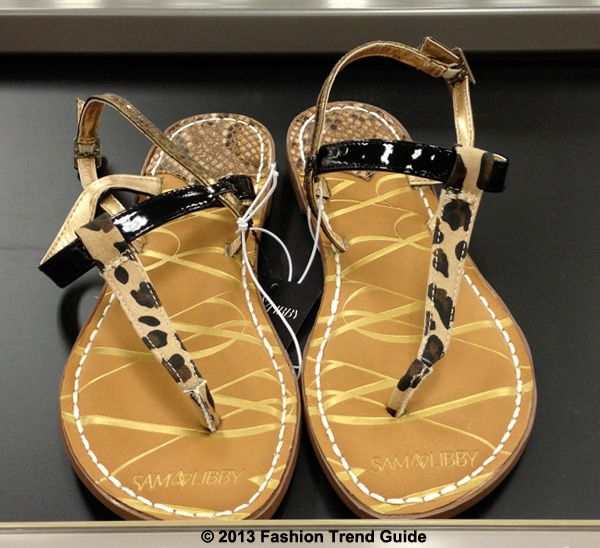 Bits of neon and multi-colored straps add color and depth to the Kylie style below. These cost $24.99.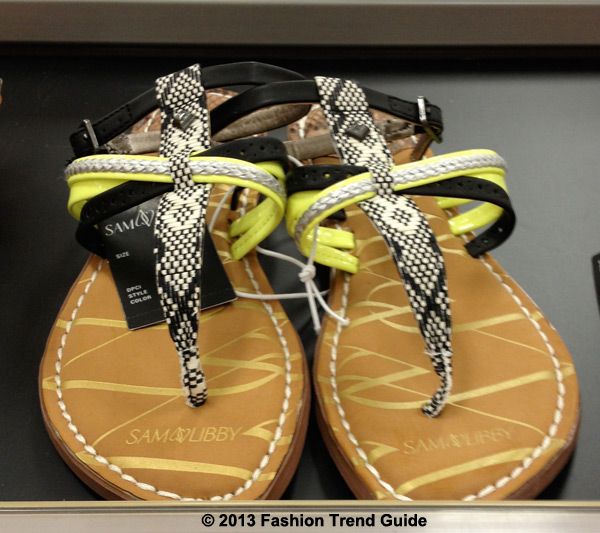 The gladiator sandal is a key trend for spring summer 2013, and these Keira studded sandals below were cute, but the straps were not comfortable for me, and the back zip was tricky. They cost $27.99 and are best for small or narrow feet.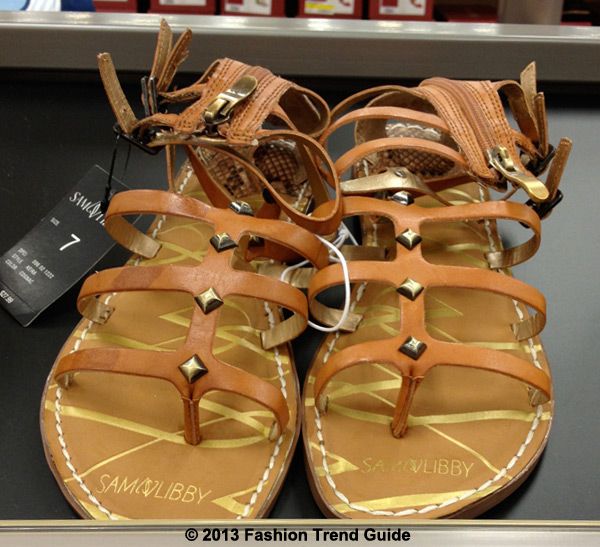 The Margot gold heels would've been easier to wear if they did not pinch the outer corners of my feet on the vamp. They were easy to walk in, but the materials felt stiff and unpleasant. Priced at $34.99, I'd only recommend these for women with narrow feet.
The Kelly wedges (in the two photos below) were not on my wish list, but once I tried them on, they pleasantly impressed me with their comfort and walkability. They cost $34.99 and are my top picks in this collection. I could not decide between the neutral pair and the neon woven pair. There's also a coral/floral pair that's online only. The high shine finish on the wedge (which did not translate in the photos) was the only thing I'd change about the neutral pair, as I'd prefer a matte finish.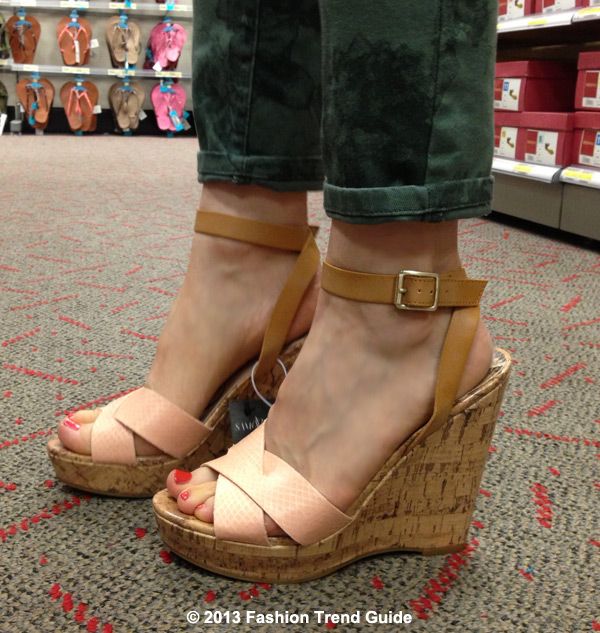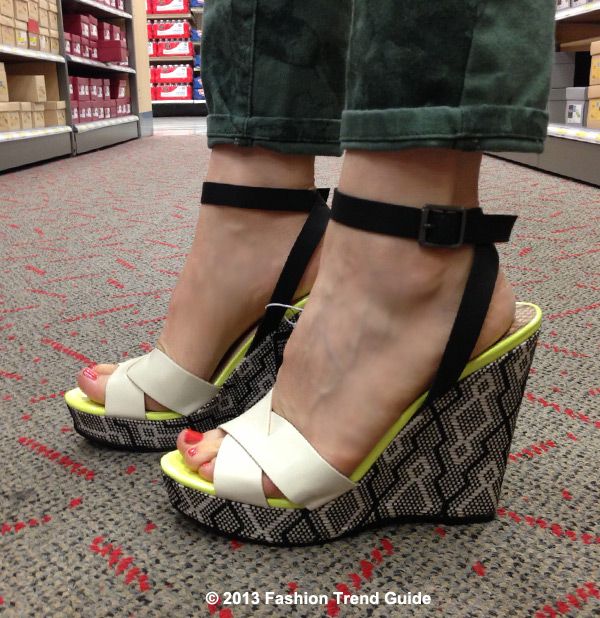 These Kayla studded gladiator sandals were on my wish list in this gold colorway. I can appreciate the mix of trends here, although the narrow straps and tight fit were disappointing. Also, the back zip was tricky. I really wanted to like them, but at $27.99, I passed.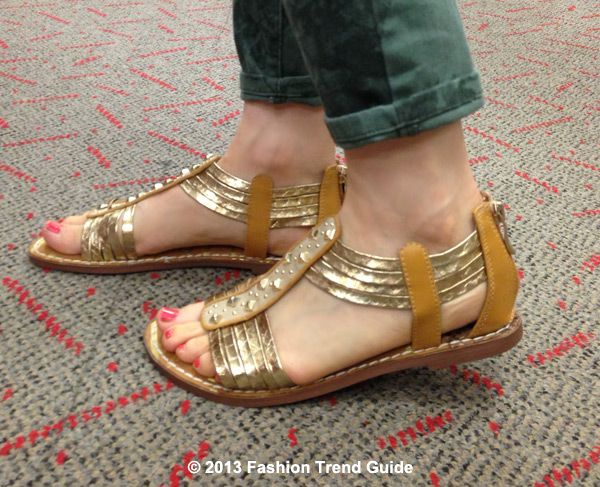 Cap toe ballet flats are one style of shoe that I don't own, so this simple and chic style called Bree (which is on sale now) interested me. The contrast trim and cap toe style makes versatile and chic, and they run ever so slightly small. I think they'd look great with cropped skinny jeans or tailored shorts for summer.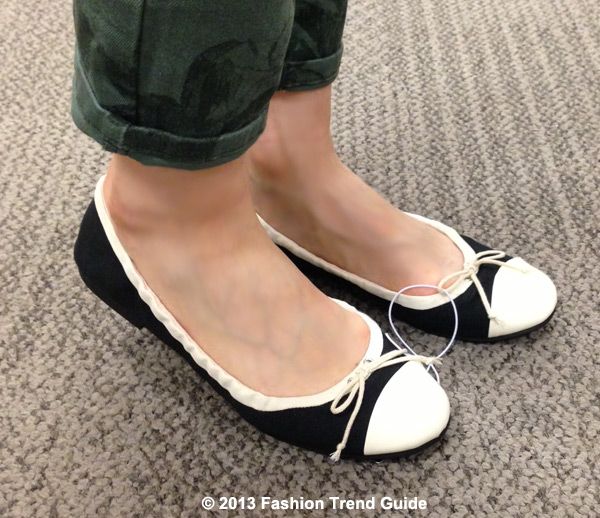 Leopard print loafers aren't hard to find, since every footwear brand seems to have their own version. Nevertheless, I wanted to try on the Adley tuxedo flats priced at $29.99. I found this pair to run true to size, and they felt very comfortable. They're a style that would have to grow on me because I'm not sure loafers speak to my personal style just yet. I tried on a pony hair texture style by another brand recently, and I prefer that texture to these canvas fabric uppers.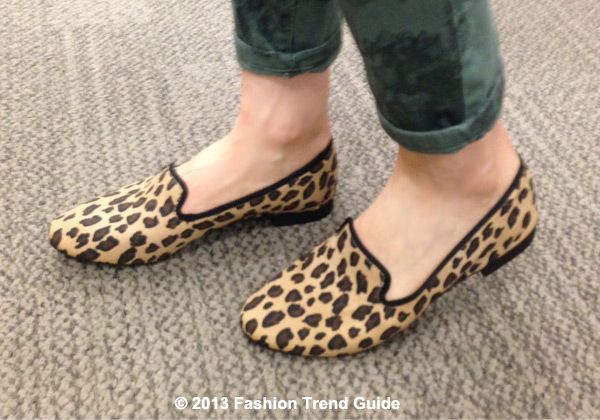 *Update - read my Sam & Libby for Target fall 2013 review, my fall 2014 review, my spring 2015 review, and my fall 2015 review.
Shop Sam Edelman: