Despite a busy weekend, my curiosity got the best of me on Friday night, so I made a quick trip to Kohl's to inspect the new Rio-inspired Derek Lam for DesigNation capsule collection. As I wandered into Kohl's, neatly curated racks of modern printed pieces at 25% off greeted me front and center. I quickly perused the goods in order to pull my favorites and try them on in the fitting room for this review.
Here are my first impressions:
The prints are fun, colorful, and easy to mix and match within the collection. They are on-trend with the global nomad trend that's gathering momentum for 2013-2014. The deep shades of blue, green, and coffee really spoke to my personal color preferences.

The dresses have long lengths and are more flattering on taller figures than petite ones. Being petite, I avoided some of the pieces that I thought would not work for me.

Some of the fabrics were disappointing due to scratchy polyester, wrinkled jersey, and awkward draping.

The collection epitomizes modern American sportswear with its casual silhouettes and boxy shapes.

My store was well stocked, but didn't carry swimwear and some of the skirts and shorts that I sought.

Fit and sizing runs large for most pieces. I tried on XS and 2 in everything, and found most items to be roomy or require a belt.

I didn't make any purchases, although there are some pieces that I'm considering.
Read on to see my favorites and for fitting room photos.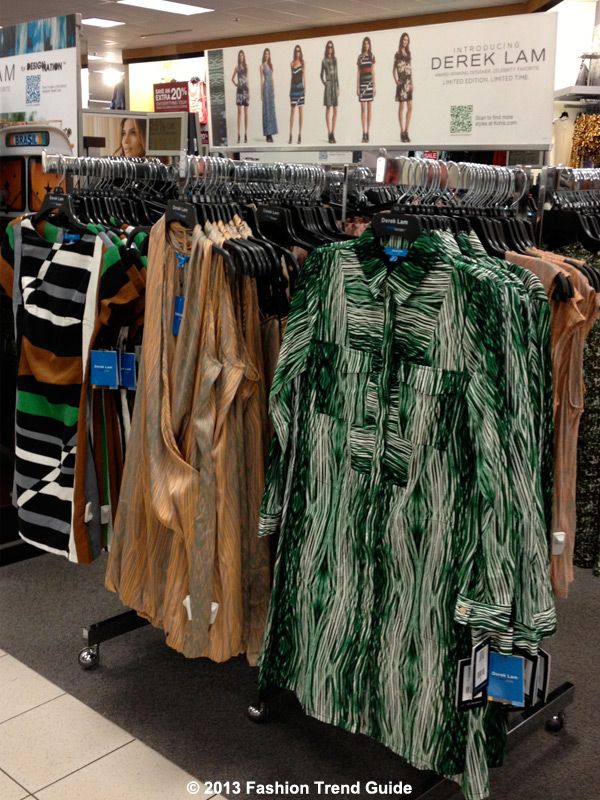 I appreciated the visuals seen below, which show looks from the lookbook and give the customers ideas on how to style the collection. Unfortunately, most Kohl's customers don't have the same body type as the statuesque model.
I found the printed blouses below to be appealing, but the slightly scratchy polyester on a some of the tops left something to be desired.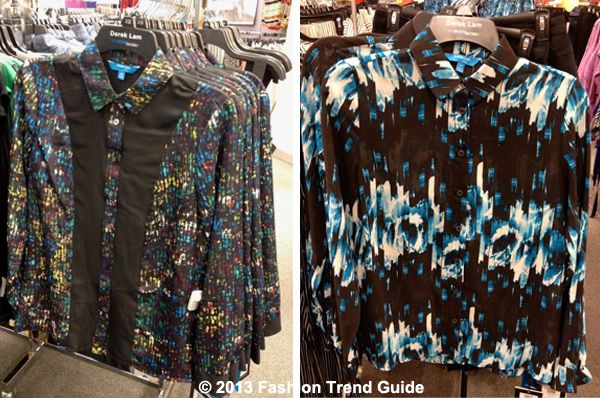 I envision the open weave mesh tank top and utilitarian maxi skirt shown below to be worn together (with the top tucked in) with wedge sandals or strappy flats, but unfortunately, neither piece worked for me due to fit. The skirt's thin fabric also makes it harder to wear, although I loved the muted color and the modern-looking hardware.
Here are the striped dolman top and Bermuda shorts styled together. Pros: comfortable and perfect for casual days. Cons: the seam at the bust and the sleeve length on the tee were unflattering, and the shorts were longer than I'd prefer. I was (and still am) intrigued by the shorts because of their '80s-culottes-meets-nautical details, but I didn't purchase them. I'd probably dress them up with a tailored top and heels for a more refined look. The edgy yet classic juxtaposition of the shorts has me dreaming up many more ways to potentially style them if I buy them.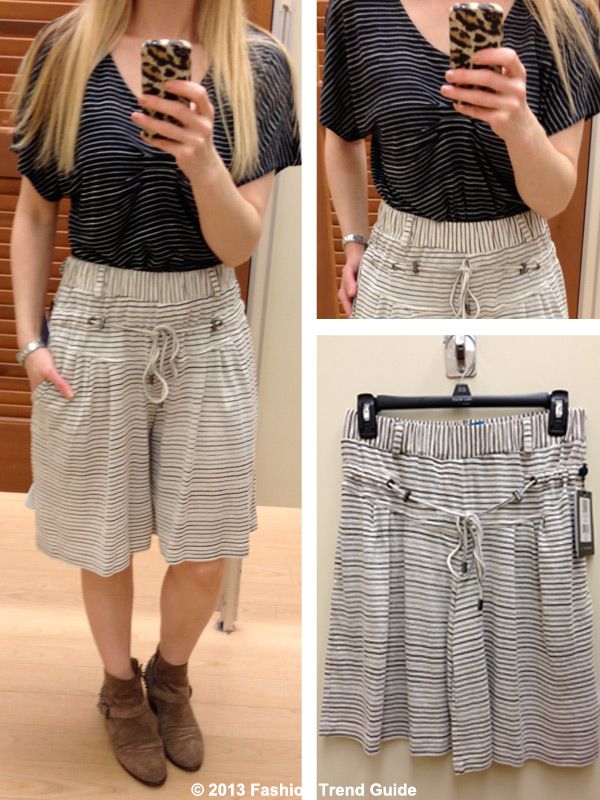 The chambray hooded jacket really got my attention due to its versatility, but the sleeve length and hem length weren't optimal on my petite frame (even when worn closed and bunched up). Otherwise, I loved the crisp fabric, side pockets, sporty snap details, and the mid-range blue color.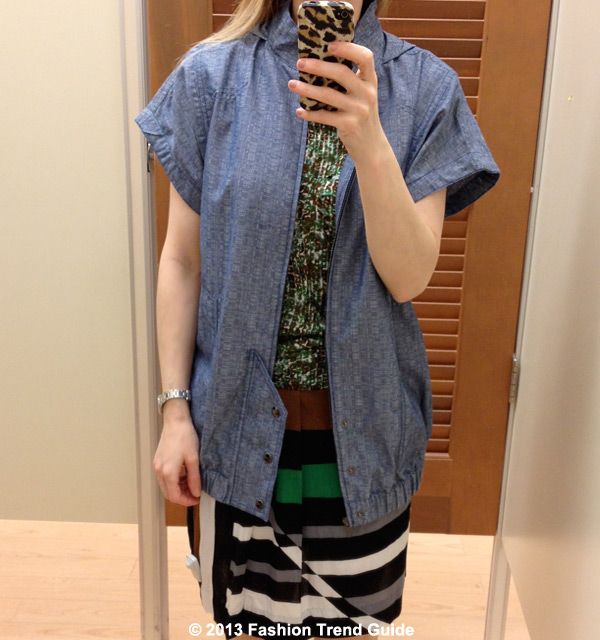 I liked the fit and panel blocking of the splatter print blouse, which I paired with the pieced crop pants in blue. The easy fit and light fabric of the blouse make it an easy option for casual days (although it can be prone to static cling), and the seamed panels on the knees of the trousers make them more sporty.
Although it has a drop-waist silhouette, I went back to another Kohl's store this weekend to give this striped dress a try.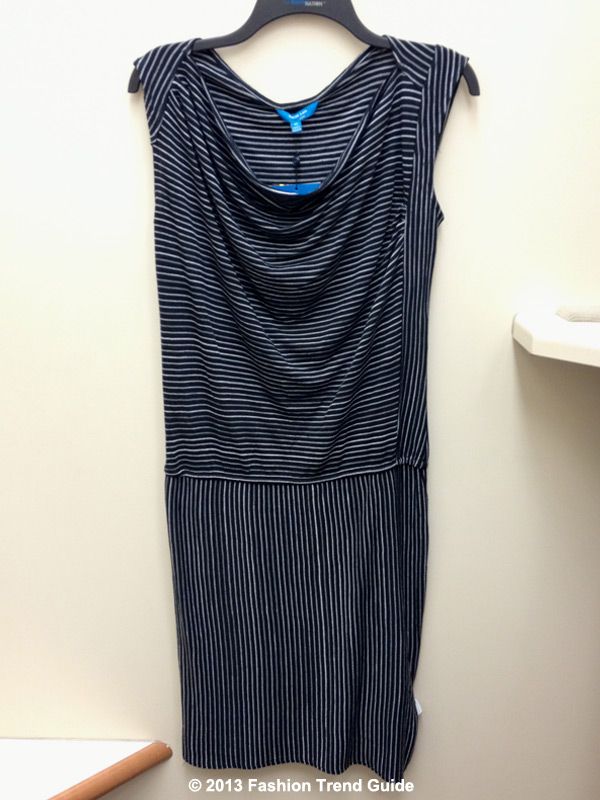 I was pleasantly surprised. It actually looked much better on me than on the hanger, and I'm glad I tried it on. Its pullover style, thin stripes, and comfortable fabric make it an easy and chic dress to wear. I'm wearing it slightly ruched for a shorter length. I can imagine this dress being styled for a variety of occasions, from a casual Saturday with Converse and a denim jacket to a fancy party with strappy heels, some sparkly jewelry, and a tweed blazer. It's definitely one of my top picks from the collection, and completely unexpected.
Being a fan of bold prints, this striped shirtdress had instant appeal on the hanger. All that was missing was a belt to give it some more shape and define the waist. I found the covered button placket slightly tricky to manage, but I appreciated the cotton fabric that had just enough structure without being bulky. The fit ran big, and if I were to buy it, I'd roll up the sleeves, add a belt, and wear it with heels.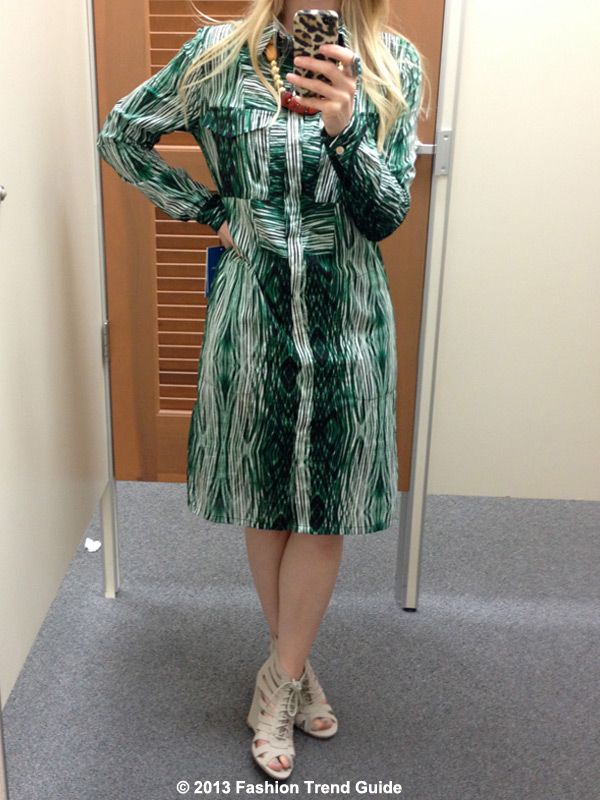 Another item that I tried on during my visit to the second Kohl's store was the chambray jumper dress. It's a piece that I'd normally overlook due to its simplicity and lack of "wow" factor that I typically seek out in capsule collections. (I'm rarely drawn to more basic items, and I'd consider this dress to be a basic in my wardrobe.)
Just like with the black striped dress, I thought that the chambray dress looked better on me than on the hanger. The side pockets were a fun detail, and the slight A-line shape worked for my body type. This was another surprise hit in the collection for me. Since I find chambray to be a versatile and comfortable part of my wardrobe, I can imagine wearing this with some standout accessories to give it more character.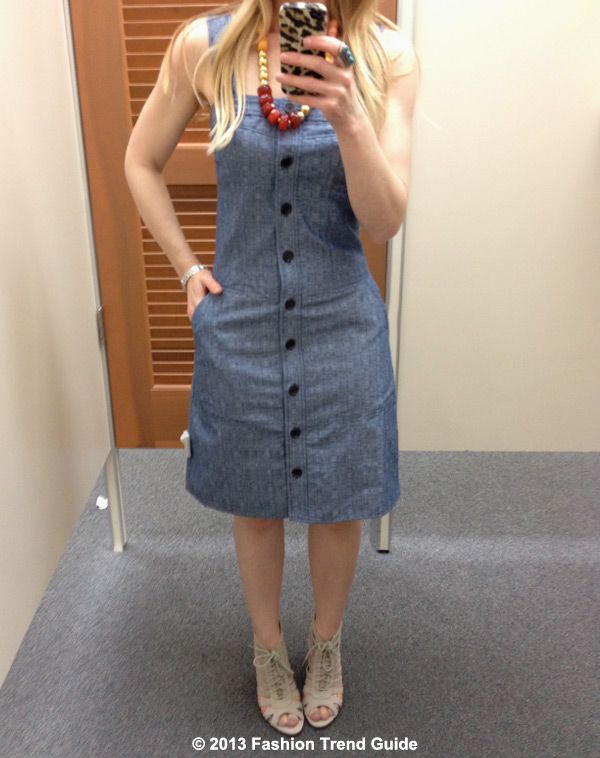 I couldn't leave the fitting room without some of my signature print mixing. The printed tee was comfortable and soft. It's tucked into the pleated striped skirt, which was surprisingly too large in the waist in the size XS. I am drawn to how all the colors work together.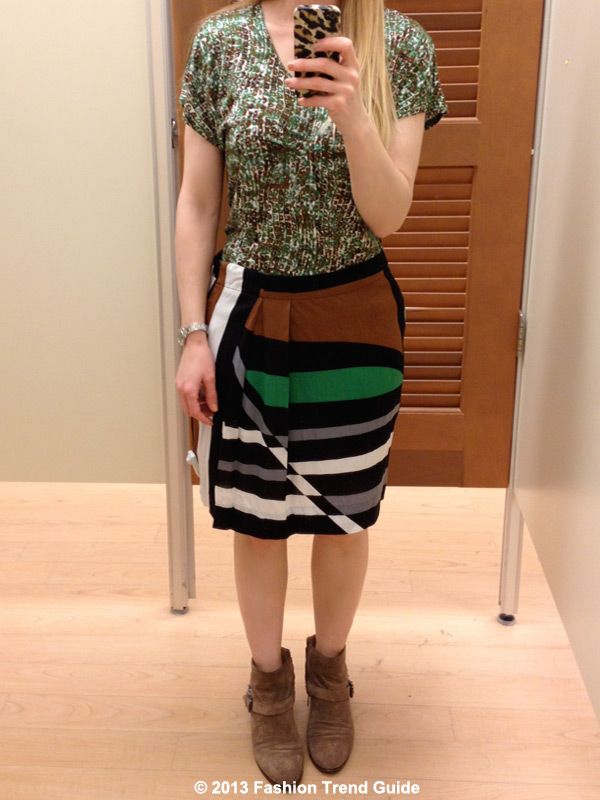 My favorite piece in the collection, and the one that fashion editors also gave a lot of press to, was this linen blend striped dress. The diagonal lines create unexpected and mesmerizing energy, and I can see how it may have been inspired by Brazil's landscape or architecture. The tailoring was impeccable, with great construction, limited wrinkles, and an easy back zip. I confess that I fell head over heels for this dress. I imagine wearing it in the blue colorway with strappy flats and a structured tote bag while wandering the streets of Paris with a camera in hand and a lighthearted attitude. It's the kind of piece that creates an effortlessly chic look when worn in a carefree, simple way.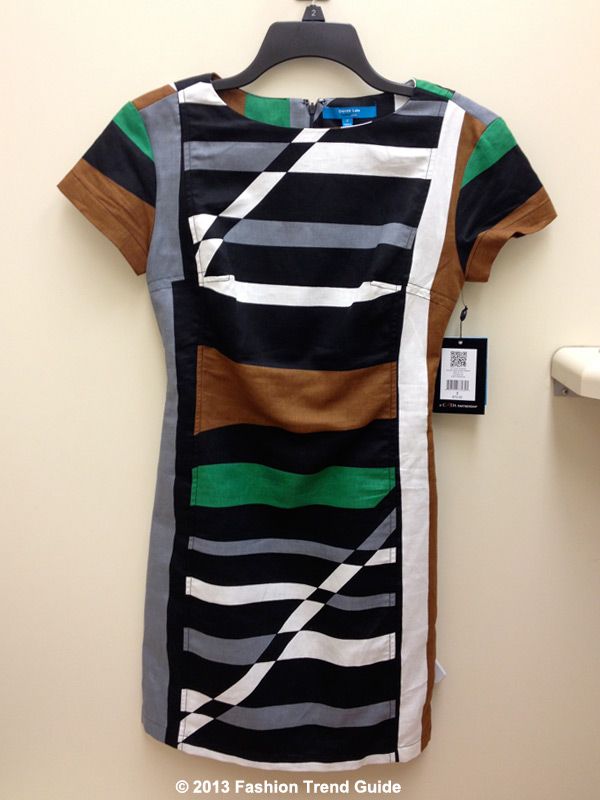 Below are more of my top picks from the collection. The blue maxi dress had a pretty print, but the ruching (front and center) was not flattering to my mid-section. The printed peplum top and matching trousers appealed to my desire for head-to-toe print and matched sets this season. Although the peplum top ran big because of the long straps, I liked the slim fit, pieced knee panels, cotton construction, and cropped hem of the trousers.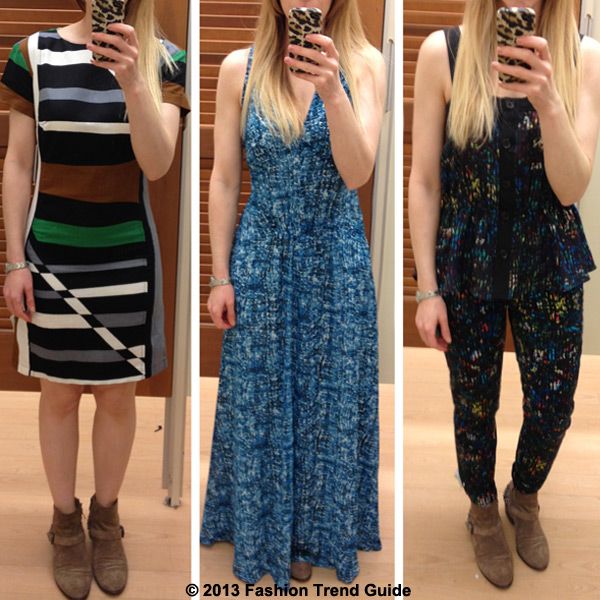 If you have any questions about the collection, feel free to email me. You can also tweet me @thekeytochic and let me know what you think of the collection and which piece is your favorite.
October 18, 2018 update - For more Kohl's style, see my POPSUGAR at Kohl's review.
This post contains affiliate links and I may be compensated if purchases are made by clicking links.
© 2013 http://fashiontrendguide.blogspot.com. May not be republished, rewritten, or reproduced without permission.