Today marks the debut of the London-inspired Thakoon for Kohl's DesigNation collection, so I stopped by my local store to browse the goods and do a fitting room review. My Kohl's store had a strong selection of blouses, sweaters, and tees placed front and center on three L-shaped racks. While sizes range from XXS to XL (or 0 to 16) online, unfortunately for me, my store did not carry XS in many items.
The predominant color palette is a dark one with shades of moody charcoal, burgundy, navy, and crimson. My store carried quite a few of the tops and sweaters, but not the outerwear or many of the dresses.
On the racks: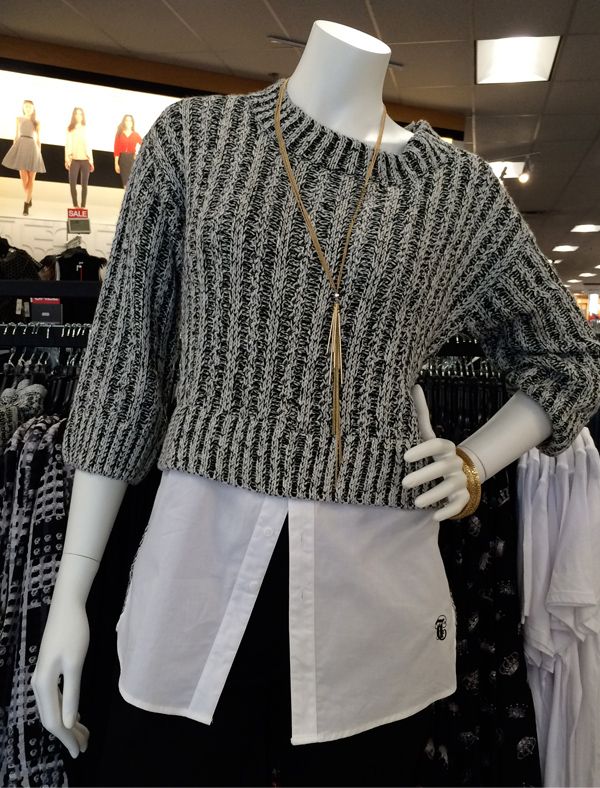 Above, the mock layer sweater and below, the oversized cable knit cardigan. Both also come in a light cobalt colorway.
The iconic graphic sweater below runs big and is soft yet lightweight - perfect for layering.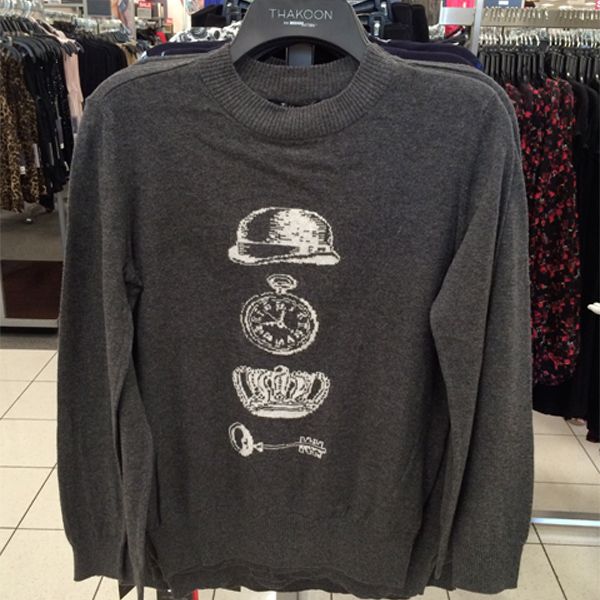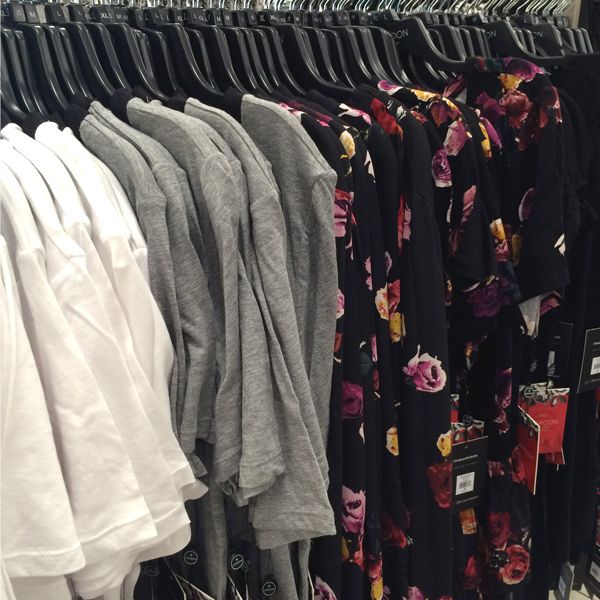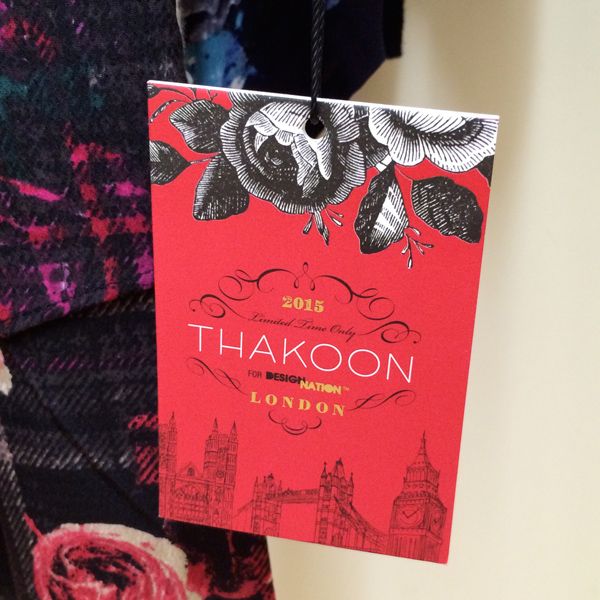 Fitting Room photos:
Below is the print pocket shirt (as seen on Kate Bosworth) and the ponte wrap skirt. I'm wearing size small in the shirt, which has an easy fit, and a size XS in the skirt, which runs big on me. The skirt is soft and stretchy with nice seam details, a faux wrap design, and an A-line shape. If I worked in a bank or more formal office, this would be a go-to look for me. I adore the floral pocket detail, as it livens up the serious stripes.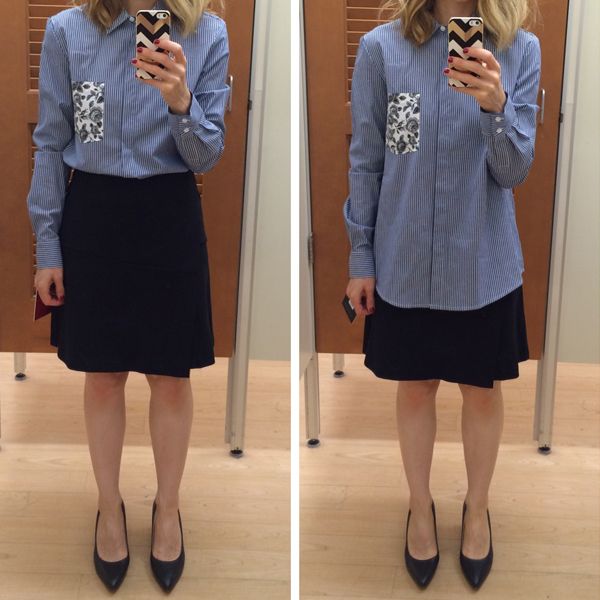 The iconic graphic crewneck tee comes in three different prints, has a vented hemline with a sporty ribbed crewneck, and runs big. It's a nice medium weight and is made of comfortable jersey. I'm wearing a size small. I think it would be great under the plaid vest from the collection (which my store sadly did not have).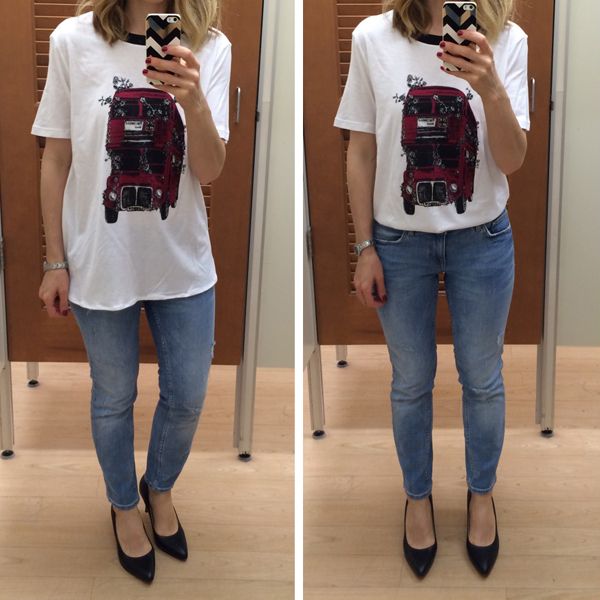 Below, from left to right: I have on the mock layer sweater in XS. It has a small amount of wool, so unfortunately, I found it slightly itchy. The back has a longer panel of sweater knit material, while the front is a faux shirt layer. In the middle is one of my top picks - the colorblock print hem tee. The fit is super comfortable with blue and black panels and a striped faux layer in front. It strikes me as fun on top, business on bottom. I'm wearing size XS. I think it would pair well with black skinny trousers for a casual office. On the right is the iconic print peasant top. I'm wearing size XS, and it's still big on me. The fabric is lightweight polyester with a split neck design.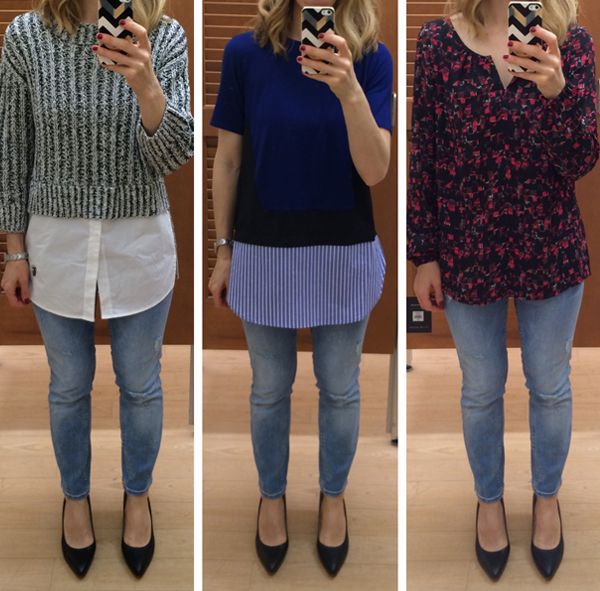 Below, a close-up of the peasant top and its cute London-inspired print.
Below on the left, I'm wearing the pintuck floral shirt in a size XS. On the hanger, this didn't look appealing, but I was surprised by how flattering the pintuck detail was in the fitting room. The pleating in the hip area gave it some shape on me. Beware of tight-fitting wrists on this style. In the middle is my favorite piece, which was also a surprise hit for me. The floral ruffle drop-waist dress was incredibly comfortable and not too flimsy, like I was expecting it to be. I have on a size XS, and I also belted it to define the waist. I would've loved this even more in a blue floral colorway. On the right is the iconic graphic sweater in the London print. I'm wearing size small, so it's slightly big on me. It's lightweight and made of a soft rayon/cotton/nylon blend. It also works well with the rest of the collection.
Below, a closer look at the pintuck shirt, which also comes in white or pinstripe blue.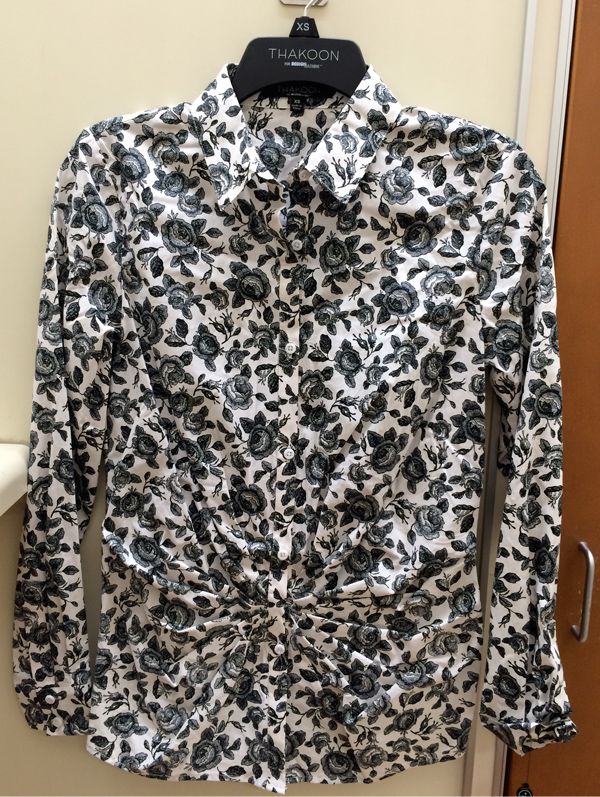 Another peek at my favorite piece that my store had - this floral ruffle dress with a drop-waist shape. The ruffles have a plaid print and crinkly crepe texture, while the top is a soft knit. It's simple, chic, and perfect for layering with a turtleneck or winter coat and tights. Note the asymmetrical ruffle design. I can imagine this dress on a variety of body types given its drop-waist shape and flouncy hem.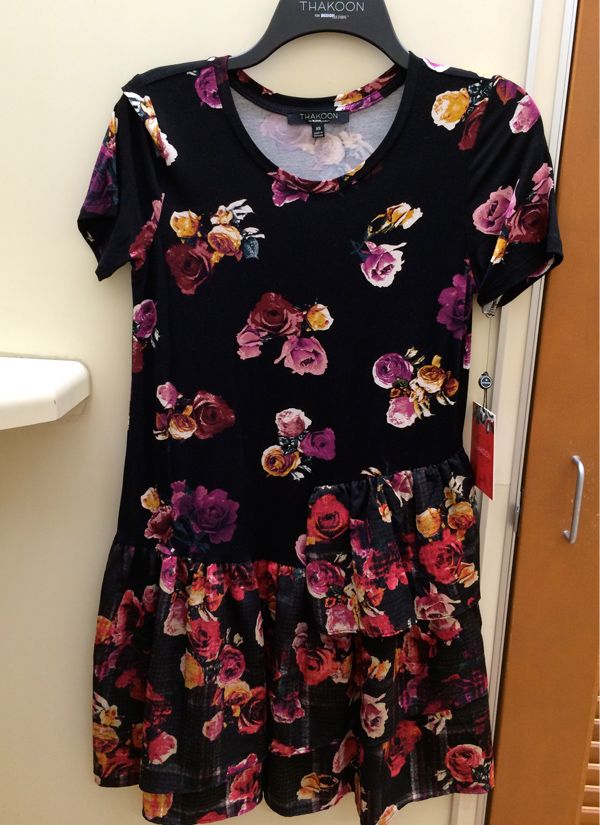 Below, I'm wearing the lightweight floral high-low hem top dressed down with my own jeans and dressed up with the ponte wrap skirt from the collection. I'm wearing size XS and the fit is big on me. It has a sporty ribbed crewneck which I liked. I rolled the sleeves, which are tight in the wrist when buttoned.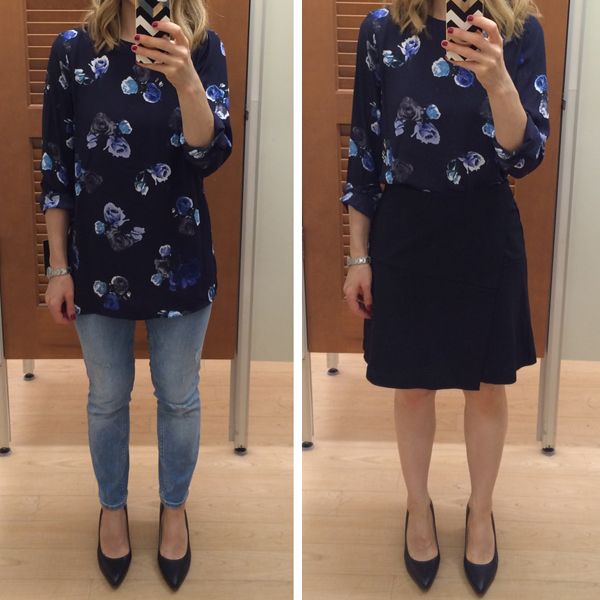 Lastly, I tried on the checked shirtdress in size XS. It's lightweight polyester and has a sash/tie belt and partial button placket. Sadly, there were no pockets on this dress! On the right is the mock layer sleeveless sweater. It has a floral top layered under the sweater and runs big. The back hem is longer than the front, and I'm wearing size XS.
Overall, I appreciated the floral prints and the dark color palette, but I just didn't find any of the pieces to be particularly trend worthy or exciting in terms of silhouette. With all of the great trends hitting stores this season (wide-leg pants, mod '60s-style turtlenecks, culotte jumpsuits, fringe, suede, Victorian, '70s, etc.), I wanted to see more innovative and on-trend designs and fewer "safe" items such as shirtdresses and mock layer pullovers. On a positive note, I think this collection is ideal for the woman who seeks a professional wardrobe with fun details. The mock layers make it easy to put polished outfits together, and the lack of tailored silhouettes make this collection appealing to a variety of body types.
See how Thakoon for Kohl's compares to recent Thakoon runway looks.
October 18, 2018 update - For more Kohl's style, see my POPSUGAR at Kohl's review.
This post contains affiliate links and I may be compensated if purchases are made by clicking links.
Keep up with me on Twitter, Facebook, or Instagram for more photos and shopping info.
Shop #ThakoonforKohls: