Please note that this post contains affiliate links and I may be compensated if purchases are made by clicking links.
Fresh off the heels of the ultra feminine LC Lauren Conrad Cinderella collection, Lauren Conrad has launched another cute Disney collection at Kohl's. This one's inspired by the all-time favorite Minnie Mouse. Who doesn't love her? The Minnie Mouse collection by LC Lauren Conrad features fun polka dot graphics, oversized tees, and flirty dresses in a signature Minnie color palette of red, navy, grey, white, and black. I couldn't resist trying on a few items during a trip to Kohl's to look for more of my Milly favorites, which are proving harder to find due to the collection's popularity.
The Minnie Mouse collection is currently 25% off and here's a peek at what the store had in stock.
Bows and polka dots lend a playful and youthful vibe to graphic print tees.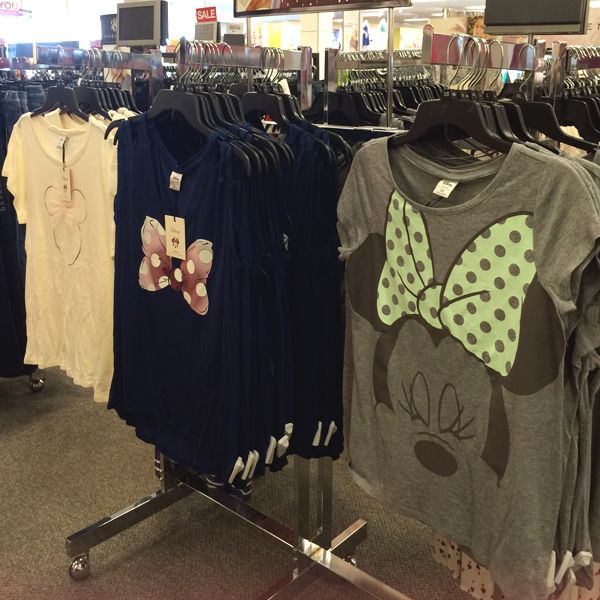 Here's what I brought into the fitting room. For reference, I tried a size 2 or XS in everything.
The tees are super soft, lightweight (but not sheer) and oversized. I'd size down for a more tailored fit.
Below: the versions on the left and right have bows and unexpected shoulder cutout details. I tucked in the one in the middle for a better fit. It has a blush pink tulle bow and I think it would be adorable tucked into an A-line skirt. My top pick is the navy one on the right, since it works well with dark denim.
Below: the open-back dress is very well tailored in the waist and bodice. Size up if you're curvy! It has a tie detail in the back and elastic in the waist. Unfortunately, there's no zipper, so putting it on takes some effort. The A-line shape is great, as is the tiny Minnie Mouse print. I still can't decide which colorway I prefer. I'm wearing studded Chloé boots, but both dresses would be great with black single sole pumps like this chic pair by Steve Madden.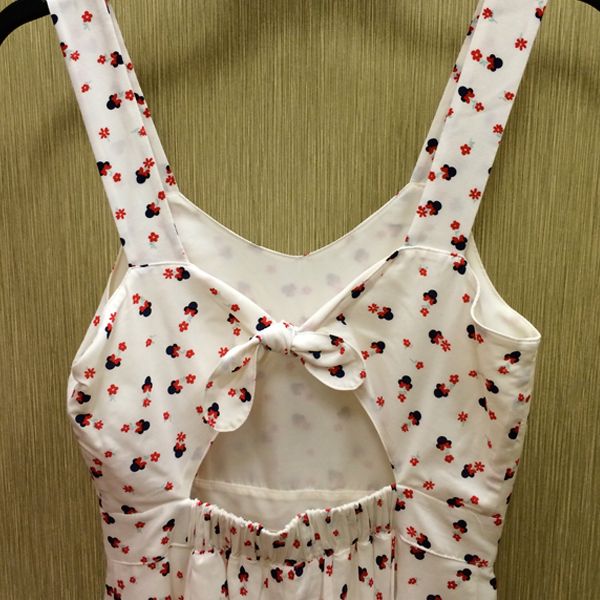 A sneak peek of the polka dot soft shorts that I recently shared on my Facebook. The shorts run big, have a fun bow in the front, and two front pockets. There's a side zip, and they are really comfortable. They also come in navy. I like them styled with a crop top or blouse and simple ankle strap heels like this style by Steve Madden.
*Update - I visited a second store with more pieces and tried on some looks.
Below: the polka dot top is a lightweight polyester (prone to static but not wrinkling). It runs big and I'm wearing XS. It's comfortable and easy to slip on over your head without undoing the button in the back of the neck. I'm wearing it several different ways to show its versatility. I also have on the polka dot shorts in XS.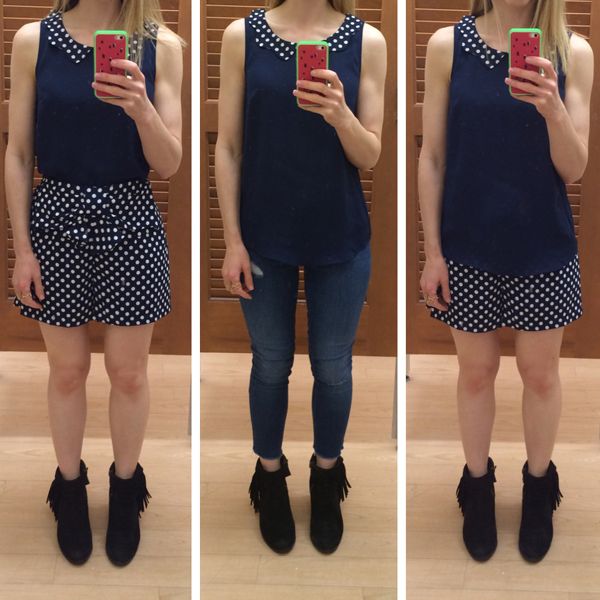 Below on the left is the Minnie Mouse crinkle print top (which runs big) with the bow shorts. The bow print navy top in the middle is the same style and fabric as on the left. Both tops have a crinkle texture made of soft, lightweight rayon. On the right is the same polka dot top as above, just in a more sheer red and white colorway. I prefer the navy version because of the sheer factor.
Below, a look at the crinkled navy bow print blouse in more detail. How pretty is the pleated detail on the sleeves? This is definitely a favorite of mine. I love it with denim, pleated skirts, or tailored shorts for summer.
Here's the same blouse in a different print. I really love how the print is a hybrid of a floral and a miniature Minnie Mouse graphic. It looks like a floral until you really inspect it up close.
Here's a look at how I wore the red polka dot shorts today on The Key To Chic.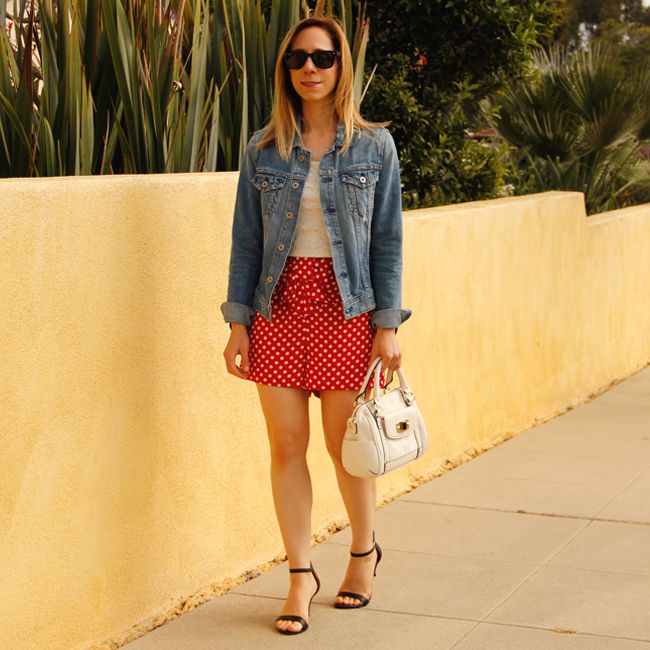 If you love Minnie Mouse and polka dot prints, this collection is for you. I'm looking forward to seeing more as it lands in stores this month.
April 24, 2017 update - See the LC spring 2017 collection:
January 2016 update - See my spring 2016 LC Lauren Conrad review on The Key To Chic.
September 2015 update - See my fall 2015 LC Runway review on The Key To Chic.
Catch up with me on
Twitter
,
Facebook
, and
Instagram
for more shopping inspiration.
Shop my LC favorites: